Last month it was 6 audiobooks, heavily slanted in favor of sf over fantasy. This month it's back up to 9 audiobooks, with a pretty even split between genres, and some non-speculative (or at least not heavily speculative) stuff in the mix as well.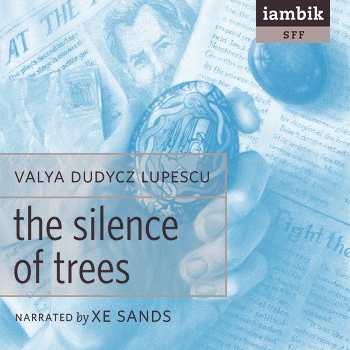 REVIEWS:
I also took advantage of the free sample chapters subfeature of Audible's "Audiobook Tournament" bracket to get a good sample of Stephen King's 11-22-63, Tea Obreht's The Tiger's Wife, the new Audible production of Stanislaw Lem's Solaris, and Lauren Oliver's well-received YA novel Delirium. None of them convinced me yet to go for a full purchase, which says something perhaps about the promotion, though I'm not yet sure what.
Reading: Any Day Now by Terry Bisson (fantastic alternate history in the 50s and 60s) and the start of Through the Valley of the Nest of Spiders by Samuel Delany, which will take me at least through May, along with getting to read a novel in manuscript that I enjoyed quite a lot, but can't talk about.
PLANS for MAY:
Giant Thief: Tales of Easie Damasco, Book 1 

By

 

Narrated by

 
Shadow's Son by Jon Sprunk, performed by a full cast for GraphicAudio — I was all set to order directly, until I saw that the shipping charge for 1 CD was $7… So I'm starting to poke on local bookstores to see who will order it for me; if there's no dice there, I'll give the MP3 download a try.
The Amazing Adventures of Kavalier and Clay by Michael Chabon (Brilliance Audio, May 5) — finally an unabridged recording of this book! Next up, please bring us The Yiddish Policeman's Union…
YA/YR: Railsea 

by China Mieville

 

(Del Rey, May 15, 2012) — moletrains and moldywarpe hunts — "

a novel for readers of all ages, a gripping and brilliantly imagined take on Herman Melville's Moby-Dick"
2312 by Kim Stanley Robinson 

(Orbit, May 22, 2012) — "

The year is 2312. Scientific and technological advances have opened gateways to an extraordinary future. Earth is no longer humanity's only home; new habitats have been created throughout the solar system on moons, planets, and in between. But in this year, 2312, a sequence of events will force humanity to confront its past, its present, and its future." I've heard fantastic things about this book. KSR interplanetary worldbuilding and great characters? Tick tick tick, end of May. Tick tick tick.
YR: The Prince Who Fell from the Sky 

by John Claude Bemis

 (Random House Books for Young Readers, May 22, 2012) — no audio news, so I am leaning toward reading this with my kids as I've done for the past few YR books we've enjoyed (Hugo, Windblowne, The Death of Yorik Mortwell).
No Going Back (Jon & Lobo Series) by Mark L. Van Name (Baen, print and e-book), read by Tom Schechschulte (Audible Frontiers) — speaking of the end of May; May 29, so probably this will have to wait until June.
Into the Black by Evan Currie, performed by Benjamin L. Darcie for Brilliance Audio — have it on review copy and will at least be peeking in sometime this month
Blackbirds by Chuck Wendig along with White Horse by Alex Adams are two books I keep getting recommendations for; given time… not to mention all the books I've had to pass up so far this year that I have my eye on getting back to: The Rook; The Flame Alphabet; Immobility; Angelmaker; Range of Ghosts;tons of Michael Swanwick; Mechanique; Enter, Night; The Scar; Ken MacLeod's Fall Revolution series; Zombiestan (thanks to The Guilded Earlobe's interview and review); and more tons of audiobooks missed in 2011 from newly produced classics like Stand on Zanzibar to Swamplandia! to …