I'm still working through a few of the January incoming, but I've also already had a chance to listen to a few of these titles which were sent our way in February:
1. Digital ARC of The Rift Walker (Vampire Empire, Book Two) by Clay and Susan Griffith, read by James Marsters for Buzzy Multimedia:
"A worthy successor in story, narration and production for the Audie-nominated The Greyfriar. James Marsters as a cast of vampires could not be more perfect." — The AudioBookaneers. (That's Sam.)
2. Receiving review copies from Blackstone Audio through its Downpour service could not really be much easier. Here's what I picked up from the offerings in January and February so far:
The City of Devi By Manil Suri, Read by Vikas Adam and Chris Sorenson; Farside By Ben Bova, Read by Stefan Rudnicki; A Teaspoon of Earth and Sea By Dina Nayeri, Read by Sneha Mathan; Daughters Who Walk This Path By Yejide Kilanko, Read by Claudia Alick; Birthright By Mike Resnick, Read by Tom Weiner; and The Free Lunch by Spider Robinson, read by the author. (And I'm trying to decide whether that's all I can handle as I may have already exceeded my reach by one, or picking one last between AFTERMATH and THE STOCKHOLM OCTAVO.)
3. And late last week, from Brilliance Audio, a little box of goodies:
The Mad Scientist's Guide to World Domination edited by John Joseph Adams, read by Stefan Rudnicki, Justine Eyre, and Mary Robinette Kowal — available now; Oz Reimagined edited by John Joseph Adams and Douglas Cohen, read by Tanya Eby and Nick Podehl — available Feb 26; and Six Heirs (The Secret of Ji, Book 1) by Pierre Grimbert, translated by Matthew Ross and Eric Lamb, read by Michael Page — available now.
4. And finally, from Kobo, a two-week evaluation unit of their new Android-based Arc tablet: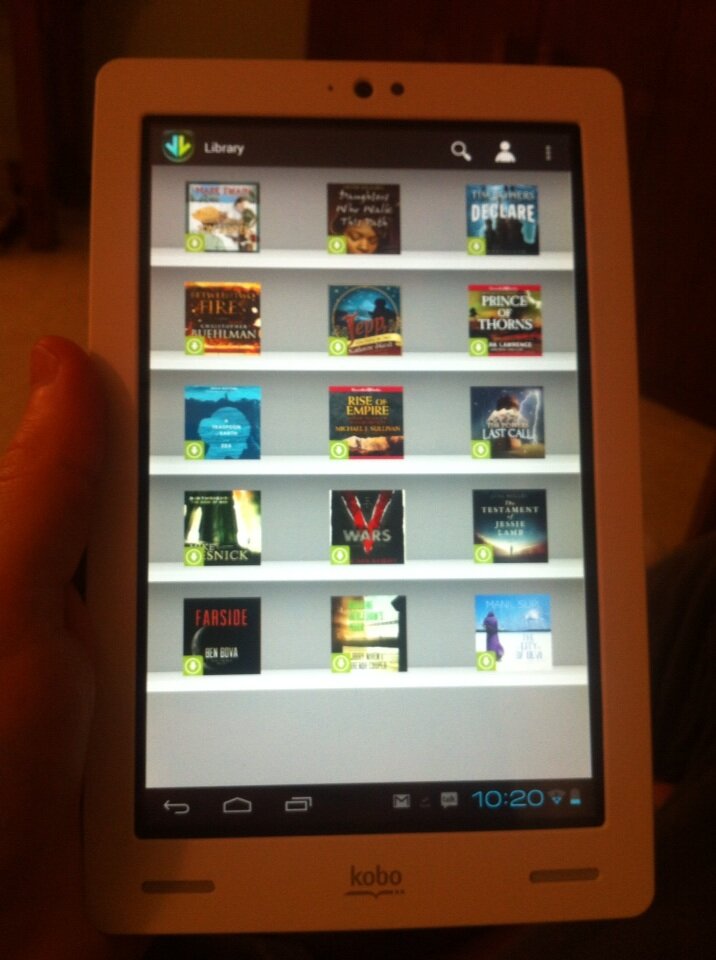 On which I've (pictured) been enjoying a DRM-free audiobook stack from content to OS, using the Downpour Android app. Plenty more thoughts to come on this one.
WHEW. Some very varied listening here, from fantasy to Steampunk to vampires to Mad Scientists to post-apocalyptic India to space sf, and following an interest with some mainstream fiction titles as well. Check back in the coming months for the reviews!