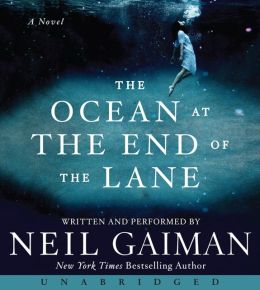 The Ocean at the End of the Lane
Written and Read by Neil Gaiman
Length: 5 hours, 48 minutes
A Neil Gaiman audiobook is an Event. Gaiman has a mythical reputation as a fantasist, and with that reputation comes a lot of baggage. There's been a lot of talk about what Gaiman's been up to the last few years. An American God television show (which dictates sequels to his acclaimed, award winning novel). A sequel to Odd and the Frost Giant. A prequel to his groundbreaking Sandman comic. Another Neverwhere. (Okay, maybe I'm the only one holding out hope for that one, but I so am!) But I have to admit, there was a part of me that was a little bit worried about Gaiman returning to all of his old playgrounds. I wanted to see something fresh, something different.
So I was delighted that The Ocean at the End of the Lane feels like none of Gaiman's previous novels, and is satisfyingly original, and is the high point of my audiobook listening this year. It's easily the most personal of his novels, tightly focused, and brief – like childhood remembered by an adult. It's a story of memories as tangible as the sea – we know they happened, we even swam in it, but the waves continue to roll, and the landscape is seemingly ever changing. It's memories as mythology, and it'd be cynical not to fall under it's haunting spell.
It's also a meditation on mortality, as told by a nameless narrator who has returned to England for his father's funeral. Because of that, it's impossible not to divorce our image of the narrator as Neil himself, giving this book a fantastical yet autobiographical sense – even moreso as an audiobook – which is part of the point. Readers and fans familiar with Gaiman via Twitter and his blog may remember reading about similar familiar events referenced in this book, although their memories will be distinctly different from what occurs in the story. As one character says:
"That's the trouble with living things. Don't last very long. Kittens on day, old cats next. And then just memories. And the memories fade and blend and smudge together."
Memories should be cherished and treasured, like dreams, but perhaps they shouldn't be completely trusted. And it's what we do with those memories that count.
In spinning this story, Gaiman has woven himself into a new mythology all his own. The Ocean at the End of the Lane is a reminder to adults of the wonders and mysteries of childhood, and encourages us to find those same pleasures as adults. It reminds us that just because we're grown up, doesn't mean it's over, and we may still witness wondrous and mysterious things.