JULY 10-16, 2013: Well… yet another Release Week post coming nearly a week late. I could try to excuse this with time spent on a lot of additions to the "Coming Soon" listings, including Margaret Atwood's MaddAddam (September 3), James Gunn's Transcendental (August 27), Mur Lafferty's Ghost Train to New Orleans (March 4, 2014) and, well, too many to list up here. But! Honestly I've had it mostly ready since mid last week, and just couldn't find the time to finish it up. On the plus side, it allowed time to finish Countdown City so I could give it a bit of a nicer writeup, which it well deserves. Enjoy! I'm catching up on a wonderful title from 2012, Robin Sloan's Mr. Penumbra's 24-Hour Bookstore — what are you listening to this week?
PICKS OF THE WEEK:
Countdown City: The Last Policeman, Book 2 By Ben H. Winters, Narrated By Peter Berkrot for Brilliance Audio, concurrent with the print/ebook release from Quirk Books. This is the one where I was looking at this week's titles and said: yup, this is the book to start with, and so that is exactly what I did. I really liked The Last Policeman and Countdown City turns the ratchet up a notch on the impending global doom of "Maya", a planet-killing asteroid on a collision course for Earth. Less than three months to go, but hey, who's counting? Everyone. Here, Countdown City starts with a missing persons case, but with people going "Bucket List" left and right, and the shutdown of the adult crimes investigative division, it's anything but easy to even begin. On to the University of New Hampshire campus — now a student-led anarchist squat — and through a few twists and turns, though not quite as tightly-plotted as the first book it's still a fantastic listen. I could easily stand for this series to give us several more books before the asteroid hits, and then, hey, gives us a series of detective novels set in a post-apocalyptic landscape reminiscent of The Road. Mr. Winters and Quirk Books, along with Brilliance Audio and narrator Berkrot, make like Henry Palace and just keep going.
Next up is the second in an anthology series after 201o's (group) self-published Machine of Death, this time around to wide distribution fanfare and an audio edition: This Is How You Die: Stories of the Inscrutable, Infallible, Inescapable Machine of Death edited by Matthew Bennardo, David Malki, and Ryan North, narrated by Will Collyer, Dan Woren, Erin Bennett, and Tessa Auberjonois for Hachette Audio, concurrent with the print/ebook editions from Grand Central. The editors considered nearly 2000 stories to come up with a final table of contents, all stories following the successful blueprint of the first anthology: you are told how you will die, but not when. And there is no escape…
Out in print/ebook a bit earlier this summer and now in audio this week is the sequel to last year's The Long Earth, The Long War: The Long Earth, Book 2 by Terry Pratchett and Stephen Baxter, with narrator Michael Fenton-Stevens returning to bring the story to life for Harper Audio. Book one introduced Joshua, Lobsang, and The Long Earth (uncounted millions of alternate Earths a potato-electronic-device "step" away, one after the other), and here the story picks up: "A generation after the events of The Long Earth, humankind has spread across the new worlds opened up by "stepping". A new "America" – Valhalla – is emerging more than a million steps from Datum – our Earth. Thanks to a bountiful environment, the Valhallan society mirrors the core values and behaviors of colonial America. And Valhalla is growing restless under the controlling long arm of the Datum government. Soon Joshua, now a married man, is summoned by Lobsang to deal with a building crisis that threatens to plunge the Long Earth into a war unlike any humankind has waged before." It's a strange synthesis of Pratchett's humor — c'mon, a potato device to reach alternate worlds, and everyone vomits after each "step" — and Baxter's deep/hard sf worldbuilding and strange, step-wise biologies, but it works. It's not often laugh-out-loud Discworld guffaws, nor long exposition on the micro-chemical underpinnings of evolutionary shift, but rather, well, to put it as one character: Lobsang is a distributed strong AI who also claims to be the karmic reincarnation of a Nepalese motorcycle repairman. So there's that.
For those looking for outright guffaws this week, you could certainly do far worse than to take a chance on the latest from A. Lee Martinez, Helen & Troy's Epic Road Quest, narrated By Khristine Hvam for Audible Inc. Orbit Books has also posted a sample of this latest comedic sf/f novel from Martinez, the author of Emperor Mollusk Versus the Sinister Brain. "Witness the epic battle of the cyclops! Visit the endangered dragon preserve! Please, no slaying. Solve the mystery of The Mystery Cottage, if you dare! Buy some knickknacks from The Fates! They might come in handy later. On a road trip across an enchanted America, Helen and Troy will discover all this and more. If the curse placed upon them by an ancient god doesn't kill them or the pack of reluctant orc assassins don't catch up to them, Helen and Troy might reach the end their journey in one piece, where they might just end up destroying the world. Or at least a state or two. A minotaur girl, an all-American boy, a three-legged dog, and a classic car are on the road to adventure, where every exit leads to adventure. Whether they like it or not."
ALSO OUT THIS WEEK:
BLACKSTONE AUDIO: New Earth: The Grand Tour, Book 18 and The Kinsman Saga by Ben Bova, both narrated by Stefan Rudnicki
RANDOM HOUSE AUDIO: Witch Wraith: The Dark Legacy of Shannara, Book 3 By Terry Brooks, Narrated by Rosalyn Landor; (History) Zealot: The Life and Times of Jesus of Nazareth By Reza Aslan, Narrated By Reza Aslan
PENGUIN AUDIO: (Teen) The Strangers: The Books of Elsewhere, Volume 4 By Jacqueline West, Narrated By Lexy Fridell; (Memoir) The Kid: What Happened After My Boyfriend and I Decided to Go Get Pregnant By Dan Savage, Narrated By Dan Savage
HARPER AUDIO: (Teen) The Registry By Shannon Stoker, Narrated By Kate Reinders
BOLINDA PUBLISHING: Geomancer: Well of Echoes, Book 1 By Ian Irvine, Narrated By Grant Cartwright
BRILLIANCE AUDIO: Brilliance By Marcus Sakey, Narrated By Luke Daniels; The Poisoned Pilgrim: The Hangman's Daughter, Book 4 By Oliver Pötzsch, translated by Lee Chadeayne,  and narrated by Grover Gardner [another Whispersync for Voice price deal at $4.99 Kindle and $1.99 Audible]
AUDIBLE LTD: The Wine Dark Sea By Robert Aickman, Narrated By Reece Shearsmith
AUDIBLE INC: Rocket Science By Jay Lake, Narrated By Scott Aiello; Death of a Starship By Jay Lake, Narrated By Marc Vietor; and Science Fiction: A Very Short Introduction By David Seed, Narrated By Brian Holsopple
AUDIBLE FRONTIERS: Pacific Rim: The Official Movie Novelization By Alex Irvine, Narrated By Christian Rummel, and Jay Snyder [this one is a pretty decent Whispersync for Voice price deal at $6.79 Kindle and $3.49 Audible]; Snipers By Kristine Kathryn Rusch, Narrated By Katie Hale; Celebromancy: Ree Reyes, Book 2 By Michael R. Underwood, Narrated By Mary Robinette Kowal; Reanimators By Pete Rawlik, Narrated By Oliver Wyman
INDIE: The End: A Post Apocalyptic Novel By G. Michael Hopf, Narrated By Joseph Morton; Lycan Fallout: Rise of the Werewolf By Mark Tufo, Narrated By Sean Runnette [both have Whispersync for Voice price deals at $3.99 Kindle plus $1.99 Audible]; The Last Swordmage: The Swordmage Trilogy, Book 1 By Martin Hengst, Narrated By Alexander Edward Trefethen [ditto, but yet cheaper at $2.99 Kindle]; and (Teen) The Conjure Book By A. A. Attanasio, Narrated By Laura Rubin
SEEN BUT NOT HEARD: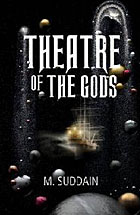 COMING SOON:
AUGUST and LATER:
SEPTEMBER and LATER:
OCTOBER and LATER:
NEXT YEAR: