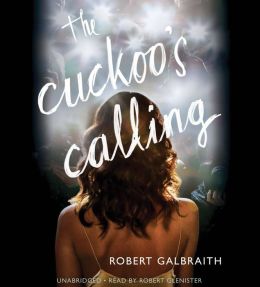 The Cuckoo's Calling
by Robert Galbraith, read by Robert Glenister
Length: 15 hours, 54 minutes
The farther I get from Robert Galbraith's (aka J.K. Rowling) The Cuckoo's Calling, the more impressed I am with it – and I thoroughly enjoyed listening to it.
To be fair, I don't listen to or read a ton of mysteries. I'm not entirely sure why that is, since I like the genre, and I love watching them. What I have read of mysteries are classics like Doyle, Chandler, Hammett, and some of the contemporaries like James Lee Burke, James Ellroy, and Elmore Leonard (though I suppose some of those are maybe more crime novels than mysteries), etc., and a fair bit of paranormal detective stuff.
So what surprised me about The Cuckoo's Calling was how different it felt form my other experiences in this genre. Yes, there's a down on his luck detective. Yes, there are beautiful women – and one of who, model Lula Landry, is dead when the book opens. But there aren't any car chases, fist fights, or shoot-outs. It's not a fast-paced action thriller, but it's certainly not boring. Instead, we follow private investigator Cormoran Strike as he goes about interviewing Landry's friends, family, and acquaintances. Occasionally, he's assisted by his new temp secretary Robin. And that's pretty much it. And I think that's a big part of what made this book so attractive to me in hindsight. It's a novel that feels very grounded in reality, exposing the seedy, often racist underside of London's Upper Class, as well as celebrity life dissected by the paparazzi and the internet. Rowling paints an incredible portrait of a victim we only encounter through other people's (often contradictory) accounts. She make Landry feel like an authentic, compelling, life-like character – even though she's dead the entire book.
Rowling's other triumph is Strike himself. Strike could almost be seen as fascinating foil to Lee Child's Jack Reacher. Like Reacher, Strike is a big man, ex-Military Police, but you won't see him throwing a lot of punches. He's a very sympathetic, likeable person who is easy for us to root for. But he's damaged and more vulnerable than Reacher – Strike lost his leg in Afghanistan, his fiancee walked out on him, he lives in his office, and his estranged rock star father has spoken to him only twice in his life. And he wants to do good. What's not to love?
Strike is assisted by Robin, which is one of the few parts of the novel where I found it impossible to not think of Rowling's authorship. Robin takes a temp job working for the detective, and it seems to parallel Rowling's own venture into the mystery genre. She has excellent penmanship, occasionally gets to do smart things, and is a solid researcher with a strong work ethic. Thankfully, she does get to help Strike break the case, but she's far less interesting than our hero, and her intuition sometimes feels a bit Mary Sue. Like Strike, she's easy to root for, and I enjoyed her character, but I hope she gets more to do on the next outing.
And yes, that means I am definitely signed up for the next Cormoran Strike mystery. I wish only the best for this new series that Rowling is nurturing, and will eagerly await the further investigations of Strike and Robin.
Narrator Robert Glenister has a far more difficult job to do than it seems. For a book that is so much tell and so little show, Gleniston's pace is pretty much perfect, and his characterization is excellent.
Special thanks to Hatchette audio for providing me with a copy of this audiobook to review.