SEPTEMBER 11-17, 2013: Urban fantasy, deep future sf, adventure fantasy, early 21st century technothriller, and more await listeners in this week's round of picks — and even more await the "also out this week" reader/listener. (Let alone the "also also out this week" listings. Yes, I've gone Full Monty Python.) Near future, backlist epic fantasy, special edition audio anthology re-issues, resurrecting zombie Taft to run for president, Kafka-esque kittens, nuclear and non-nuclear non-fiction, and more. Whew. And next week is every bit — if not yet more — crowded. So many books to… Enjoy!
PICKS OF THE WEEK:
I thoroughly enjoyed Tad Williams' excursion into urban fantasy, last year's first "Bobby Dollar" book, The Dirty Streets of Heaven. Narrator George Newbern is back for the sequel, Happy Hour in Hell, out from Penguin Audio this week after early September print/ebook publication from DAW. "I've been told to go to Hell more times than I can count. But this time I'm actually going. My name's Bobby Dollar, sometimes known as Doloriel, and of course, Hell isn't a great place for someone like me – I'm an angel. They don't like my kind down there, not even the slightly fallen variety. But they have my girlfriend, who happens to be a beautiful demon named Casimira, Countess of Cold Hands. Why does an angel have a demon girlfriend? Well, certainly not because it helps my career."
Neptune's Brood by Charles Stross is a follow-on — not a direct sequel — to his 2008, Hugo-nominated novel Saturn's Children. Here the deep future sf ideas come thousands of years later: "The year is AD 7000. The human species is extinct – for the fourth time – due to its fragile nature. Krina Alizond-114 is metahuman, descended from the robots that once served humanity. She's on a journey to the water-world of Shin-Tethys to find her sister Ana. But her trip is interrupted when pirates capture her ship. Their leader, the enigmatic Count Rudi, suspects that there's more to Krina's search than meets the eye." Narrated for Recorded Books by Emily Gray (Gail Carriger's Parasol Protectorate, Jasper Fforde's Thursday Next) it's a welcome, shorter-than-expected wait for an audio edition of this highly-anticipated new novel from Stross, published in print/ebook in early July by Ace — the physical audiobook isn't due out until early December.
The Rose and the Thorn by Michael J. Sullivan continues his Riyria Chronicles prequel series with book 2, retelling the origins of the characters in his Riyria Revelations series. Narrator Tim Gerard Reynolds has performed magnificently on the four previous audiobooks, including an Audie Award nomination for Theft of Swords. Here: "Two thieves want answers. Riyria is born." Again, for now it's a digital-only release from Recorded Books, with the physical audiobook edition due out in November.
Bleeding Edge by Thomas Pynchon (The Penguin Press / Penguin Audio) — Read by Jeannie Berlin, another new voice to me and apparently newcomer to audiobooks in general, though she has an Academy Award nomination for her 1972 performance as Lila Kolodny in The Heartbreak Kid and will appear as Aunt Reet in the 2014 film adaptation of Pynchon's Inherent Vice. Here, a technothriller: "It is 2001 in New York City, in the lull between the collapse of the dot-com boom and the terrible events of September 11th. Silicon Alley is a ghost town, Web 1.0 is having adolescent angst, Google has yet to IPO, Microsoft is still considered the Evil Empire. There may not be quite as much money around as there was at the height of the tech bubble, but there's no shortage of swindlers looking to grab a piece of what's left." The book has been reviewed quite positively by Slate's Troy Patterson, ranging it among the more comprehensible of Pynchon's novels, writing that it "slow boils a noir fantasy pointing toward the character of America's future." The genre world is also taking a good look at the novel, with Jenn Northrington's review at Tor.com saying "If that doesn't sound so far off from Neuromancer or Ready Player One it's because, in essence, it's not. Bleeding Edge is both a literary and a genre masterpiece, a cyberpunk epic and a memorial to the pre-9/11 world."
Lastly, Fortunately, the Milk by Neil Gaiman:
Gaiman narrates an hour of storytelling for children, but no small number of grown-ups will be listening, too, to this "story of time travel and breakfast cereal".
"I bought the milk," said my father. "I walked out of the corner shop, and heard a noise like this: T h u m m t h u m m. I looked up and saw a huge silver disc hovering in the air above Marshall Road."

"Hullo," I said to myself. "That's not something you see every day. And then something odd happened."
There's a five-minute preview up at SoundCloud for the curious as well.
ALSO OUT THIS WEEK:
Anthology: Welcome to Bordertown: Special Edition: New Stories and Poems of the Borderlands edited by Holly Black and Ellen Kushner — Dave reviewed the original release of this anthology last year, and the anthology is back with a "Special Edition" tag, featuring: "original music by Drew Miller – including a fully-produced track of the song 'Run Back Across the Border' by Steven Brust, with the author himself on lead vocals – and Neil Gaiman reading his own poem, 'The Song of the Song.'" There's more coverage of the new edition at BoingBoing, and the anthology's official site which details each of the new additions.
Crux By Ramez Naam, Narrated By Mikael Naramore for Brilliance Audio — "Six months have passed since the release of Nexus 5. The world is a different, more dangerous place. In the USA, the freedom fighters of the Post-Human Liberation Front use Nexus to turn men and women into human time bombs aimed at the President and his allies. The first blows in the war between human and post-human have been struck."
Taft 2012: A Novel By Jason Heller, Narrated By Fleet Cooper for Audible Inc. — "He is the perfect presidential candidate. Conservatives love his hard-hitting Republican resume. Liberals love his peaceful, progressive practicality. The media can't get enough of his larger-than-life personality. And all the American people love that he's an honest, hard-working man who tells it like it is. There's just one problem. He is William Howard Taft…and he was already president a hundred years ago."
Kids: Lockwood & Co.: The Screaming Staircase by Jonathan Stroud (Disney-Hyperion and Listening Library, Sep 17, 2013) — "A sinister Problem has occurred in London: all nature of ghosts, haunts, spirits, and specters are appearing throughout the city, and they aren't exactly friendly. Only young people have the psychic abilities required to see-and eradicate-these supernatural foes. Many different Psychic Detection Agencies have cropped up to handle the dangerous work, and they are in fierce competition for business.  In The Screaming Staircase, the plucky and talented Lucy Carlyle teams up with Anthony Lockwood, the charismatic leader of Lockwood & Co, a small agency that runs independent of any adult supervision. After an assignment leads to both a grisly discovery and a disastrous end, Lucy, Anthony, and their sarcastic colleague, George, are forced to take part in the perilous investigation of Combe Carey Hall, one of the most haunted houses in England. Will Lockwood & Co. survive the Hall's legendary Screaming Staircase and Red Room to see another day?"
Non-Fiction: Command and Control: Nuclear Weapons, the Damascus Accident, and the Illusion of Safety by Eric Schlosser (Penguin Audio) — Narrated by the prolific Scott Brick, I've been hearing enough good things about this non-fiction book to include it here: "Famed investigative journalist Eric Schlosser digs deep to uncover secrets about the management of America's nuclear arsenal. A groundbreaking account of accidents, near misses, extraordinary heroism, and technological breakthroughs, Command and Control explores the dilemma that has existed since the dawn of the nuclear age: How do you deploy weapons of mass destruction without being destroyed by them? That question has never been resolved – and Schlosser reveals how the combination of human fallibility and technological complexity still poses a grave risk to mankind. While the harms of global warming increasingly dominate the news, the equally dangerous yet more immediate threat of nuclear weapons has been largely forgotten."
Non-Fiction: Floating City: A Rogue Sociologist Lost and Found in New York's Underground Economy By Sudhir Venkatesh, read by the author for Penguin Audio — "New York is a city of highs and lows, where wealthy elites share the streets with desperate immigrants and destitute locals. Bridging this economic divide is New York's underground economy, the invisible network of illicit transactions between rich and poor that secretly weaves together the whole city. Sudhir Venkatesh, acclaimed sociologist at Columbia University and author of Gang Leader for a Day, returns to the streets to connect the dots of New York's divergent economic worlds – and crack the code of the city's underground economy."
ALSO ALSO OUT THIS WEEK:
BLACKSTONE AUDIO: Colony By Ben Bova (1978), Narrated By Kristopher Tabori
RANDOM HOUSE AUDIO: Star Wars: Specter of the Past: The Hand of Thrawn, Book 1 By Timothy Zahn, Narrated By Marc Thompson; (Thriller) Dexter's Final Cut: A Novel (Dexter, Book 7) By Jeff Lindsay
PENGUIN AUDIO: (Teen) Frozen By Melissa de la Cruz and Michael Johnston, Narrated By Phoebe Strole and Dan Bittner
SIMON & SCHUSTER AUDIO: The Rise of the Hotel Dumort: The Bane Chronicles, Book 5 By Cassandra Clare and Maureen Johnson, Narrated By Stephen Lunsford; and (Teen) Battle of the Ampere: Michael Vey, Book 3 By Richard Paul Evans, Narrated By Kirby Heyborne
TANTOR AUDIO: The One-Eyed Man: A Fugue, with Winds and Accompaniment By L. E. Modesitt, Narrated By William Dufris; (Fiction) Taipei By Tao Lin, Narrated By Kirby Heyborne; and The Element of Fire: Ile-Rien Series, Book 1 By Martha Wells, Narrated By Derek Perkins
MACMILLAN AUDIO: Antigoddess: The Goddess War, Book 1 By Kendare Blake, Narrated By Kate Reading
RECORDED BOOKS: The Grim Company By Luke Scull, Narrated By Gerard Doyle; The Executioner's Heart: Newbury & Hobbes, Book 4 By George Mann, Narrated By Simon Prebble; 1634: The Baltic War By Eric Flint and David Weber, Narrated By George Guidall; and Hunting with Gods: The Merlin Prophecy, Book 3 By M. K. Hume, Narrated By Steven Crossley
HARPER AUDIO: (Teen) Once We Were: The Hybrid Chronicles, Book 2 By Kat Zhang, Narrated By Kim Mai Guest; (Teen) 3:59 By Gretchen McNeil, Narrated By Tavia Gilbert
SCHOLASTIC AUDIO: (Teen) The Dream Thieves: Raven Cycle Series, Book 2 By Maggie Stiefvater, Narrated By Will Patton
BOOKS IN MOTION: Smoke on the Water: Gammalaw, Book 1 By Brian Daley, Narrated By Tom Taylorson
BRILLIANCE AUDIO: Four Summoner's Tales By Kelley Armstrong, Christopher Golden, David Liss, and Jonathan Maberry, Narrated By Ray Porter, Phil Gigante, Nico Evers-Swindell, and Jeff Cummings; Homeworld: Odyssey One, Book 3 By Evan Currie, Narrated By Benjamin L. Darcie; and The Scourge By Roberto Calas, Narrated By Nico Evers-Swindell
AUDIBLE LTD: The Company of the Dead By David Kowalski, Narrated By Peter Marinker; and The Spear and The Dark by James Herbert, read by Sean Barrett, along with several other Herbert novels read by various narrators
AUDIBLE INC: The Cloning of Joanna May: A Novel By Fay Weldon (1989), Narrated By Lesley Parkin; (Collection) Reality and Other Fictions By Jeffrey A. Carver, Narrated By Bernard Clark; Devlin's Luck: Book I of The Sword of Change and Devlin's Justice By Patricia Bray, Narrated By Mirron Willis; The Meowmorphosis By Franz Kafka and Coleridge Cook, Narrated By Nicholas Techosky; and (Short) Cave & Julia By M. John Harrison, Narrated By Jonathan Davis
AUDIBLE FRONTIERS: Kinslayer: The Lotus War, Book Two By Jay Kristoff, Narrated By Jennifer Ikeda; Skirmishes: Diving Universe, Book 4 By Kristine Kathryn Rusch, Narrated By Jennifer Van Dyck
SYMPHONY SPACE: Selected Shorts: Behaving Badly By Neil Gaiman, Nathan Englander, Stephen King, Aimee Bender, and A. M. Homes, Narrated By Neil Gaiman, Jefferson Mays, Michael Imperioli, Anjelica Huston, and Christina Pickles
THOMAS NELSON: Fatal Tide By Lis Wiehl, Narrated By Devon O'Day
RHEMALDA PUBLISHING: (Fiction) The Astrologer By Scott G.F. Bailey, Narrated By David Coatney
INDIE: Lodestone Book Three: The Crucible of Dawn, Volume 3 By Mark Whiteway, Narrated By Nathan William Heller
SEEN BUT NOT HEARD: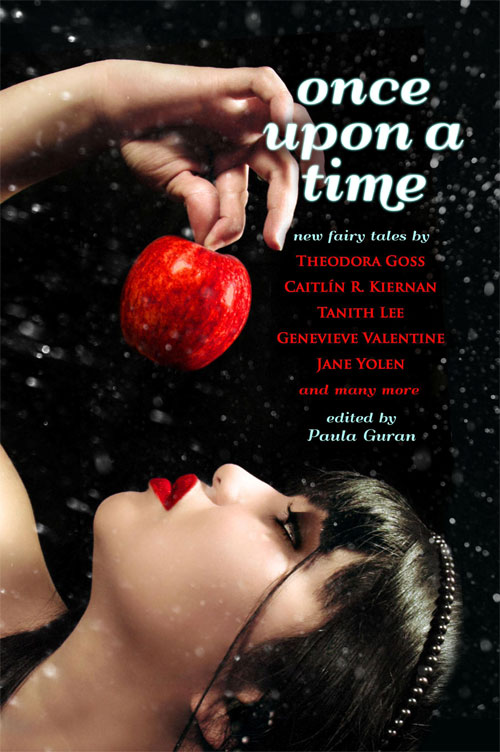 Anthology: Once Upon a Time: New Fairy Tales edited by Paula Guran (Prime Books, September 11)
Unthinkable by Nancy Werlin (Dial, Sep 12) — "Young adult fantasy novel, sequel to Impossible (2009), about a girl trapped in the faerie realm." (via Locus Online)
Gallow: The Last Bastion by Nathan Hawke (Orion/Gollanz UK, Sep 12)
Marauder by Gary Gibson (Tor UK, Sep 12)
The Mallet of Loving Correction by John Scalzi (Subterranean, Sep 13, 2013) — selected writings from Scalzi's Whatever blog: "What sort of idiot spends fifteen years writing a blog? New York Times Bestselling author John Scalzi is that sort of idiot."
Daughter of Nothing by Eric Edstrom (Undermountain Books, Sep 14, 2013)
Anthology: Super Stories of Heroes and Villains edited by Claude Lalumiere (Tachyon, September 15, 2013) — Christopher Golden and Mike Mignola, Jonathan Lethem, Cory Doctorow, Kelly Link's "Origin Story", Carol Emshwiller, Gene Wolfe, GRRM, …
Delia's Shadow by Jamie Lee Moyer (Tor, Sep 17) — "Fantasy novel, the author's first novel, about a woman in 1915 San Francisco who can see ghosts." (via Locus Online)
King of Swords (The Starfolk) by Dave Duncan (Amazon/47North, Sep 17, 2013) — audio due Oct 29 from Brilliance Audio
Collection: WikiWorld by Paul Di Filippo (ChiZine, Sep 17)
Teen: The Burning Sky (The Elemental Trilogy) by Sherry Thomas (Balzer + Bray, Sep 17, 2013) — first in a new YA fantasy trilogy about teenaged mages in 19th century London
COMING SOON:
OCTOBER and LATER:
Ancillary Justice by Ann Leckie (Orbit, Oct 1, 2013) — "On a remote, icy planet, the soldier known as Breq is drawing closer to completing her quest. Breq is both more than she seems and less than she was. Years ago, she was the Justice of Toren–a colossal starship with an artificial intelligence linking thousands of corpse soldiers in the service of the Radch, the empire that conquered the galaxy. An act of treachery has ripped it all away, leaving her with only one fragile human body. And only one purpose–to revenge herself on Anaander Mianaai, many-bodied, near-immortal Lord of the Radch." — via a glowing early review from Liz Bourke at Tor.com
Treecat Wars by David Weber (Oct 1, 2013)
Hero by Alethea Kontis (Harcourt Children's Books, October 1)
Bastion: Book Five of the Collegium Chronicles (A Valdemar Novel) by Mercedes Lackey (Oct 1, 2013)
Pandemic by Scott Sigler (Crown, Oct 1, 2013)
Anthology: In Space No One Can Hear You Scream by Hank Davis (Baen, Oct 1, 2013)
Teen: Blackout by Robison Wells (Harper Teen, Oct 1, 2013)
Teen: Unbreakable (The Legion) by Kami Garcia (Little, Brown Books for Young Readers, Oct 1, 2013) — coming to audio read by Candice Accola for AudioGO
The First Bird, Episode 1 By Greig Beck, Narrated By Sean Mangan for Bolinda Audio — Scheduled Release Date: 10-01-13
Pull Down the Night by Nathan Kotecki (Houghton Mifflin, October 8) — second book in his YA urban fantasy series after The Suburban Strange
The Republic of Thieves (Gentleman Bastard, #3) by Scott Lynch (Spectra, October 8) — read by Michael Page for Tantor Audio
The Girl Who Soared Over Fairyland and Cut the Moon in Two by Catherynne M. Valente (Feiwel & Friends / Dreamscape Media, Oct 1, 2013)
The Diamond Deep (Ruby's Song) by Brenda Cooper (Pyr, Oct 8, 2013) — coming concurrently to Audible Frontiers, read by Kate Reinders
The Fall of the Governor: The Walking Dead, Book 3 By Robert Kirkman and Jay Bonansinga, Narrated By Fred Berman — Scheduled Release Date: 10-08-13
The Circle by Dave Eggers (Knopf, Oct 8, 2013) — a technothriller: "What begins as the captivating story of one woman's ambition and idealism soon becomes a heart-racing novel of suspense, raising questions about memory, history, privacy, democracy, and the limits of human knowledge." — audio coming October 22 from Random House Audio
Veil of the Deserters (Bloodsounder's Arc #2) by Jeff Salyards (Night Shade Books, Oct 8, 2013)
A Dance of Cloaks by David Dalglish (Orbit, Oct 8) — originally self-published, now being re-published by Orbit — Orbit is also doing a "Making of a Cover" web series for this series
Teen: The Eye of Minds By James Dashner, Narrated By Erik Davies — Length: 8 hrs and 36 mins — Scheduled Release Date: 10-08-13
Anthology: Welcome to the Greenhouse: New Science Fiction on Climate Change By Gordon Van Gelder (editor), Bruce Sterling, Gregory Benford, Paul Di Filippo, Alan Dean Foster, Narrated By Bob Dunsworth — Scheduled Release Date: 10-08-13
Anthology: Old Mars by Martin, George R.R., Dozois, Gardner, Moorcock, Michael and Lansdale, Joe R. (Bantam, Oct 8, 2013)
Wonderbook: The Illustrated Guide to Creating Imaginative Fiction by Jeff VanderMeer and Jeremy Zerfoss (Abrams Image, Oct 15, 2013) — an audiobook for this doesn't make sense and so there isn't one and won't be one, but definitely a project I'm looking forward to
Copperhead by Tina Connolly (Tor, October 15, 2013) — follow-on to Ironskin – cover revealed

Fiendish Schemes

by K. W. Jeter (Tor, October 15) — "The long-awaited stand-alone sequel to the seminal novel

Infernal Devices

by one of the founding fathers of steampunk"

The Last Dark: The climax of the entire Thomas Covenant Chronicles (Last Chronicles of Thomas Covenant) by Stephen R. Donaldson (Oct 15, 2013)
Anthology: Worlds of Edgar Rice Burroughs edited by Mike Resnick and Robert T. Garcia (Baen, October 15) — "Eleven new tales set in the legendary worlds of Edgar Rice Burroughs."
The Blood Flower Throne by T.L. Morganfield (Panverse, October 19) — "the first book in a feminist retelling of the myths and legends surrounding the Toltec priest-king Ce Acatl Topiltzin Quetzalcoatl"
The Circle by Dave Eggers (Random House Audio, Oct 22, 2013) — a technothriller: "What begins as the captivating story of one woman's ambition and idealism soon becomes a heart-racing novel of suspense, raising questions about memory, history, privacy, democracy, and the limits of human knowledge." — Knopf is publishing the hardcover/ebook on Oct 8
The Abominable: A Novel by Dan Simmons (Little, Brown and Company, Oct 22, 2013)
Anthology: Rags & Bones: New Twists on Timeless Tales by Melissa Marr and Tim Pratt (Oct 22, 2013)
Fiction: The Goldfinch By Donna Tartt, Narrated By David Pittu for Hachette Audio (Little, Brown and Company, Oct 22, 2013) –  Length: 31 hrs — Scheduled Release Date: 10-22-13
Anthology: Tails of Wonder and Imagination: Cat Stories By Stephen King, Neil Gaiman, George R.R. Martin, Joyce Carol Oates, Susanna Clarke, Lawrence Block, Tanith Lee, Narrated By Teresa DeBerry, Jeremy Arthur, Cynthia Barrett — Length: 25 hrs and 33 mins — Scheduled Release Date: 10-22-13
Anthology: The Book of Cthulhu: Tales Inspired by H. P. Lovecraft By Ross Lockhart (editor), Narrated By Fleet Cooper, Teresa DeBerry (October 22)
Collection: The Third Cry to Legba and Other Invocations: Selected Stories of Manly Wade Wellman, Volume 1 By Manly Wade Wellman, Narrated By Brian Troxell for Audible Frontiers (October 22)
The End of the Story: Collected Fantasies of Clark Ashton Smith, Book 1, The Door to Saturn: Collected Fantasies of Clark Ashton Smith, Book 2, A Vintage from Atlantis: Collected Fantasies of Clark Ashton Smith, Book 3, The Maze of the Enchanter: Volume Four of the Collected Fantasies of Clark Ashton Smith, and The Last Hieroglyph: Volume Five of the Collected Fantasies of Clark Ashton Smith by Clark Ashton Smith, read by full casts for Audible Frontiers (October 22)
The Faceless One by Mark Onspaugh (Hydra, Oct 28, 2013)
Two Serpents Rise by Max Gladstone (Tor Books and Blackstone Audio, October 29) — book one is in audio from Blackstone as well
The Deaths of Tao by Wesley Chu (Angry Robot, Oct 29, 2013) — sequel to The Lives of Tao
Hyperbole and a Half: Unfortunate Situations, Flawed Coping Mechanisms, Mayhem, and Other Things That Happened… by Allie Brosh (Touchstone, Oct 29, 2013) — an audio edition for this 4-color illustrated book doesn't make sense, of course, but it's a book I have my eye on
King of Swords (The Starfolk) by Dave Duncan (Brilliance Audio, OCt 29) — published in print/ebook Sep 17 by Amazon/47North
Teen: Horde (Enclave) by Ann Aguirre (Macmillan Young Listeners, Oct 29, 2013) — "The epic conclusion to the USA Today bestselling trilogy."
The n-Body Problem by Tony Burgess (ChiZine, October 2013) — "Tony Burgess returns to the realm of the zombie"
The Violent Century by Lavie Tidhar (Hodder UK, October 2013) — just announced — "Tinker, Tailor, Soldier, Spy meets Watchmen in Tidhar's The Violent Century, the thoughtful and intensely atmospheric novel about the mystery, and the love story, that determined the course of history itself. The Violent Century is the sweeping drama of a time we know too well; a century of fear and war and hatred and death.  In a world where everyday heroes may become übermenschen, men and women with extraordinary powers, what does it mean to be a hero? To be a human? Would the last hundred years have been that much better if Superman were real? Would they even have been all that different?"
Collection: Kabu Kabu by Nnedi Okorafor (Prime, October 2013)
Datura by Leena Krohn, translated by Juha Tupasela and Anna Volmari (Cheeky Frawg, October 2013) — from the author of World Fantasy finalist Tainaron
Collection: If Angels Fight: Stories by Richard Bowes (Fairwood Press/Patrick Swensen, October 2013) — collection of 14 stories – 3 new – all newly collected
NOVEMBER and LATER:
NEXT YEAR:
The Queen of Dreams by Peter Hamilton (Doubleday UK, 2 Jan 2014) — first children's book by the epic sf author Peter F. Hamilton: "Taggie and Jemima are summer holidaying on their dad's farm. They know just what to expect – a tumbledown cottage, sunshine and strawberry-picking. But then Jemima sees a white squirrel wearing glasses . . . And things become even more extraordinary when their dad is captured and whisked away to a faerie world. Magical adventures await, as the two sisters discover powers they never knew they had and a series of worlds to explore. But can Taggie and Jemima rescue their dad and defeat the evil King of Night?"
The Land Across by Gene Wolfe (Tor, Nov 26) — audiobook coming January 4, 2014 from Brilliance Audio
The Swords of Good Men by Snorri Kristjansson (Jo Fletcher Books, January 7, 2014) — a "Viking fantasy novel" by a new Icelandic author
The Girl with All the Gifts by M.J. Carey (Orbit, Jan 7, 2014) — "Melanie is a very special girl. Dr Caldwell calls her 'our little genius'. Every morning, Melanie waits in her cell to be collected for class. When they come for her, Sergeant keeps his gun pointing at her while two of his people strap her into the wheelchair. She thinks they don't like her. She jokes that she won't bite, but they don't laugh." — link to cover
Rex Regis by L. E. Modesitt (Tor, Jan 7, 2014)
Fury of the Demon by Diana Rowland (Jan 7, 2014)
Work Done for Hire  by Joe Haldeman (Ace Hardcover, January 7, 2014) — novel about an ex-sniper turned sf screenwriter turned reluctant hitman; I've hear Haldeman read from this novel in draft and am very much looking forward to its release
Love in the Time of Metal and Flesh by Jay Lake (Prime Books, January 7, 2014) — "Markus Selvage has been bent by life, ground up and spit out again. In San Francisco's darkest sexual underground, he is a perpetual innocent, looking within bodies – his own and others' – for the lost secrets of satisfaction. But extreme body modification is only the beginning of where he will go before he's finished…"
Rex Regis (Imager Portfolio)  by L.E. Modesitt, Jr. (Jan 7, 2014)
1636: Seas of Fortune  by Iver Cooper (January 7, 2014)
Black Arts: A Jane Yellowrock Novel  by Faith Hunter (Jan 7, 2014)
Darkest Fear (Birthright) by Cate Tiernan (Jan 7, 2014)
Watchers in the Night (Guardians of the Night) by Jenna Black (Jan 14, 2014)
The Man Who Made Models: The Collected Short Fiction  by R.A. Lafferty (Centipede Press, January 14, 2014)
Dawn of Swords (The Breaking World)  by David Dalglish (Jan 14, 2014)
Dirty Magic (Prospero's War) by Jaye Wells (Jan 21, 2014)
Words of Radiance by Brandon Sanderson (Tor, January 21, 2014) — book 2 in The Stormlight Archive after The Way of Kings
The Book of the Crowman by Joseph D' Lacey (Jan 28, 2014)
A Darkling Sea by James Cambias (Tor, Jan 28, 2014)
Maze by J.M. McDermott (Apex, January 2014)
Leaving the Sea: Stories by Ben Marcus (Knopf, January 2014)
The Emperor's Blades (The Chronicle of the Unhewn Throne, #1) by Brian Stavely (Tor, January 2014) — "follows siblings Valyn, Kaden, and Adare, who are in different parts of the world when they learn about the assassination of their father, the Emperor. All of them are in danger of being the next targets, and all of them are caught in the maelstrom of conspiracy, intrigue, treachery, and magic that sweeps through Staveley's auspicious debut novel."
Reign of Ash (Book Two in the Ascendant Kingdoms Saga) by Gail Z. Martin (Orbit, January 2014) — follow-on to Ice Forged

Annihilation (Southern Reach, Volume 1) by Jeff VanderMeer (Farrar, Straus, & Giroux, Feb 4, 2014) — the first of a trilogy of "Southern Reach" novels being published in 2014 — "For thirty years, Area X has remained mysterious, remote, and concealed by the government as an environmental disaster zone even though it is to all appearances pristine wilderness. For thirty years, too, the secret agency known as the Southern Reach has monitored Area X and sent in expeditions to try to discover the truth. Some expeditions have suffered terrible consequences. Others have reported nothing out of the ordinary. Now, as Area X seems to be changing and perhaps expanding, the next expedition will attempt to succeed where all others have failed. What is happening in Area X? What is the true nature of the invisible border that surrounds it?"
Like a Mighty Army (Safehold) by David Weber (Feb 4, 2014)
The Crimson Campaign (The Powder Mage Trilogy, Book 2) by Brian McClellan (Orbit, February 2014)
Like a Mighty Army (Safehold)  by David Weber (Feb 4, 2014)
V-S Day: A Novel of Alternate History  by Allen Steele (Feb 4, 2014) — narrated by Ray Chase
Empire of Men by David Weber and John Ringo (Feb 4, 2014)
The Waking Engine by David Edison (Feb 11, 2014)
The Judge of Ages (Count to a Trillion) by John C. Wright (Feb 25, 2014)
The Undead Pool by Kim Harrison (Feb 25, 2014)
Dreamwalker by C.S. Friedman (February 2014)
Night Broken (A Mercy Thompson Novel)  by Patricia Briggs (Mar 4, 2014)
Ghost Train to New Orleans (The Shambling Guides) by Mur Lafferty (Orbit, Mar 4, 2014) — sequel to The Shambling Guide to New York City
The Tropic of Serpents: A Memoir by Lady Trent (A Natural History of Dragons) by Marie Brennan (Mar 4, 2014)
Hope Rearmed by S.M. Stirling and David Drake (March 4, 2014)
Blood and Iron (The Book of the Black Earth) by Jon Sprunk (Pyr, March 11)
Resistance by Jenna Black (Mar 11, 2014)
Working God's Mischief (Instrumentalities of the Night)  by Glen Cook (Mar 11, 2014)
Mentats of Dune  by Brian Herbert (March 11, 2014)
Anthology: The Time Traveler's Almanac by Ann VanderMeer and Jeff VanderMeer (Tor, Mar 18, 2014)
Lockstep  by Karl Schroeder (Mar 25, 2014)
The Burning Dark by Adam Christopher (Mar 25, 2014)
Anthology: KAIJU RISING (Kickstarter, March 2014)
City of Stairs by Robert Jackson Bennett (Crown/Broadway and Recorded Books, April 1, 2014) — "a second-world story of spies, subterfuge, and statesmanship set in a nation of dead gods."
The Goblin Emperor by Katherine Addison (April 1, 2014)
Cauldron of Ghosts (Crown of Slaves) by David Weber (April 1, 2014)
Baltic Gambit: A Novel of the Vampire Earth by E.E. Knight (April 1, 2014)
Shipstar  by Larry Niven and Gregory Benford (Tor, April 8, 2014)
Transhuman  by Ben Bova (April 15, 2014)
The City Stained Red by Sam Sykes (Gollanz UK, 17 Apr 2014) — from the author of Tome of the Undergates
Lagoon by Nnedi Okorafor (Hodder & Stoughton, April 2014) — "The Nigerian megacity of Lagos is invaded by aliens, and it nearly consumes itself because of it."
The Moon King by Neil Williamson (Newcon, April 2014) — Debut novel: "The story of The Moon King grew out of its setting, the sea-locked city of Glassholm, which is a thinly veneered version of Glasgow, Scotland where I live. Glasgow is a city of mood swings, brilliant with sun and warm sandstone one minute and dour with overcast and rain soaked tarmac the next. Summer days are long and filled with light. The winter months pass mostly in darkness. Living here, your spirit is tied to the city's mood. As soon as I hooked that almost bipolar sense to the idea of natural cycles, the story blossomed. In Glassholm, the moon never sets and everything, from entropy to the moods of the populace, is affected by its phasing from Full to Dark and back to Full again. I wanted to know what would life be like there, what quirks nature might throw into the mix. And what would happen if it was discovered that the cyclic euphorias and depressions were not natural after all."
Immolation (Children, #1) by Ben Peek (Tor UK, Spring 2014) is "set fifteen thousand years after the War of the Gods. The bodies of the gods now lie across the world, slowly dying as men and women awake with strange powers that are derived from their bodies. Ayae, a young cartographer's apprentice, is attacked and discovers she cannot be harmed by fire. Her new power makes her a target for an army that is marching on her home. With the help of the immortal Zaifyr, she is taught the awful history of 'cursed' men and women, coming to grips with her new powers and the enemies they make. The saboteur Bueralan infiltrates the army that is approaching her home to learn its terrible secret. Split between the three points of view, Immolation's narrative reaches its conclusion during an epic siege, where Ayae, Zaifyr and Bueralan are forced not just into conflict with those invading, but with those inside the city who wish to do them harm."
Unwrapped Sky by Rjurik Davidson (Tor, Spring 2014) — "Caeli-Amur: a city torn by contradiction. A city of languorous philosopher-assassins and magnificent creatures from ancient myth: minotaurs and sirens. Three Houses rule over an oppressed citizenry stirring into revolt. The ruins of Caeli-Amur's sister city lie submerged beneath the sea nearby, while the remains of strange advanced technology lie hidden in the tunnels beneath the city itself."
The Furies: A Thriller  by Mark Alpert (April 22, 2014)
Authority: A Novel (The Southern Reach Trilogy) by Jeff VanderMeer (Farrar, Straus and Giroux, May 6, 2014)
The Sea Without a Shore by David Drake (May 6, 2014) — Lt. Leary series
Graphic novel: All You Need Is Kill: The Graphic Novel by Nick Mamatas, Lee Ferguson, Fajar Buana, and Zack Turner, based on the novel by Hiroshi Sakurazaka (VIZ Media/Haikasoru, May 6, 2014)
The Girl in the Road by Monica Byrne (Random House/Crown, May 2014) — "traces the harrowing twin journeys of two women forced to flee their homes in different times in the near future. The first, Meena, is a Brahmin-caste student whose odyssey takes her from the coastal city of Mumbai toward Djibouti across a futuristic but treacherous bridge that spans the Arabian Sea. The second, Mariama, escapes from slavery as a small child in Mauritania, joining a caravan heading across Saharan Africa toward Ethiopia."
The Islands of Chaldea by Diana Wynne Jones and Ursula Jones (Greenwillow, Summer 2014) — "Fans of the late writer Diana Wynne Jones – who died in March 2011 – are in for an unexpected treat. In the summer of 2014, Greenwillow will publish a new title from the acclaimed science fiction and fantasy author. Titled The Islands of Chaldea, the book is a standalone novel unconnected to any of the author's earlier works. It is also the result of an unusual, asynchronous collaboration between the writer and her younger sister, Ursula Jones."
The Magician's Land by Lev Grossman (Viking, August 2014) — book three after The Magicians and The Magician King
The Chaplain's War by Brad Torgerson (Baen, 2014)
Colossus by Stephen Messer (Random House Children's Books, 2014)
The Broken Eye (Lightbringer #3) by Brent Weeks (Orbit, 2014)
The Three-Body Problem by Liu Cixin, translated by Ken Liu (Tor Books, 2014) — the first of an announced trilogy of translated editions of this 400,000-copy-selling Chinese sf series
Frostborn (Thrones & Bones #1) by Lou Anders (Random House Children's Books, August 2014) — longtime Pyr editor Anders' debut novel, a young reader book which "introduces Karn, who would rather be playing the board game Thrones and Bones, and Thianna, half-frost giant, half-human, who team up when they are chased by wyverns, a dead Viking sea captain, and a 1200-year-old dragon."
Clash of Eagles by Alan Smale (Del Rey, 2014) — "His novella of a Roman invasion of ancient America, "A Clash of Eagles" in the Panverse Two anthology (edited by Dario Ciriello), won the 2010 Sidewise Award for Alternate History, and he has recently sold a trilogy of novels set in the same universe. The first book, CLASH OF EAGLES, will appear from Del Rey in 2014."
Deadly Curiosities by Gail Z. Martin (Solaris, Summer 2014) — "It's official! I'll be writing a new urban fantasy novel for Solaris Books called "Deadly Curiosities" (from my short story universe of the same name) that will come out in summer, 2014!"
The Water Knife by Paolo Bacigalupi (Knopf, 2015) — "Knopf has acquired a new novel by Paolo Bacigalupi, the science fiction writer whose 2009 book "The Windup Girl" sold 200,000 copies and was considered one of the top novels of the year. The new book, "The Water Knife," is set in a lawless, water-starved American Southwest in the not-too-distant future."
UNDATED:
When Women Were Warriors by Catherine M. Wilson, read by Janis Ian for Dog Ear Audio
A Stranger in Olondria by Sofia Samatar, coming from Audible
(Collection) North American Lake Monsters by Nathan Ballingrud, coming from Audible
Fair Coin and Quantum Coin by E.C. Myers, coming from Audible
All the Worlds Against Us (Jon and Lobo) by Mark L. Van Name (Baen) — Audible Frontiers has produced the previous books in the series, under fantastic narrations by Tom Stechschulte