JANUARY 1-7, 2014: 2014 gets off to a cracking start with a literary dystopia from Pulitzer Prize finalist Chang-rae Lee, a new standalone novel from Joe Haldeman, a collection by Ben Marcus (Leaving the Sea), and! Jane Yellowrock is back in the latest installment of Faith Hunter's series. In the "also out" listings: Alma Katsu's The Taker trilogy concludes, we get the entirety of R.A. Salvatore's Paths of Darkness trilogy in his Legend of Drizzt oeuvre, and plenty more including a pair of new audiobooks of Robert Heinlein classics, the latest historical fictions from Bernard Cornwell and Harry Sidebottom, the conclusion of Ian McDonald's Everness trilogy, a new novel by Sue Monk Kidd, and a pair of powerful Africa-set fictions. And! While I have a lot more to do to get a true 2014 preview ready, two fantastic-looking books added to the future releases section: Helen Oyeyemi's Boy, Snow, Bird and Alexandra Duncan's Salvage. It's not all great news, however, as Lisa Shearin's The Grendel Affair, Carrie Vaughn's Dreams of the Golden Age, and Snorri Kristjansson's Swords of Good Men head a new list, the most missing audiobooks of 2014, there's still no pre-order listings (for listeners) for Jeff VanderMeer's Annihilation read by Carolyn McCormick, and a very anticipated release I had on this week's schedule for some reason or other, The Girl with All the Gifts, is apparently a June release, not a January one. My bad. Still, plenty to pick from to get your 2014 off to a good start. Enjoy!
PICKS OF THE WEEK:
On Such a Full Sea by Chang-rae Lee, Read by B. D. Wong for Penguin Audio, concurrent with the print/ebook release from Riverhead. Lee is a Pulitzer finalist turning his diverse attention to dystopian literature; Wong is the award-winning actor and "mirth specialist" I've enjoyed in many roles, of course Law & Order but also Jurassic Park, his voicing of Shang in Mulan, all the way back to noticing him in a recent re-watch as "Boy on Street" in Karate Kid, Part 2. This will be my first full-length narration from him, though I'm looking forward to getting to his "Ralph the Mouse" narrations in the near future with my kids. Here, one of the most anticipated "Genre in the Mainstream" titles of 2014 gets the year in books started in a big way: "In a future, long-declining America, society is strictly stratified by class. Long-abandoned urban neighborhoods have been repurposed as high-walled, self-contained labor colonies. And the members of the labor class— descendants of those brought over en masse many years earlier from environmentally ruined provincial China—find purpose and identity in their work to provide pristine produce and fish to the small, elite, satellite charter villages that ring the labor settlement. In this world lives Fan, a female fish-tank diver, who leaves her home in the B-Mor settlement (once known as Baltimore), when the man she loves mysteriously disappears. Fan's journey to find him takes her out of the safety of B-Mor, through the anarchic Open Counties, where crime is rampant with scant governmental oversight, and to a faraway charter village, in a quest that will soon become legend to those she left behind."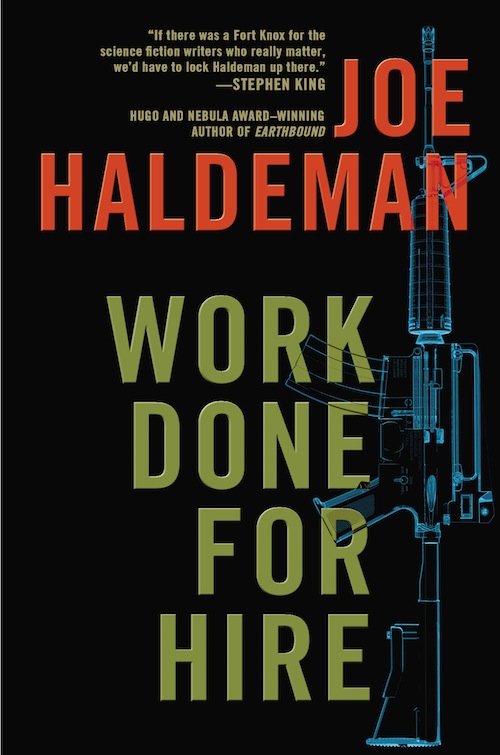 Work Done for Hire by Joe Haldeman, read by Chris Sorensen for Recorded Books, concurrent with the print/ebook release from Ace. I had the fantastic experience of hearing Haldeman read from this novel in manuscript two years ago, and here it is finally out. "Wounded in combat and honorably discharged nine years ago, Jack Daley still suffers nightmares from when he served his country as a sniper, racking up sixteen confirmed kills. Now a struggling author, Jack accepts an offer to write a near-future novel about a serial killer, based on a Hollywood script outline. It's an opportunity to build his writing career, and a future with his girlfriend, Kit Majors.But Jack's other talent is also in demand. A package arrives on his doorstep containing a sniper rifle, complete with silencer and ammunition — and the first installment of a $100,000 payment to kill a 'bad man.' The twisted offer is genuine. The people behind it are dangerous. They prove that they have Jack under surveillance. He can't run. He can't hide. And if he doesn't take the job, Kit will be in the crosshairs instead." Via BoingBoing you can find additional links, including to an excerpt on Tor.com. Now, a word. I'm "in" for this book with or without any particular speculative element; but for those who do require a hook of this kind, this is a near future setting with a few technological details which are not yet practical, or at least not yet practiced.
ALSO OUT THIS WEEK:
Collection: Leaving the Sea: Stories by Ben Marcus, Narrated by Brian Hutchison, George Guidall, Andy Paris, and Andrew Garman for Recorded Books, concurrent with the print/ebook editions from Knopf — Paris narrated Marcus' 2012 novel The Flame Alphabet — the collection "showcases his gifts – and his range – as never before. As the collection progresses, we move from more traditional narratives into the experimental work that has made Ben Marcus a groundbreaking master of the short form. In these otherworldly landscapes, characters resort to extreme survival strategies to navigate the terrors of adulthood, one opting to live in a lightless cave and another methodically setting out to recover total childhood innocence; an automaton discovers love and has to reinvent language to accommodate it; filial loyalty is seen as a dangerous weakness that must be drilled away; and the distance from a cubicle to the office coffee cart is refigured as an existential wasteland, requiring heroic effort. In these piercing, brilliantly observed investigations into human vulnerability and failure, it is often the most absurd and alien predicaments that capture the deepest truths. Surreal and tender, terrifying and life-affirming, Leaving the Sea is the work of an utterly unique writer at the height of his powers."
Collection: "ALL YOU ZOMBIES—" by Robert A. Heinlein, read by Spider Robinson for Blackstone Audio (1 January 14) along with a novel, Double Star, Narrated By Tom Weiner
Teen: The Godling Chronicles: of Gods and Elves: Book Two By Brian D. Anderson, Narrated By Derek Perkins for Podium Publishing
Teen: The Vampire Prince: Cirque Du Freak #6 By Darren Shan, Narrated By Ralph Lister
Fury of the Demon by Diana Rowland (Jan 7, 2014)
Rex Regis (Imager Portfolio) by L.E. Modesitt, Jr. (Jan 7, 2014) — read by William Dufris for Tantor
Black Arts: A Jane Yellowrock Novel by Faith Hunter (Jan 7, 2014) — read by Khristine Hvam
The Descent (The Taker #3) by Alma Katsu (Jan 7, 2014) — the conclusion of Katsu's trilogy which began with the stunning The Taker in 2011
Thriller: The Forbidden Stone: The Copernicus Legacy, Book 1 By Tony Abbott, Narrated By MacLeod Andrews
Fiction: The Invention of Wings: A Novel By Sue Monk Kidd, Narrated By Jenna Lamia, Adepero Oduye, Sue Monk Kidd — a new novel from the international best-selling author of The Secret Life of Bees
Fiction: The Question of Bruno (2002) By Aleksandar Hemon, Narrated By Stefan Rudnicki, Gabrielle de Cuir, Vikas Adam for Blackstone Audio — "In this stylistically adventurous, brilliantly funny tour de force – the most highly acclaimed debut since Nathan Englander's – Aleksander Hemon writes of love and war, Sarajevo and America, with a skill and imagination that are breathtaking."
Fiction: The Wind is Not a River by Brian Payton, Read by Mark Bramhall for HarperCollins (Jan 7) — a story of WW2 survival in the Aleutian Islands
Fiction: The Kept by James Scott, Read by Kate Udall for HarperCollins — "In the winter of 1897, a trio of killers descends upon an isolated farm in upstate New York. Midwife Elspeth Howell returns home to the carnage: her husband, and four of her children, murdered. Before she can discover her remaining son Caleb, alive and hiding in the kitchen pantry, another shot rings out over the snow-covered valley."
Fiction: Radiance of Tomorrow: A Novel By Ishmael Beah, Narrated By Dion Graham — Beah returns to the child soldiers of Sierra Leone from his memoir Long Way Gone with his debut novel
Fiction: Bingo's Run: A Novel By James A. Levine, Narrated By Peter Macon — a novel of drug-running in Nairobi
Fiction: What I Had Before I Had You: A Novel By Sarah Cornwell, Narrated By Karen White
Historical Fiction: The Amber Road: Warrior of Rome, Book 6 By Harry Sidebottom, Narrated By Stefan Rudnicki
Historical Fiction: The Pagan Lord: A Novel By Bernard Cornwell, Narrated By Matt Bates
Historical Fiction: Sinful Folk By Ned Hayes, Narrated By Anne Day-Jones for Campanile Books
Fiction: The Green Age of Asher Witherow: A Novel By M. Allen Cunningham, Narrated By Alex Bloch for Audible — "Supplying a quarter of San Francisco's coal, Nortonville of the 1860s-70s is a flourishing empire in small, seeming to promise unending prosperity and a better future. But beneath the vibrant work ethic of its Welch citizens lies an insidious network of superstitions. A missing boy first brings these dark undercurrents to light. Then young Asher Witherow falls under the spell of an unorthodox apprentice minister, stirring a whirlpool of suspicion and outrage. Soon Asher finds himself trapped in a nightmarish crucible, all the more excruciating because he himself could end it if he could only find the strength of will."
Fiction: An Unfinished Score: A Novel By Elise Blackwell, Narrated By Erin Bennett for Audible Inc.
Teen: Zom-B Gladiator By Darren Shan, Narrated By Emma Galvin
Teen: Alliance: The Paladin Prophecy Book 2 By Mark Frost, Narrated By Nick Chamian
Teen: A Zombie Tale (Part 4): Book of Riley By Mark Tufo, Narrated By Sean Runnette
Teen: The Last Stand of the New York Institute: The Bane Chronicles By Cassandra Clare, Sarah Rees Brennan, Maureen Johnson, Narrated By Jamie Bamber
Teen: Phoenix Island By John Dixon, Narrated By Kirby Heyborne
Teen: The True Tale of the Monster Billy Dean By David Almond, Narrated By David Almond for Candlewick on Brilliance Audio
Teen: Enders By Lissa Price, Narrated By Rebecca Lowman
Teen: The Offering: A Pledge Novel and The Essence: A Pledge Novel By Kimberly Derting, Narrated By Casey Holloway
SEEN BUT NOT HEARD:
The Queen of Dreams by Peter Hamilton (Doubleday UK, 2 Jan 2014) — first children's book by the epic sf author Peter F. Hamilton: "Taggie and Jemima are summer holidaying on their dad's farm. They know just what to expect – a tumbledown cottage, sunshine and strawberry-picking. But then Jemima sees a white squirrel wearing glasses . . . And things become even more extraordinary when their dad is captured and whisked away to a faerie world. Magical adventures await, as the two sisters discover powers they never knew they had and a series of worlds to explore. But can Taggie and Jemima rescue their dad and defeat the evil King of Night?"
The Grendel Affair (An SPI Files Novel) by Lisa Shearin (Ace, Jan 7) — "When I moved to New York to become a world famous journalist, I never imagined that snagging a job at a seedy tabloid would change my career path from trashy reporter to undercover agent. I'm Makenna Fraser, a Seer for SPI. I can see through any disguise, shield, or spell that a paranormal pest can come up with. I track down creatures and my partner, Ian Byrne, takes them out."
Dreams of the Golden Age by Carrie Vaughn (Jan 7, 2014) — sequel to After the Golden Age, picking up events some years later: "Like every teen, Anna has secrets. Unlike every teen, Anna has a telepath for a father and Commerce City's most powerful businessperson for a mother. She's also the granddaughter of the city's two most famous superheroes, the former leaders of the legendary Olympiad, and the company car drops her off at the gate of her exclusive high school every morning. Privacy is one luxury she doesn't have."
The Swords of Good Men by Snorri Kristjansson (Jo Fletcher Books, January 7, 2014) — a "Viking fantasy novel" by a new Icelandic author — "To weary Viking Ulfar Thormodsson, the town of Stenvik is the penultimate stop on the return leg of a long and perilous journey. It has been particularly challenging for Thormodsson, who has been charged with protecting the life of his high-born cousin. Having traveled the oceans of the world for two years, all he wants is to go home. But Stenvik awaits."
The Gospel of Z by Jones, Stephen Graham (Samhain Publishing, Jan 7, 2014) — "The only thing more dangerous than zombies is the truth. In the ten years since zombies killed the world, Jory Gray has found exactly one person who matters. Her name is Linse. But when he wakes to find her gone, to join the church, his world falls apart all over again. Jory's suicide mission to save her will lead him deep into the restricted zone, into the bowels of the military, the underbelly of the church, and, worse, it will give him a glimpse into a past that's supposed to be ten years dead, a past still contained in a document that never should have existed: The Gospel of Z.

"

The Broken Dragon: Children of the Dragon Nimbus #2 by Irene Radford (DAW, Jan 7, 2014)
Iron Night: A Generation V Novel by M.L. Brennan (Roc, Jan 7, 2014)
Once In a Blue Moon by Simon R. Green (Roc, Jan 7, 2014) — "Hawk and Fisher, famous for their years of keeping the peace in Haven, are really quite happy being legends. They gave up the hero business when they decided they'd grown too old for it. Now they run the Hero Academy, training young hopefuls to be heroes."
1636: Seas of Fortune by Iver Cooper (Baen, January 7, 2014)
A Wind in the Night: A Novel of the Noble Dead by Barb Hendee and J.C. Hendee (Roc, Jan 7, 2014)
Teen: Darkest Fear (Birthright) by Cate Tiernan (Jan 7, 2014) — Tiernan begins a new series for young adults about a young woman who can turn into a jaguar: "Vivi's animal instincts are her legacy—and may be her downfall—in this start to a romantic fantasy series that will appeal to fans of The Nine Lives of Chloe King."
Teen: Into the Wilderness by Mandy Hager (Pyr Teen, Jan 7) — published in 2010 in New Zealand, second in a dystopian YA series after The Crossing
Teen: The Almost Girl by Amalie Howard (Angry Robot / Strange Chemistry, Jan 7, 2014)
Teen: Shadowplay by Laura Lam (Angry Robot / Strange Chemistry, Jan 7, 2014)
Teen/Kids: A Breath of Frost: The Lovegrove Inheritance (Lovegrove Legacy) by Alyxandra Harvey (Jan 7, 2014)
Graphic novel: Cemetery Girl, Book One: The Pretenders (The Cemetery Girl Trilogy) by Harris, Charlaine and Golden, Christopher (Jan 7, 2014)
Anthology: Dark Duets by Golden, Christopher (Jan 7, 2014) — audiobook coming from Tantor on Feb 4
COMING SOON:
Unhinged (The Splinter Series, Book 2) by A.G. Howard, read by Rebecca Gidel for Blackstone Audio (Jan 8) — book two in Howard's retelling of Lewis Carroll's "Alice" stories: "Alyssa Gardner has been down the rabbit hole. She was crowned Queen of the Red Court and faced the bandersnatch. She saved the life of Jeb, the boy she loves, and escaped the machinations of the disturbingly appealing Morpheus. Now all she has to do is graduate high school."
Short: After Dead: What Came Next in the World of Sookie Stackhouse By Charlaine Harris, Narrated By Johanna Parker for Recorded Books (Jan 9)
Kids: HOW TO SPEAK DRAGONESE and HOW TO CHEAT A DRAGON'S CURSE by Cressida Cowell (Blackstone Audio, Jan 10)
The Emperor's Blades (Chronicle of the Unhewn Throne) by Brian Staveley (Jan 14, 2014) — excerpts going up on Tor.com — "follows siblings Valyn, Kaden, and Adare, who are in different parts of the world when they learn about the assassination of their father, the Emperor. All of them are in danger of being the next targets, and all of them are caught in the maelstrom of conspiracy, intrigue, treachery, and magic that sweeps through Staveley's auspicious debut novel." — audiobook coming concurrently, read by Simon Vance for Brilliance Audio
Watchers in the Night (Guardians of the Night) by Jenna Black (Jan 14, 2014)
The Man Who Made Models: The Collected Short Fiction by R.A. Lafferty (Centipede Press, January 14, 2014)
Dawn of Swords (The Breaking World) by David Dalglish (Jan 14, 2014) — a.k.a.

The Dark Thorn

By

Shawn Speakman

, Narrated By

Nick Podehl

for Audible (Jan 14) — 34 hours, the

Unfettered

editor Speakman's 2012 novel — "Beneath the streets of Seattle, a long-forgotten war is about to be renewed…Richard McAllister, a spiritually destitute homeless man and Knight of the Yn Saith, protects one of seven portals linking his world to that of Annwn, where the fey Tuatha de Dannan of antiquity have been relegated by a long-running religious war. Unknown to Richard though, powerful forces are aligning against him and all he stands to keep safe."

Hollow City (Miss Peregrine, #2) by Ransom Riggs (Quirk Books / Blackstone Audio, Jan 14, 2014) — narrator is Kirby Heyborne
He Drank, and Saw the Spider: An Eddie LaCrosse Novel by Bledsoe, Alex (Jan 14, 2014) — coming to Blackstone Audio read by Stefan Rudnicki
Fiction: FOREIGN GODS, INC. by Okey Ndibe (Blackstone Audio, Jan 14) — "Foreign Gods, Inc. tells the story of Ike, a New York-based Nigerian cab driver who sets out to steal the statue of an ancient war deity from his home village and sell it to a New York gallery."
The Séance (2009) By John Harwood, Narrated By Fiona Hardingham, Simon Vance, Katherine Kellgren for Blackstone Audio (Jan 15)  — "A haunting tale of apparitions, a cursed manor house, and two generations of women determined to discover the truth, by the author of The Ghost Writer."
SOUL CATCHER by Frank Herbert, read by Scott Brick for Blackstone Audio (Jan 15, 2014)
THE BEST HORROR OF THE YEAR, VOLUME FOUR edited by Ellen Datlow, read by various readers for Blackstone Audio (Jan 15)
ELDRITCH TALES by H. P. Lovecraft, read by various readers for Blackstone Audio (Jan 15)
Orfeo: A Novel by Richard Powers (Jan 20, 2014) — "The National Book Award–winning author of The Echo Maker delivers his most emotionally charged novel to date, inspired by the myth of Orpheus. In Orfeo, Powers tells the story of a man journeying into his past as he desperately flees the present. Composer Peter Els opens the door one evening to find the police on his doorstep. His home microbiology lab—the latest experiment in his lifelong attempt to find music in surprising patterns—has aroused the suspicions of Homeland Security. Panicked by the raid, Els turns fugitive. As an Internet-fueled hysteria erupts, Els—the "Bioterrorist Bach"—pays a final visit to the people he loves, those who shaped his musical journey. Through the help of his ex-wife, his daughter, and his longtime collaborator, Els hatches a plan to turn this disastrous collision with the security state into a work of art that will reawaken its audience to the sounds all around them."
Anthology: Unfettered By Terry Brooks, Patrick Rothfuss, Robert Jordan, Jacqueline Carey, R.A. Salvatore, Naomi Novik, Peter V. Brett, Shawn Speakman (editor), Narrated By Peter Ganim, Marc Vietor, Bronson Pinchot, Jay Snyder (Jan 21)
Dirty Magic (Prospero's War) by Jaye Wells (Jan 21, 2014)
Pandemic by Scott Sigler (Crown, Jan 21, 2014)
The Secret of Magic by Johnson, Deborah (Putnam Adult, Jan 21, 2014) — "Regina Robichard works for Thurgood Marshall, who receives an unusual letter asking the NAACP to investigate the murder of a returning black war hero. It is signed by M. P. Calhoun, the most reclusive author in the country. As a child, Regina was captivated by Calhoun's The Secret of Magic, a novel in which white and black children played together in a magical forest. Once down in Mississippi, Regina finds that nothing in the South is as it seems. She must navigate the muddy waters of racism, relationships, and her own tragic past. The Secret of Magic brilliantly explores the power of stories and those who tell them."
The Vanishing by Wendy Webb (Hyperion, Jan 21, 2014) —"Recently widowed and rendered penniless by her Ponzi-scheming husband, Julia Bishop is eager to start anew. So when a stranger appears on her doorstep with a job offer, she finds herself accepting the mysterious yet unique position: caretaker to his mother, Amaris Sinclair, the famous and rather eccentric horror novelist whom Julia has always admired . . . and who the world believes is dead."
Imaro and Imaro 2: The Quest for Cush, #2 By Charles Saunders, Narrated By Mirron Willis for Audible Frontiers (Jan 21)
Non-Fiction: What Makes This Book So Great by Walton, Jo (Jan 21, 2014)
Short: Day by Day Armageddon: Grey Fox By J. L. Bourne, Narrated By James Snyder (Jan 21)
Red Rising by Brown, Pierce (Jan 28, 2014) — "Brown's debut novel . . . is reminiscent of both Suzanne Collins's The Hunger Games and William Goldman's The Lord of the Flies but has a dark and twisted power of its own that will captivate readers and leave them wanting more."— Library Journal
Hang Wire by Adam Christopher (Angry Robot, Jan 28) — "When Ted Hall's birthday dinner in San Francisco's famous Chinatown ends with an explosion, the fire department blames a gas leak, but when Ted finds strange, personalised messages from the restaurant's fortune cookies scattered around his apartment, his suspicions are aroused, particularly as his somnambulant travels appear to coincide with murders by the notorious Hang Wire Killer."

STARS: Original Stories Based on the Songs of Janis Ian

By

Janis Ian (editor)

,

Mike Resnick

, Tad Williams, Joe Haldeman, and more, narrated by

Gabrielle De Cuir

,

Emily Rankin

,

Stefan Rudnicki

,

John Rubinstein

,

Susan Hanfield

,

Kathe Mazur

,

Sile Bermingham

,

Paul Boehmer

,

Janis Ian

,

Kristoffer Tabori

for Audible Inc. — Scheduled Release Date: 01-28-14

The Book of the Crowman by Joseph D' Lacey (Jan 28, 2014)
A Darkling Sea by James Cambias (Tor, Jan 28, 2014)
Shadow Ops: Breach Zone by Myke Cole (Jan 28, 2014)
Arcanum by Simon Morden (Orbit, Jan 28) — "A historical fantasy novel of medieval Europe in which the magic that has run the world for centuries is disappearing– and now the gifts of the gods must be replaced with the ingenuity of humanity."
The Echo by James Smythe (Jan 28, 2014) — sequel to The Explorer
The Unbound (The Archived, #2) by Victoria Schwab (Jan 28, 2014)
Teen: HER DARK CURIOSITY by Megan Shepherd (Balzer + Bray / Blackstone Audio, Jan 28) — "In this sequel to the Gothic suspense sensation The Madman's Daughter, Juliet must confront what happened to her on the island and escape her haunting past."
Teen: INTO THE STILL BLUE by Veronica Rossi, read by Bernadette Dunne for Blackstone Audio (Jan 28)
Maze by J.M. McDermott (Apex, January 2014)
Into the Wilderness: Blood of the Lamb Book Two by Mandy Hager (Pyr Teen, January 2014)
The Kingmakers (Vampire Empire #3) by Clay and Susan Griffith, read by James Marsters for Buzzy Multimedia (January 2014) — published in print/ebook by Pyr in 2012
Black Gum Godless Heathen by J David Osborne (Broken River Books, January 2014) — sequel to Low Down Death Right Easy
FEBRUARY/MARCH 2014:
APRIL/MAY/JUNE 2014:
City of Stairs by Robert Jackson Bennett (Crown/Broadway and Recorded Books, April 1, 2014) — "a second-world story of spies, subterfuge, and statesmanship set in a nation of dead gods."
The Revolutions by Felix Gilman (Tor, Apr 1, 2014) — "Following his spectacularly reviewed The Half-Made World duology, Felix Gilman pens a sweeping stand-alone tale of Victorian science fiction, space exploration, and planetary romance in The Revolutions."
Reign of Ash (Book Two in the Ascendant Kingdoms Saga) by Gail Z. Martin (Orbit, April 1, 2014) — follow-on to Ice Forged
The Goblin Emperor by Katherine Addison (April 1, 2014)
Cauldron of Ghosts (Crown of Slaves) by David Weber (April 1, 2014)
Baltic Gambit: A Novel of the Vampire Earth by E.E. Knight (April 1, 2014)
Covenant: The Books of Raziel by Benulis, Sabrina (Apr 1, 2014)
Peacemaker: Foreigner #15 by Cherryh, C. J. (Apr 1, 2014)
One Hundred Years of Solitude By Gabriel García Márquez, Narrated By Jimmy Smits for Blackstone Audio — Scheduled Release Date: April 1, 2014
Salvage by Duncan, Alexandra (Greenwillow, Apr 1, 2014) — "a thrilling, surprising, and thought-provoking debut novel that will appeal to fans of Across the Universe, by Beth Revis, and The Handmaid's Tale, by Margaret Atwood. This is literary science fiction with a feminist twist, and it explores themes of choice, agency, rebellion, and family. Ava, a teenage girl living aboard the male-dominated, conservative deep space merchant ship Parastrata, faces betrayal, banishment, and death. Taking her fate into her own hands, she flees to the Gyre, a floating continent of garbage and scrap in the Pacific Ocean. This is a sweeping and harrowing novel about a girl who can't read or write or even withstand the forces of gravity. What choices will she make? How will she build a future on an earth ravaged by climate change? Named by the American Booksellers Association as a Spring 2014 Indies Introduce Pick."
Poetry Collection: Reel to Reel (Phoenix Poets) by Alan Shapiro (University of Chicago Press, Apr 7, 2014) — "Reel to Reel, Alan Shapiro's twelfth collection of poetry, moves outward from the intimate spaces of family and romantic life to embrace not only the human realm of politics and culture but also the natural world, and even the outer spaces of the cosmos itself. In language richly nuanced yet accessible, these poems inhabit and explore fundamental questions of existence, such as time, mortality, consciousness, and matter. How did we get here? Why is there something rather than nothing? How do we live fully and lovingly as conscious creatures in an unconscious universe with no ultimate purpose or destination beyond returning to the abyss that spawned us? Shapiro brings his humor, imaginative intensity, characteristic syntactical energy, and generous heart to bear on these ultimate mysteries. In ways few poets have done, he writes from a premodern, primal sense of wonder about our postmodern world."
Steles of the Sky (The Eternal Sky) by Bear, Elizabeth (Apr 8, 2014)
Shipstar by Larry Niven and Gregory Benford (Tor, April 8, 2014)
Dreams of Gods & Monsters (Daughter of Smoke & Bone, #3) by Laini Taylor (April 8, 2014)
The First Fifteen Lives of Harry August by North, Claire (Redhook, Apr 8, 2014)
Transhuman by Ben Bova (April 15, 2014)
Hollow World by Michael J. Sullivan (Tachyon and Recorded Books, April 15, 2014)
House of Ivy & Sorrow by Natalie Whipple (Harper Teen, April 15, 2014)
Kids: The Forbidden Library by Django Wexler (Apr 15, 2014)
The Serpent of Venice: A Novel by Moore, Christopher (Apr 22, 2014)
The City Stained Red by Sam Sykes (Gollanz UK, 17 Apr 2014) — from the author of Tome of the Undergates
Lagoon by Nnedi Okorafor (Hodder & Stoughton, April 2014) — "The Nigerian megacity of Lagos is invaded by aliens, and it nearly consumes itself because of it."
The Moon King by Neil Williamson (Newcon, April 2014) — Debut novel: "The story of The Moon King grew out of its setting, the sea-locked city of Glassholm, which is a thinly veneered version of Glasgow, Scotland where I live. Glasgow is a city of mood swings, brilliant with sun and warm sandstone one minute and dour with overcast and rain soaked tarmac the next. Summer days are long and filled with light. The winter months pass mostly in darkness. Living here, your spirit is tied to the city's mood. As soon as I hooked that almost bipolar sense to the idea of natural cycles, the story blossomed. In Glassholm, the moon never sets and everything, from entropy to the moods of the populace, is affected by its phasing from Full to Dark and back to Full again. I wanted to know what would life be like there, what quirks nature might throw into the mix. And what would happen if it was discovered that the cyclic euphorias and depressions were not natural after all."
Black Cloud by Juliet Escoria (April 2014)
Immolation (Children, #1) by Ben Peek (Tor UK, Spring 2014) is "set fifteen thousand years after the War of the Gods. The bodies of the gods now lie across the world, slowly dying as men and women awake with strange powers that are derived from their bodies. Ayae, a young cartographer's apprentice, is attacked and discovers she cannot be harmed by fire. Her new power makes her a target for an army that is marching on her home. With the help of the immortal Zaifyr, she is taught the awful history of 'cursed' men and women, coming to grips with her new powers and the enemies they make. The saboteur Bueralan infiltrates the army that is approaching her home to learn its terrible secret. Split between the three points of view, Immolation's narrative reaches its conclusion during an epic siege, where Ayae, Zaifyr and Bueralan are forced not just into conflict with those invading, but with those inside the city who wish to do them harm."
Unwrapped Sky by Rjurik Davidson (Tor, April 15, 2014) — "Caeli-Amur: a city torn by contradiction. A city of languorous philosopher-assassins and magnificent creatures from ancient myth: minotaurs and sirens. Three Houses rule over an oppressed citizenry stirring into revolt. The ruins of Caeli-Amur's sister city lie submerged beneath the sea nearby, while the remains of strange advanced technology lie hidden in the tunnels beneath the city itself."
Valour and Vanity by Mary Robinette Kowal (Tor, Apr 17, 2014) — in Kowal's latest "Jane and Vincent" (a.k.a. "Shades of Milk and Honey" series) Regency fantasy she sets her sights on the heist novel. Color me VERY intrigued.
The Furies: A Thriller by Mark Alpert (April 22, 2014)
Thornlost (Glass Thorns) by Rawn, Melanie (Apr 29, 2014)
Morningside Fall (Legends of the Duskwalker, Book 2) by Jay Posey (Angry Robot, Apr 29, 2014) — Second after 2013 debut novel Three: "Stark and powerful, THREE is a stunning debut. Reinventing the post-apocalyptic western as a journey across interior badlands as dangerous as the cyborg-haunted terrain his hero must cross, Posey has crafted a story that is impossible to put down." — Richard E. Dansky, author of Snowbird Gothic
A Certain Exposure by Jolene Tan (Epigram Books, April 2014)
Afterparty by Daryl Gregory (TOR, April 2014) — "Before the first chapter even begins, there's religion, drugs, and suicide — all presented in a crisp, engaging writing style that itself threatens to be addictive. Set in the near-future in a world in which smart drug recipes are opensourced, one church uses dependency on their sacriment, a mind-altering narcotic called "Numinous," to keep followers in line. One of the drug's creators tries to undo the damage. I'm so hooked!" (via Omnivoracious)
Authority: A Novel (The Southern Reach Trilogy) by Jeff VanderMeer (Farrar, Straus and Giroux, May 6, 2014) — "The bone-chilling, hair-raising second installment of the Southern Reach Trilogy. For thirty years, a secret agency called the Southern Reach has monitored expeditions into Area X—a remote and lush terrain mysteriously sequestered from civilization. After the twelfth expedition, the Southern Reach is in disarray, and John Rodriguez (aka "Control") is the team's newly appointed head. From a series of interrogations, a cache of hidden notes, and more than two hundred hours of profoundly troubling video footage, the secrets of Area X begin to reveal themselves—and what they expose pushes Control to confront disturbing truths about both himself and the agency he's promised to serve."
The Sea Without a Shore by David Drake (May 6, 2014) — Lt. Leary series
The Falconer (The Falconer, #1) by Elizabeth May (May 6, 2014) — US release for fantasy novel published in 2013 in the UK
The Silk Map: A Gaunt and Bone Novel by Willrich, Chris (Pyr, May 6, 2014)
Graphic novel: All You Need Is Kill: The Graphic Novel by Nick Mamatas, Lee Ferguson, Fajar Buana, and Zack Turner, based on the novel by Hiroshi Sakurazaka (VIZ Media/Haikasoru, May 6, 2014)
After the End (After the End, #1) by Amy Plum (May 6, 2014)
The Oversight by Fletcher, Charlie (Orbit, May 6, 2014)
Mirror Sight: Book Five of Green Rider by Britain, Kristen (May 6, 2014)
King of Ashes: Book One of The War of Five Crowns by Raymond E. Feist (May 6, 2014)
Queen of the Dark Things: A Novel by C. Robert Cargill (Harper Voyager, May 13, 2014) — follow-on to Dreams and Shadows
Dead but Not Forgotten By Charlaine Harris (editor), Toni L. P. Kelner (editor) with stories by MaryJanice Davidson, Seanan McGuire, and more (Audible Frontiers, May 13, 2014) — "Charlaine Harris' smash-hit Sookie Stackhouse series may have reached its conclusion, but the world of Bon Temps, Louisiana, lives on in this all-new collection of 15 stories."
Renegade (MILA 2.0, #2) by Debra Drizza (May 13, 2014)
The Severed Streets by Cornell, Paul (May 20, 2014)
A Dance of Shadows (Shadowdance) by David Dalglish (May 20, 2014)
Cyador's Heirs (Saga of Recluce) by L. E. Modesitt (May 20, 2014)
She, Sniper by Hunter, Stephen (May 20, 2014) — a thriller which gets on my list by dint of being narrated by Mary Robinette Kowal
Defenders by McIntosh, Will (May 27, 2014)
Artemis Awakening by Jane Lindskold (Tor, May 27, 2014)
Thief's Magic (Millennium's Rule) by Trudi Canavan (May 27, 2014)
City of Heavenly Fire (The Mortal Instruments, #6) by Cassandra Clare (May 27, 2014)
The Girl in the Road by Monica Byrne (Random House/Crown, May 2014) — "traces the harrowing twin journeys of two women forced to flee their homes in different times in the near future. The first, Meena, is a Brahmin-caste student whose odyssey takes her from the coastal city of Mumbai toward Djibouti across a futuristic but treacherous bridge that spans the Arabian Sea. The second, Mariama, escapes from slavery as a small child in Mauritania, joining a caravan heading across Saharan Africa toward Ethiopia." A big-name blurb is in from none less than Kim Stanley Robinson: "The Girl in the Road is a brilliant novel–vivid, intense, and fearless with a kind of savage joy. These journeys–Meena's across the Arabian Sea and Mariama's across Africa–are utterly unforgettable."
My Real Children by Jo Walton (Tor, May 2014) — "story about one woman and the two lives that she might lead"
Veil of the Deserters (Bloodsounder's Arc #2) by Jeff Salyards (Night Shade Books, June 3, 2014)
Ruin and Rising (The Grisha, #3) by Leigh Bardugo (Jun 3, 2014)
Mr. Mercedes: A Novel by King, Stephen (Scribner, Jun 3, 2014)
The Merchant Emperor (The Symphony of Ages) by Elizabeth Haydon (Jun 3, 2014)
Cibola Burn (The Expanse) by Corey, James S. A. (Jun 5, 2014)
The Girl with All the Gifts by M.J. Carey (Orbit, June 10, 2014) — "Melanie is a very special girl. Dr Caldwell calls her 'our little genius'. Every morning, Melanie waits in her cell to be collected for class. When they come for her, Sergeant keeps his gun pointing at her while two of his people strap her into the wheelchair. She thinks they don't like her. She jokes that she won't bite, but they don't laugh." — link to cover
Shattered: The Iron Druid Chronicles by Kevin Hearne (Jun 17, 2014)
The Long Childhood: A Novel (Long Earth) by Terry Pratchett and Stephen Baxter (Jun 17, 2014)
Prince of Fools (The Red Queen's War, #1) by Mark Lawrence (Ace, June 2014)
Anthology: The End is Nigh: The Apocalypse Triptych #1 edited by John Joseph Adams and Hugh Howey (June 2014) — via io9, "Contributors include Nancy Kress, Paolo Bacigalupi, Daniel Wilson, Elizabeth Bear, and many other incredible authors (full disclosure: io9 editor Charlie Jane Anders and myself (Annalee Newitz) are also contributing stories)."
JULY 2014 and LATER:
All Those Vanished Engines by Paul Park (Tor, Jul 1, 2014)
The Rhesus Chart (A Laundry Files Novel) by Charles Stross (Jul 1, 2014)
Tower Lord (A Raven's Shadow Novel) by Anthony Ryan (Jul 1, 2014)
The Shadow Throne: Book Two of the Shadow Campaigns by Django Wexler (Jul 1, 2014)
Shattering the Ley by Palmatier, Joshua (DAW Hardcover, Jul 1, 2014)
Unwept: Book One of The Nightbirds by Tracy Hickman and Laura Hickman (Jul 1, 2014)
How to Tell Toledo from the Night Sky by Lydia Netzer, read by Joshilynn Jackson (St. Martin's Press / Macmillan Audio, July 1) — Netzer's follow-on to her brilliant 2012 novel Shine Shine Shine, reunited with the same fine narrator
Skin Game (The Dresden Files #15) by Jim Butcher (Roc, July 3, 2014)
Resistance by Samit Basu (Titan, Jul 8, 2014) — follow-on to Turbulence
A Plunder of Souls (The Thieftaker Chronicles) by D. B. Jackson (Jul 8, 2014)
The Return of the Discontinued Man (A Burton & Swinburne Adventure) by Mark Hodder (Jul 8, 2014)
The Path to Power (The Tarnished Crown Series) by Miller, Karen (Jul 8, 2014)
Collection: Her Husband's Hands and Other Stories by Adam-Troy Castro (Prime Books, July 8, 2014)
Full Fathom Five by Max Gladstone (Tor, Jul 15, 2014)
The Book of Life (All Souls Trilogy, #3) by Deborah Harkness (July 15, 2014)
Magic Breaks (Kate Daniels) by Ilona Andrews (Jul 29, 2014)
Half a King by Joe Abercrombie (Harper Voyager, July 2014) — "A classic coming-of-age tale, set in a brilliantly imagined alternative historical world reminiscent of the Dark Ages with Viking overtones, the book tells the story of Yarvi, youngest son of a warlike king. Born with a crippled hand, he can never live up to his father's expectations of what a real man should be and his destiny is not the throne but the Ministry, not the sword and shield but the book and the soft word spoken."
The Islands of Chaldea by Diana Wynne Jones and Ursula Jones (Greenwillow, Summer 2014) — "Fans of the late writer Diana Wynne Jones – who died in March 2011 – are in for an unexpected treat. In the summer of 2014, Greenwillow will publish a new title from the acclaimed science fiction and fantasy author. Titled The Islands of Chaldea, the book is a standalone novel unconnected to any of the author's earlier works. It is also the result of an unusual, asynchronous collaboration between the writer and her younger sister, Ursula Jones."
The Magician's Land by Lev Grossman (Viking Adult, August 5, 2014) — book three after The Magicians and The Magician King – "The stunning conclusion to the New York Times bestselling Magicians trilogy. Quentin Coldwater has been cast out of Fillory, the secret magical land of his childhood dreams. With nothing left to lose he returns to where his story began, the Brakebills Preparatory College of Magic. But he can't hide from his past, and it's not long before it comes looking for him. Along with Plum, a brilliant young undergraduate with a dark secret of her own, Quentin sets out on a crooked path through a magical demimonde of gray magic and desperate characters. But all roads lead back to Fillory, and his new life takes him to old haunts, like Antarctica, and to buried secrets and old friends he thought were lost forever. He uncovers the key to a sorcery masterwork, a spell that could create magical utopia, a new Fillory—but casting it will set in motion a chain of events that will bring Earth and Fillory crashing together. To save them he will have to risk sacrificing everything. The Magician's Land is an intricate thriller, a fantastical epic, and an epic of love and redemption that brings the Magicians trilogy to a magnificent conclusion, confirming it as one of the great achievements in modern fantasy. It's the story of a boy becoming a man, an apprentice becoming a master, and a broken land finally becoming whole."
The Galaxy Game by Karen Lord (Del Rey, Aug 5, 2014)
The House of the Four Winds (Dragon Prophecy) by Mercedes Lackey and James Mallory (Aug 5, 2014)
The Chaplain's War by Brad Torgersen (Baen, 2014) — debut novel
Colossus by Stephen Messer (Random House Children's Books, 2014)
The Broken Eye (Lightbringer #3) by Brent Weeks (Orbit, 2014)
The Three-Body Problem by Liu Cixin, translated by Ken Liu (Tor Books, 2014) — the first of an announced trilogy of translated editions of this 400,000-copy-selling Chinese sf series
Lock In by John Scalzi (Tor, Aug 26, 2014)
Frostborn (Thrones & Bones #1) by Lou Anders (Random House Children's Books, August 2014) — longtime Pyr editor Anders' debut novel, a young reader book which "introduces Karn, who would rather be playing the board game Thrones and Bones, and Thianna, half-frost giant, half-human, who team up when they are chased by wyverns, a dead Viking sea captain, and a 1200-year-old dragon."
Acceptance: A Novel (The Southern Reach Trilogy) by Jeff VanderMeer (Sep 1, 2014)
Anthology: Phantasm Japan: Fantasies Light and Dark, From and About Japan edited by Nick Mamatas (Haikasoru, Sep 16, 2014) — another original trade paperback anthology edited by Mamatas for VIZ Media's Haikasoru sf/f prose imprint after 2012′s well-received The Future is Japanese
Clash of Eagles by Alan Smale (Del Rey, 2014) — "His novella of a Roman invasion of ancient America, "A Clash of Eagles" in the Panverse Two anthology (edited by Dario Ciriello), won the 2010 Sidewise Award for Alternate History, and he has recently sold a trilogy of novels set in the same universe. The first book, CLASH OF EAGLES, will appear from Del Rey in 2014."
Deadly Curiosities by Gail Z. Martin (Solaris, Summer 2014) — "It's official! I'll be writing a new urban fantasy novel for Solaris Books called "Deadly Curiosities" (from my short story universe of the same name) that will come out in summer, 2014!"
The Scorched Earth by Drew Karpyshyn (Summer 2014) — sequel to 2013 novel Children of Fire
Echopraxia by Peter Watts (August 16, 2014) — "We are going to the Sun, rs and Ks. Whereas the last time out we froze in the infinite Lovecraftian darkness of the Oort, now we are diving into the very heart of the solar system— and man, there's gonna be a hot time in the ol' town tonight."
The Winter Long (October Daye, #8) by Seanan McGuire (September 2014)
Mortal Beauty (Immortal Game, #1) by Ann Aguirre (September 2014)
Kids: The Eighth Continent by Matt London (Razorbill, September 2014) — via PW Book Deals: "Debut novelist Matt London sold his middle-grade series, the 8th Continent, to Gillian Levinson at Razorbill. Agent Sara Crowe at Harvey Klinger handled the three-book, world-rights deal for the author. Razorbill said the humorous series was pitched as "Despicable Me meets Where in the World Is Carmen San Diego?"; it follows a brother and sister trying to turn the Great Pacific Garbage Patch into "a utopic eighth continent.""
Hawk by Steven Brust (Tor, Oct 7, 2014)
Chimpanzee by Darin Bradley (Resurrection House, Fall 2014) — "a delightfully weird existential near-fi conspiracy theory romance"
Heraclix and Pomp by Forrest Aguirre (Resurrection House, Fall 2014) — "an alternative history fantasy set in the Eastern Europe. It features a golem, a faery, and a mad scientist (well, more of 17th century alchemist/demonologist, but it's the same trope)"
Rooms by Lauren Oliver (Fall 2014)
Collection: The Nickronomicon by Nick Mamatas (Inssmouth Free Press, Fall/Winter 2014) — collects all of Mamatas' Lovecraft-inspired fiction into a single volume, including a new, never-before-published novella, titled "On the Occasion of My Retirement."
Anthology: Shattered Shields edited by Jennifer Brozek and Bryan Thomas Schmidt (Baen, Nov 4) — a military fantasy anthology with headliners Glen Cook (Black Company), Larry Correia, John Marco, Elizabeth Moon (new Paksenarrion), David Farland (new Runelords), Catherine Asaro, Sarah A. Hoyt, Robin Wayne Bailey.
Anthology: The End is Now: The Apocalypse Triptych #2 edited by John Joseph Adams and Hugh Howey (December 2014) — via io9
UNDATED or 2015:

Hyperbole and a Half by Allie Brosh, read by the author for Simon & Schuster Audio — out in print/ebook in late October
All the Worlds Against Us (Jon and Lobo) by Mark L. Van Name (Baen) — Audible Frontiers has produced the previous books in the series, under fantastic narrations by Tom Stechschulte
Tsarina by J. Nelle Patrick (2014)
The Thousand and One: Book II of The Crescent Moon Kingdoms by Saladin Ahmed (2014?)
Sleeping Late on Judgement Day (Bobby Dollar #3) by Tad Williams (DAW, 2014)
Ebon (Pegasus, #2) by Robin McKinley (2014?)
The Doors of Stone (Kingkiller Chronicle #3) by Patrick Rothfuss (DAW, 2014?)
Shadows of Self (Mistborn, #5) by Brandon Sanderson (Tor, 2014?)
Edge of Eternity (The Century Trilogy #3) by Ken Follett (2014?)
The Winds of Winter (A Song of Ice and Fire, #6) by George R.R. Martin (2015?)
The Water Knife by Paolo Bacigalupi (Knopf, 2015) — "Knopf has acquired a new novel by Paolo Bacigalupi, the science fiction writer whose 2009 book "The Windup Girl" sold 200,000 copies and was considered one of the top novels of the year. The new book, "The Water Knife," is set in a lawless, water-starved American Southwest in the not-too-distant future."
Because You'll Never Meet Me by Leah Thomas (Bloomsbury USA, 2015) — first novel from 2010 Clarion Workshop graduate
The Philosopher's Zombie by Robert J. Sawyer (April 2015)
Anthology: The End has Come: The Apocalypse Triptych #3 edited by John Joseph Adams and Hugh Howey (June 2015) — via io9
John Claude Bemis is set to launch a new Steampunk/alchemist series for young readers, to be published by Disney/Hyperion starting in 2015
The Skull Throne (Demon Cycle, #4) by Peter V. Brett (2015?)
The Scarlet Gospels by Clive Barker (St. Martin's Press, 2015) — "Originally planned as a collection of short stories, the project changed to focus on Harry D'Amour going up against Pinhead. The novel has been in works for more than a decade and we'll be able to read it in 2015, courtesy of St. Martin's Press: 'Clive is delighted to announce that St Martin's Press has acquired world English rights to publish The Scarlet Gospels, his upcoming novel featuring Pinhead and Harry D'Amour. St Martin's anticipates a winter 2015 publication date.'"
The City of Mirrors (The Passage, #3) by Justin Cronin
The Uninvited by Cat Winters (William Morrow) — via PW Book Deals: "Lucia Macro at HarperCollins's William Morrow imprint acquired world English rights to Cat Winters's novel, The Uninvited. The book, which Morrow compares to The Night Circus and The Thirteenth Tale, is a paranormal work set during the influenza pandemic of 1918. Winters, who was represented by Barbara Poelle at the Irene Goodman Literary Agency, was a finalist for the YALSA's 2014 Morris Award, for her novel In the Shadow of Blackbirds."
How to Invent a Language by David Peterson (Penguin) — via PW Book Deals: "For Penguin Press, Elda Rotor took world rights to David Peterson's How to Invent a Language. Peterson has created languages for shows like HBO's Game of Thrones and Syfy's Defiance, and the book will be a guide for anyone looking to craft a new tongue. Agent Joanna Volpe at New Leaf Literary & Media represented Peterson."