Well, it's the middle of January and 2013 is getting into full swing, and though there's not a big crop of highlight-reel concurrent releases this week, one of my most-missing titles of 2012 is here, along with the first installment of John Scalzi's serial novel The Human Division. Also: at the bottom, three five more "Whispersync for Voice" deals I stumbled across this week.
The Human Division gets underway with a double-length (bit under 2.5 hours) first episode, The B-Team: The Human Division, Episode 1 By John Scalzi, Narrated By William Dufris for Audible Frontiers. Dufris was the narrator on Old Man's War, the sf universe in which The Human Division is set. Don't forget to come back on Friday for part one of Dave's Listen-a-Long!
That "missing" novel from 2012 is Glamour in Glass By Mary Robinette Kowal. As was her debut novel, 2010's Shades of Milk and Honey, for which Glamour in Glass is a sequel, it is narrated by the author, who is an experienced narrator with a very recent narration credit on a The Mongoliad SideQuest novella, and just in 2012 narrated Tears in Rain By Rosa Montero, Ashes of Honor: An October Daye Novel, Book 6 By Seanan McGuire, and The Museum of Abandoned Secrets By Oksana Zabuzhko. Here: "Mary Robinette Kowal stunned readers with her charming first novel, Shades of Milk and Honey, a loving tribute to the works of Jane Austen in a world where magic is an everyday occurrence. This magic comes in the form of glamour, which allows talented users to form practically any illusion they can imagine. Shades debuted to great acclaim and left readers eagerly awaiting its sequel. Glamour in Glass continues following the lives of beloved main characters Jane and Vincent, with a much deeper vein of drama and intrigue. In the tumultuous months after Napoleon abdicates his throne, Jane and Vincent go to Belgium for their honeymoon. While there, the deposed emperor escapes his exile in Elba, throwing the continent into turmoil. With no easy way back to England, Jane and Vincent's concerns turn from enjoying their honeymoon…to escaping it. Left with no outward salvation, Jane must persevere over her trying personal circumstances and use her glamour to rescue her husband from prison…and hopefully prevent her newly built marriage from getting stranded on the shoals of another country's war."
ALSO OUT THIS WEEK:
Rage Is Back: A Novel

By

Adam Mansbach

, Narrated By

Danny Hoch

for Penguin Audio — Length: 9 hrs and 25 mins — from the author of "Go the F* to Sleep" comes this novel, "Kilroy Dondi Vance is an 18-year-old mixed-race Brooklynite who deals pot and goes to prep school on scholarship, all while growing up in the shadow of his absentee father, Billy Rage, a legendary graffiti writer who disappeared from New York City in 1989 following a public feud with MTA police chief Anastacio Bracken. Now it's 2005. Bracken is running for mayor of New York City. And who should Dondi discover on a rooftop in Brooklyn but his father, newly returned to the city and ready to settle the score."

Shades of Earth: An Across the Universe Novel, Book 3 By Beth Revis, Narrated By Tara Carrozza for Penguin Audio — Series: Across the Universe, Book 3 — Length: 11 hrs and 8 mins –"Amy and Elder have finally left the oppressive walls of the spaceship Godspeed behind. They're ready to start life afresh – to build a home – on Centauri-Earth, the planet that Amy has traveled 25 trillion miles across the universe to experience. But this new Earth isn't the paradise that Amy had been hoping for. Amy and Elder must race to uncover who – or what – else is out there if they are to have any hope of saving their struggling colony and building a future together. But as each new discovery brings more danger, Amy and Elder will have to look inward to the very fabric of what makes them human on this, their most harrowing journey yet. Because if the colony collapses? Then everything they have sacrificed – friends, family, life on Earth – will have been meaningless."
Impulse By Steven Gould, Narrated By Emily Rankin for Audible Frontiers — Length: 11 hrs and 33 mins — book 3 in Gould's JUMPER series, out in print/ebook from Tor last week, and is today's Big Idea post over on Scalzi's Whatever — via the extraordinary Ove on Goodreads: "I would recommend Jumper first, though Impulse (book 3) you can read more or less standalone. It worked for me at least, since i started with Impulse."
Fatherless: Fatherless, Book 1 By James Dobson and Kurt Bruner, Narrated By Bernard Setaro Clark for Hachette Audio — Length: 12 hrs and 8 mins — Clark was a fantastic narrator for Hal Duncan's Vellum
Shadows Fall By Simon R. Green, Narrated By Kevin Stillwell — Length: 19 hrs and 58 mins
Walking Wolf By Nancy A. Collins, Narrated By Mike Gurdy — Length: 6 hrs and 2 mins
Magic's Pawn: The Last Herald Mage, Book 1 By Mercedes Lackey, Narrated By Gregory St. John for Audible Frontiers — Series: Last Herald Mage, Book 1 — Length: 12 hrs and 18 mins
Trackers By Dan Purkey, Narrated By Michael Bowen — for Books in Motion — Length: 13 hrs and 37 mins
The White Mists of Power By Kristine Kathryn Rusch, Narrated By Gildart Jackson — Length: 9 hrs and 38 mins
A Shadow of All Night Falling: Dread Empire, Book 1 By Glen Cook, Narrated By Stephen Hoye — Length: 9 hrs and 10 mins
The Fishcastle (2000) By Elizabeth Stead, Narrated By Caroline Lee for Bolinda Audio (2001) — Length: 12 hrs and 48 mins
Dragon Precinct: Cliff's End, Book 1 By Keith R. A. DeCandido, Narrated By Michael Page — Series: Cliff's End, Book 1 — Length: 6 hrs and 8 mins
The Hero and the Crown By Robin McKinley, Narrated By Roslyn Alexander — Length: 10 hrs and 50 mins
The Blue Sword By Robin McKinley, Narrated By Diane Warren — Length: 12 hrs and 16 mins
The Fire's Stone By Tanya Huff, Narrated By Bill Hensel — Length: 22 hrs and 1 min
A Rumor of Angels By Marjorie Bradley Kellogg, Narrated By Gale Van Cott — Length: 11 hrs and 43 mins
Fiction: The Painted Girls: A Novel By Cathy Marie Buchanan, Narrated By Cassandra Campbell, Julia Whelan, and Danny Cambell for Blackstone Audio — a tale of Paris, art, ballet, and sisters
Short: Stakeout at the Vampire Circus: Dan Shamble, Zombie P.I. Series By Kevin J. Anderson, Narrated By Phil Gigante — Length: 1 hr and 10 mins
Short: A Stranger in Paradise By Edward M. Lerner, Narrated By Tom Weiner — Length: 3 hrs and 27 mins
Flight from Rebirth By J. T. McIntosh, Narrated By John Lee — Length: 5 hrs and 2 mins
Arcalian Apocalypse: The Chronicles of Abahrazha, Book 2 By Michael Anthony Cariola, Narrated By Cameron Beierle for Books in Motion — Series: The Chronicles of Abahrazha, Book 2 — Length: 16 hrs and 32 mins
The Lamentations of Julius Marantz By Marc Estrin, Narrated By Anthony St. Pierre for Iambik Audio — Length: 5 hrs and 50 mins
Teen: Level 2: Memory Chronicles, Book 1 By Lenore Appelhans, Narrated By Jenna Lamia for Listening Library — Length: 8 hrs and 19 mins
SEEN BUT NOT HEARD: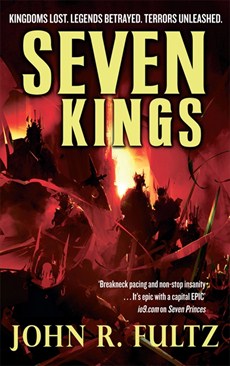 COMING SOON:
MARCH:
APRIL:
Into the Cave by Alex Granados (April 1)
New Taboos (Outspoken Authors) by John Shirley (PM Press, Apr 1, 2013)
Prophet of Bones: A Novel by Ted Kosmatka (Henry Holt and Macmillan Audio, Apr 2, 2013)
Life After Life: A Novel by Kate Atkinson (Reagan Arthur Books, Apr 2, 2013)
Odds Against Tomorrow: A Novel by Nathaniel Rich (FSG, Apr 2, 2013)
Blood Trade (Jane Yellowrock, #6)  by Faith Hunter (Roc, April 2)
The Heretic (Raj Whitehall) by Tony Daniel and David Drake (Baen, April 2)
Anthology: Weird Detectives: Recent Investigations by Simon R. Green, Neil Gaiman, Joe R. Lansdale and Paula Guran (Prime Books, Apr 3, 2013)
The Machine by James Smythe (Blue Door UK, 11 Apr 2013)
Rogue Descendant (Nikki Glass, #3) by Jenna Black (Pocket Books, April 30)
NOS4A2 by Joe Hill (William Morrow, April 30) — no audio news
The Whispering Muse, The Blue Fox, and From the Mouth of the Whale by Sjón (FSG, April 30) — new US English editions of "one of Iceland's greatest living novelists"
The Lives of Tao by Wesley Chu (Angry Robot: 30 April)
MAY and LATER:
The Kings and Queens of Roam: A Novel by Daniel Wallace (Touchstone, May 7)
The Rithmatist by Brandon Sanderson (Tor Teen, May 14, 2013)
The Tyrant's Law (The Dagger and the Coin) by Daniel Abraham (Orbit, May 14, 2013)
The Human Division by John Scalzi (Tor, May 14, 2013) — currently being serialized in both ebook and audiobook
Teen: THE PLANET THIEVES by Dan Krokos (Blackstone Audio, 21 May)
The Shambling Guide to New York City by Mur Lafferty (Orbit, May 28)
RED HORSE by Alex Adams (Blackstone Audio, 28 May) — sequel to White Horse

The Eighth Court by Mike Shevdon (Angry Robot: 28 May)
The Blue Blazes by Chuck Wendig (Angry Robot: 28 May)
Fiction: WE ARE ALL COMPLETELY BESIDE OURSELVES by Karen Joy Fowler (Blackstone Audio, 31 May)
Unfettered edited by Shawn Speakman (Grim Oak Press, May 2013) –a charity anthology with stories from Terry Brooks, Patrick Rothfuss, Tad Williams, Brandon Sanderson, R.A. Salvatore, Naomi Novik, Peter V. Brett, Lev Grossman, Daniel Abraham, Michael J. Sullivan, David Anthony Durham, Robert V.S. Redick, Kevin Hearne, Mark Lawrence, …
The Shining Girls by Lauren Beukes (Mulholland, Jun 4, 2013) — no audio news
Abaddon's Gate (The Expanse) by James S.A. Corey (Orbit, Jun 4, 2013)
In Thunder Forged: Iron Kingdoms Chronicles (The Fall of Llael Book One) by Ari Marmell (Jun 4, 2013)
After the End: Recent Apocalypses by Paolo Bacigalupi, Cory Doctorow, Margo Lanagan and Nnedi Okorafor (Jun 5, 2013)
The Ocean at the End of the Lane: A Novel by Neil Gaiman (William Morrow and Harper Audio, Jun 18, 2013)
The Adjacent by Christopher Priest (Orion UK, Jun 20, 2013) — no US release news
Cold Steel (The Spiritwalker Trilogy) by Kate Elliott (Orbit, Jun 25, 2013)
Thieves' Quarry by D.B. Jackson (Tor, July 2) — sequel to Thieftaker
Neptune's Brood by Charles Stross (Ace, Jul 2, 2013) — "The year is AD 7000. The human species is extinct—for the fourth time—due to its fragile nature. Krina Alizond-114 is metahuman, descended from the robots that once served humanity. She's on a journey to the water-world of Shin-Tethys to find her sister Ana. But her trip is interrupted when pirates capture her ship. Their leader, the enigmatic Count Rudi, suspects that there's more to Krina's search than meets the eye."
A Discourse in Steel by Paul S. Kemp (Angry Robot: 2 Jul 2013)
North American Lake Monsters: Stories by Nathan Ballingrud (Small Beer Press, July 16)
Anthology: Carniepunk (Pocket Books, July 30)
Darwen Arkwright and the School of Shadows (Darwen Arkwright #3) by AJ Hartley (Razorbill, August 1)
The Crown Tower (The Riyria Chronicles #1) by Michael J. Sullivan (Orbit, August 3)
The Emergence of the Digital Humanities by Steven E. Jones (Routledge, Aug 3, 2013)
Emperor of Thorns (The Broken Empire) by Mark Lawrence (Ace, Aug 6, 2013)
Blood of Tyrants by Naomi Novik (Del Rey, Aug 13, 2013)
The Time of Contempt (The Witcher) by Andrzej Sapkowski (Orbit, Aug 27, 2013)
Billy Moon: A transcendent Novel Reimagining the Life of Christopher Robin Milne by Douglas Lain (Tor, Aug 27, 2013)
The Republic of Thieves (Gentleman Bastard, #3) by Scott Lynch (Spectra, September 3)
Monsters of the Earth (Books of the Elements #3) by David Drake (Tor, September 2013)
Three (Duskwalker Cycle #1) by Jay Posey (Angry Robot, Autumn 2013)
Fiddlehead by Cherie Priest (Tor, Autumn 2013)
The Magician's Land by Lev Grossman (Viking, Autumn 2013 — not announced but I'm hoping…)
Doctor Sleep by Stephen King (Scribner and Simon & Schuster Audio, September 24) — King returns to The Shining
Steelheart by Brandon Sanderson (Delacorte Books for Young Readers, Sep 24, 2013)
Dead Run, The by Adam Mansbach (HarperCollins, Sep 24, 2013)
Hero by Alethea Kontis (Harcourt Children's Books, October 1)
Collection: Kabu Kabu by Nnedi Okorafor (Prime, October 2013)
WHISPERSYNC FOR VOICE PRICE QUIRKS:
Three titles (among scores and scores I'm sure) I discovered with lower Kindle+Audible prices than Audible alone:
And check out your existing Kindle library; you may have (like I did) picked up The Whitefire Crossing: The Shattered Sigil, Book 1 by Courtney Schafer when the Kindle edition was on sale for $1 or whatever it was, and thus can pick up the audiobook for $4.99 instead of the member price of $20. Not bad… Some other finds from my dormant Kindle library: Kay Kenyon's Bright of the Sky, Ian McDonald's The Dervish House, Naomi Novik's His Majesty's Dragon: Temeraire, Book 1, and Robin Hobb's Dragon Keeper.