April 1, 2013, Durham, North Carolina:
Cory Doctorow's work in audio, including Little Brother, Makers, and Pirate Cinema, has previously been available in both CD audio and through several other digital audiobook vendors, but has not been available on Audible.com. Now, due to a groundbreaking new "Double DRM (TM)" technology, the titles will finally be available, starting today, on Audible.com as well, published through Audible's Neil Gaiman Presents imprint.
"I've always loved DRM," said Doctorow in a press release, "but Audible.com's was just too permissive. Now with new Double DRM (TM) finally I can feel confident that my work cannot possibly, like ever, be pirated or used on some rogue OS, like Linux or whatever."
Producer Gaiman said the following, when asked for further comment: "I have enjoyed my role in bringing some of the forgotten past and present masters of speculative fiction to audio, from James Branch Cabell to Robert Sheckley and Keith Roberts, to Jonathan Carroll, Ellen Kushner, and M. John Harrison. When I was a boy, monsters. A second world. Inspiration. What happens next? Exactly."
According to Audible.com's Steve Feldberg, the new Double DRM (TM) technology is both a patent and a trade secret. But he did offer a few detail teasers, such as "Advanced ROT13 encryption" and "Extra-Strongly-Worded FBI Copyright and DMCA Warning" and "a picture of an army of lawyers".
While Audible is working out details on Doctorow's audiobook backlist, the first title to be available in Double DRM (TM) is the February, 2013-published Homeland, the NY Times-bestselling follow-on to Little Brother, which had been previously unavailable in audio.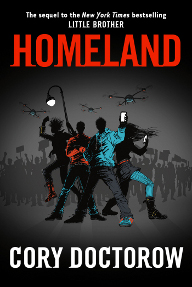 "It's the perfect book for this new technology," said Doctorow. "Marcus struggles with the ethics of releasing leaked data publicly, confronting overzealous prosecutors, trying to navigate his way through issues of privacy and control. With Double DRM (TM) that all goes away; it's simply clear that his data and privacy belongs to corporations and governments, not to him. Forever."