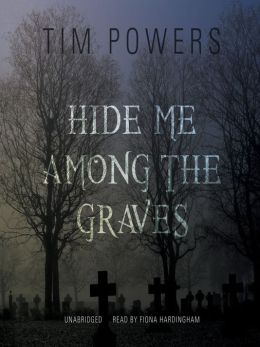 Hide Me Among the Graves
by Tim Powers, Read by Fiona Hardingham
Length: 17 hours, 26 minutes
What do you want from a sequel? Comfort? More of the same? Or simply a continuation? A further exploration that goes somewhere different? There isn't one right or wrong answer. Sometimes it's one thing, sometimes it's something else, sometimes it's a mixture. Tim Powers' Hide Me Among the Graves falls into the latter category – there are similarities to its predecessor, but it is also very much its own book.
You should know upfront that Tim Powers' The Stress of Her Regard is one of (if not my all time) favorite vampire books of all time. It was one of the first things I reviewed here, and it's unlike any other vampire story I'd ever read. What was terrifying about it wasn't just the inhuman vampires (though they were), but the way it examined the notions of the muse, as well as success and the arts. It remains to this day one of the most frightening books I've read.
Hide Me Among the Graves includes vampires, and some minor characters return, but it's much more of a dark fantasy adventure than it is dark fantasy horror. It's Doctor Sleep to The Shining. There is plenty of spookiness afoot in séances, ghosts cursed to swim the Thames, and spiritualism. But it never achieves the shocking horror and awful lusts of The Stress of Her Regard. It's almost like the second half of Dracula, where Van Helsing organizes Jonathan Harker, Dr. Seward, and the rest of the gang to go a-vampire-hunting. There's danger, but it's matched with humor and excitement.
It also features much more of an ensemble. Where the first book held a relatively tight focus on Michael Crawford (with occasional dalliances into Percy Shelley), the net here is cast much broader. Happily, the ratio of male/female heroes is much more even, which is good. One of the main issues with The Stress of Her Regard is that Mary Shelley (author of Frankenstein) had so little to do, and was pushed to the side for her husband and friends. This time out, we get the poet Christina Rosetti, street smart former prostitute Adelaide McKee, and young Johanna. They're joined by veterinarian John Crawford, poet Dante Gabriel Rosetti, and elderly former explorer and adventurer Edward Trelawney.  They're all very different from each other, and due to some of the conflict that arises, the book is surprisingly quite a bit funnier. But that doesn't make this book a comedy by any stretch. There's an unsettling scene early on when teenaged Christina's father essentially forces her to take one of the demonic statues, sacrificing her to save himself. Many of the characters suffer hellish graveyard sequences and haunted seas. But it's not as disturbing or challenging a novel as The Stress of Her Regard.
Simon Vance is one of my favorite readers in the business, so I was sad he didn't return here. However, Fiona Hardingham's narration was nothing short of excellent. This was no small task, as she had to work to differentiate the various characters – who were often in the same place together, or whose narratives jumped from one to the other. McKee in particular was a lot of fun to listen to, as was her salty old-dog take on Trelawney (and when the two of them were playing off each other, it was listening bliss). The rest of the characters felt not only like individuals, but the protagonists of their own stories under Hardingham's voice. It's the first time I've listened to Hardingham narrate, but her voice was easy to settle into hearing, and I hope to hear much more of her work.
All in all, Hide Me Among the Graves is a welcome return to Powers' dark, mysterious world of vampires, art, and the muse. I'd be happy to go back again if Powers found himself inspired to keep us up late at night again.