NOVEMBER 13-19, 2013: As happened last week, amidst a fairly quiet week overall there's still a pair of fantastic audiobooks from my "most missing in audio" list: Tim Powers' Hide Me Among the Graves and Lewis Shiner's Slam. Additionally, this week brings one of the most fantastically-produced non-fiction titles I've ever had the occasion to come across, an Audible-published Skyboat Media full cast production of Report from Nuremberg, complete with archive audio from the source material. The "also out" listings this week are led by more new releases from fantastic independent audio publisher Iambik, along with C.S. Fuqua's poetry collection White Trash and Southern, Vonda McIntyre's Superluminal, Philippa Ballantine's Kindred and Wings, and new books in the Romulus Buckle, Baskerville Affair, and Jeremiah Hunt series. Coming soon — later this week in fact — are a good pile each of Dr. Who audiobooks (including one by Neil Gaiman) and an epic haul of Greg Egan's hard sf. In terms of news, there's been a lot, but the most recent bit is that Buzzy Multimedia has just posted a sample of James Marsters reading The Kingmakers by Clay and Susan Griffith, due out in full in January. Enjoy!
PICKS OF THE WEEK:
Hide Me Among the Graves by Tim Powers, read by Fiona Hardingham for Blackstone Audio was published in print/ebook last year by William Morrow, a stand-alone follow-up to the fantastic The Stress of Her Regard which both Dave and I loved. Dave had the decency to actually write it down properly. Perhaps I made up for it by going on to listen to and love Powers' Declare and Last Call and On Stranger Tides… Anyway. The Stress of Her Regard was performed magnificently by Simon Vance, and here the atmosphere of Powers' secret history of mid-19th Century Europe is under the capable voice of Hardingham, whose rendition of Jane Rogers' The Testament of Jesse Lamb was simply wonderful. A 2012 Washington Post Notable Book for Fiction and a 2013 Mythopoeic Award Nominee. "Winter 1862, London. Adelaide McKee, a former prostitute, arrives on the doorstep of veterinarian John Crawford, a man she met once seven years earlier. Their brief meeting produced a child who, until now, had been presumed dead. McKee has learned that the girl lives—but that her life and soul are in mortal peril from a vampiric ghost. But this is no ordinary spirit; the bloodthirsty wraith is none other than John Polidori, the onetime physician to the mad, bad, and dangerous Romantic poet Lord Byron. Both McKee and Crawford have mysterious histories with creatures like Polidori, and their child is a prize the malevolent spirit covets dearly. Polidori is also the late uncle and supernatural muse to poet Christina Rossetti and her brother, painter Dante Gabriel Rossetti."
Slam [print/ebook/CD] by Lewis Shiner, read by Stefan Rudnicki, is Shiner's 1990 novel of a paroled tax evader, anarchist skateboarders, and, well, 23 cats. (And a UFO hoaxter; an elderly blind/deaf couple seeking centuries-old pirate treasure; an arsonist; and even more cats.) Somehow it was available at Audible in mid-October (and, via a $2.99 Kindle plus $2.99 Whispersync for Voice special, an instant grab once I saw it live there) but I wanted to go ahead and feature it on its official release date this week. As I said during my listening to the audiobook, "I could listen to Stefan Rudnicki read Lewis Shiner all day." Rudnicki was masterful on Glimpses, Shiner's World Fantasy Award winning novel, and here Rudnicki voices one of Shiner's mainstream fictions with the same aplomb. Slam when released in 1990 was on the liminal edge between the Cold War's pessimism and the dawning of the modern Internet. Technological advances seemed to promise post-scarcity just across the horizon. Now looking back, Slam seems almost more a paean to that optimistic hope, that one could plug in to a new network of possibilities and live more or less disconnected from that other grid — that grid of laws and finance and capital — in peace and happiness and freedom. As it turned out, deregulated corporate power ended up the victor, buying up land, air, water, laws, politicians, prisons, countries, whatever; opting out wasn't an option. I enjoyed the heck out of this audiobook and am looking forward to next month's audio release of Shiner's Collected Stories.
That Skyboat Media non-fiction title I mentioned in the intro is Report from Nuremberg: The International War Crimes Trial by Harold Burson, narrated by Christian Rummel, Richard McGonagle, Gabrielle De Cuir, Stefan Rudnicki, Kristoffer Tabori, John Rubinstein, Harold Burson, Jim Meskimen, Arthur Morey, Joe Nocera, Robert Forster, and Scott Brick for Audible. From archival audio of reporters' typewriters clanging behind the original radio broadcasts, to Rudnicki's introduction, to the sometimes chilling performances of this full cast, I can't recall a non-fiction title that compares in any way to this. In terms of fiction, World War Z perhaps comes (intentionally? one would have to ask Max Brooks, but I suspect yes) closest, but it's yet another achievement for Skyboat, really. The trial revealed and publicized much of the horrific goings on of the Nazi regime to the world, amidst enduring questions of the legal authority of its court; following down the rabbit hole of stories here, and you learn of ancient prisons converted to housing one or more of the guilty from the trial, and then being destroyed after the death or release of their final prisoner amidst fears of their becoming shrines for a new generation of fascists. That's the thing about history — you can keep going and going. Here, though, it's a spotlight on — and is being released on the anniversary of — the opening of the first and most famous trial, November 19, 1945.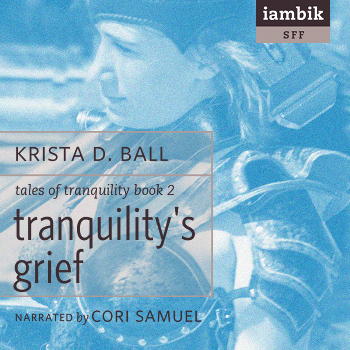 I'll admit it, I'm a sucker for cheering on the underdogs. And it certainly helps when said pint-sized upstart does fantastic work the right way. For Canada-based Iambik Audiobooks, that's releasing exquisite and often edgy, innovative, and diverse fiction from fantastic small press publishers, Mundania Press in the case of my last pick this week, Krista D. Ball's Tranquility's Grief. Tranquility's Grief is volume 2 of the Tales of Tranquility, following Book 1: Tranquility's Blaze. "As the bodies of her father and her sister burned, Bethany refused to say good-bye. She would say it only when she saw the release of their spirits and the burning of every person connected to their deaths. Only then would they rest in peace. Thousands are dead. Lady Champion Bethany's tainted sister is slain. Her home lost forever. And Magic yet survives. Bethany thought she'd given everything in the fight against Magic. She was wrong. When the deaths of those closest to her shake her already crumbled world, she doesn't wilt and die. She still has one thing left to gain even now: revenge. Prophecy or no, half-goddess or not, Bethany vows to bring order back to the world with the edge of her blade. No matter who she must defy. No matter what stands in her way. No matter who must die. For what they've done to her, all will pay." The narrator here is Cori Samuel, who is a longtime LibriVox contributor and in terms of commercial audiobooks was absolutely fantastic on J.M. McDermott's Last Dragon last year.
ALSO OUT THIS WEEK:
The Quest for the Immortal Walker is the fourth and last book of the Chronicles of Valonia series by Katie Paterson, narrated by Karen Savage for Iambik; the print/ebook edition was published by KAMedia Works. "The Master of Hades has waited centuries to fill the world with his evil, and now he has his chance, with his despicable sorceress and his heinous creatures of death. Only the Immortal Walker can stop this catastrophe, and it is Rachel and Gareth's final quest to find him. But who is the Immortal Walker and where is he? Faced with dangerous situations the twins have to battle on and solve the mystery, before the Master of Evil takes over. But can Rachel and Gareth do this, and will they be in time to save the world from the eternal fires of Hades and its Supreme Master of Darkness?" First line: "Deep under the black mountains in her damp, dark caverns Rathyen rattled six stones in her gnarled, grimy hands and threw them across the stone table for the second time."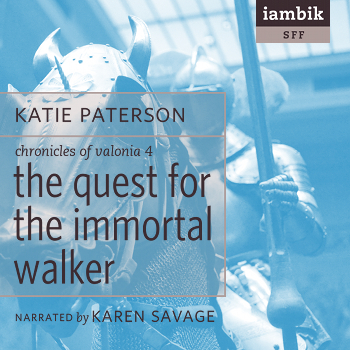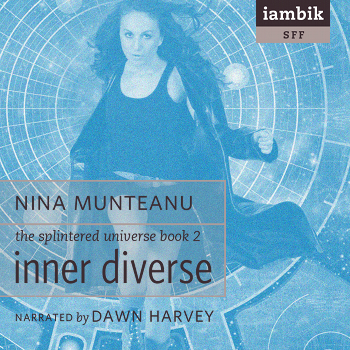 Inner Diverse is Book 2 of the Splintered Universe series, a metaphysical thriller trilogy which started with Outer Diverse. Written by Nina Munteanu and narrated by Dawn Harvey, originally published by Starfire World Syndicate. "Detective Rhea Hawke continues her quest for truth and justice in a world that is not what it seems. Rhea's search takes her to the far reaches of the known universe from the Weeping Mountains of Horus to the blistering deserts of Upsilon 3. Amidst the turmoil of an imminent extra-galactic war, Rhea holds the key even as those she trusts betray her. No one is what they seem…" First Line: "I pulled out a second wad of soyka gum and chewed nervously then resumed paddling, eyes sharp for any boiling masses of water snakes."
White Trash & Southern: Collected Poems, Volume 1 by C. S. Fuqua, narrated by C.S. Fuqua for his own "Cooperative Ink" label. He released a (short!) short story earlier this year, Hush, Puppy!: A Southern-Fried Tale of fried cornbread, complete with barking dogs and other sound effects, and here takes on his new collection: "Two hundred thirty-two poems, 232 stories of life, from birth to death, domestic bliss to domestic violence, political stupidity to flatulent bus travelers, celebration, mourning, joy, sadness…Poetry in this data-saturated age is not, for most, a viable way to make a living. So why expend the time and energy to create something that few people will listen to and even fewer will purchase? To which I must ask, why do people sing in the rain, paint pictures, dance? Because it provides pleasure and reward and perhaps even keeps them sane. As a writer of fiction and nonfiction, I am most concerned with story. When I write poetry, I view it not as some lofty literary tool to fool or condescend, but as an exercise in crafting story within the strictest confines. White Trash & Southern is a collection of such exercises, spanning nearly three decades. To create a complex story within a limited number of words – to communicate far more than appears – is a challenge that can provide enormous reward and satisfaction. Sometimes I succeed. Sometimes I don't. But at least I remain sane. Sort of." It's Fuqua's second collection to come to audio this year, after his fiction collection, Trust Walk, Narrated By Timothy B. Phillips for Celeritas Unlimited LLC. "Descend into a world of dark and light, a world in which karma is real. The 35 stories collected here explore the motivations of the human spirit, the qualities that lead us into temptation as well as deliverance, that make even the most ordinary among us extraordinary. In 'Walking After Midnight,' a Year's Best Horror Stories selection, a man sinks in self-pity as he drives home in a snowstorm after a long day's work, his wife recently deceased, his son a casualty of war decades before. In the swirling snow, he swerves to avoid a man at the edge of the road. The truck flips and fatally injures the driver, but he won't die alone."
Superluminal (1983) By Vonda N. McIntyre, Narrated By Rachel Evans for Audible Inc. "From the ocean's emerald depths, where whales and adapting humans live in harmony … to the rigors of inter-dimensional travel, the universe is order and laws; the universe is hierarchies, evolution, and space…Now a young pilot with a new bionic heart, a man from a plague-ravaged world, and a beautiful diver from the sea are about to discover that their destinies – and their souls – are entwined. A voyage to a distant planet, a message in a crystal, an accident, and a love affair have suddenly cracked open the known order of the Universe. Two women and a man are caught up in a mystery, and now they are changing every world they travel in, and every life they touch" Also out this week by McIntyre is a short, The Adventures of Field Theorems, narrated by Simon Brooks.
ALSO ALSO OUT THIS WEEK:
ALSO ALSO ALSO OUT THIS WEEK:
Short: Only a Shadow: A Story of the Fated Blades By Steve Bein, Narrated By Brian Nishii for Audible Frontiers (Nov 13)
Teen: Forever: Book III of the Fins Trilogy By Ashley Knight, Narrated By Martha Lee for Crossroad Press (Nov 13)
The Time of the Wolf: A Novel of Medieval England: Hereward, Book 1 and The Winter Warrior: A Novel of Medieval England By James Wilde, Narrated By Simon Vance for Brilliance Audio (Nov 14)
THE PUPPET MASTERS by Robert A. Heinlein, read by Tom Weiner for Blackstone Audio (Nov 15)
The Painted Man: Sissy Sawyer Series, Book 2 By Graham Masterton, Narrated By Liza Ross for Audible Ltd (Nov 15)
Short: Sir Gawain and the Green Knight, Narrated By David Rintoul — Length: 1 hr and 49 mins (Nov 16)
Nodding and The Forgotten By Jacqueline Druga, Narrated By Andrew B. Wehrlen
The Phoenix in Flight: Exordium, Book 1 and Ruler of Naught: Exordium By Sherwood Smith and Dave Trowbridge, Narrated By James Patrick Cronin for Audible Inc (Nov 19)
Collection: Bones Are White: The Color Series: A Collection of Scott Sigler Short Stories By Scott Sigler, Narrated By Scott Sigler, Alec Volz, Veronica Giguere, Justin Robert Young
Fiction Collection: Mr. Loveday's Little Outing and Other sad Stories By Evelyn Waugh, Narrated By Timothy West, Constantine Gregory, Prunella Scales
Fiction Collection: No One Writes to the Colonel, and Other Stories By Gabriel García Márquez, Narrated By Armando Duran, Roxanne Hernandez, Marcelo Tubert
Teen: World After: Penryn & the End of Days, Book 2 By Susan Ee, Narrated By Caitlin Davies for Brilliance Audio
Teen: The Severed Tower: A Conquered Earth Novel, Book 2 By J. Barton Mitchell, Narrated By Kirby Heyborne
SEEN BUT NOT HEARD:
Datura, or A Delusion We All See by Lina Krohn (Cheeky Frawg, Nov 15) — "Fantasy novel about an editor and writer for a magazine that specializes in oddities. The book was first published in 2001 in Finnish, and is here translated by Anna Volmari and Juha Tupasela." (via Locus Online) — Publishers Weekly gives this a starred review: "Shadows of Kafka and Strindberg are infused with Krohn's love of her fragile characters. The absurdist antilogic of nightmare colors this parable of elegant chaos and denies readers moral comfort or clear resolution. Aficionados of the surreal will find this a contemporary masterwork."
Collection: The Explorer and Other Stories by Jyrki Vainonen (Cheeky Frawg, Nov 15)
Collection: Beyond the Rift by Peter Watts (Tachyon, Nov 18, 2013) — "Combining complex science with skillfully executed prose, these edgy, award-winning tales explore the shifting border between the known and the alien."
Collection: In the Company of Thieves by Kage Baker (Tachyon, Nov 15, 2013)
The Orphans' Promise (Secret of Ji, Book Two) by Pierre Grimbert, translated by Matt Ross and Eric Lamb (Nov 19, 2013) — audiobook coming in December, read by Michael Page for Brilliance Audio
The Least of My Scars by Stephen Graham Jones (Broken River Books) — "You haven't heard of William Colton Hughes. Or, if you have, then you're not telling anybody. Not telling them anything, ever. He's not the serial killer on the news, in the textbooks. He's the one out there still punching his card, and a few other people's too. He is a nightmare come to life, waiting in his apartment for you to knock on his door."
Wild Fell by Michael Rowe (ChiZine, Nov 19, 2013) — "The crumbling summerhouse called Wild Fell, soaring above the desolate shores of Blackmore Island, has weathered the violence of the seasons for more than a century."
Apparitions: Ghosts of Old Edo by Miyuki Miyabe and translated from Japanese by Daniel Huddleston (Haikasoru, Nov 19, 2013) — "In old Edo, the past was never forgotten. It lived alongside the present in dark corners and in the shadows. In these tales, award-winning author Miyuki Miyabe explores the ghosts of early modern Japan and the spaces of the living world—workplaces, families, and the human soul—that they inhabit. Written with a journalistic eye and a fantasist's heart, Apparitions brings the restless dead, and those who encounter them, to life."
Bloodstone (Rebel Angel #2) by Gillian Philip (Tor, Nov 19)
Collection: Tyrannia and Other Renditions by Alan DeNiro (Small Beer Press, Nov 19)
New Under the Sun by Nancy Kress and Therese Pieczynski (Arc Manor/Phoenix Pick, Nov 19) — "Anthology of two original novellas, latest in a series of such anthologies, edited by Mike Resnick, in which a veteran author is paired with a newcomer." (via Locus Online)
Art: Spectrum 20: The Best in Contemporary Fantastic Art edited by Cathy and Arnie Fenner (Underwood Books, Nov 19)
Non-Fiction: Creating an Online Presence (Careerbuilding for Writers) by Cat Rambo (Nov 17, 2013) — "Covers the basics of creating and maintaining an online presence for writers. What you need on a website, how to effectively use social media, how to find readers via social media, what free resources are available to writers, whether it's worth it to pay for online advertising, and, most importantly, how to promote yourself online without using all your valuable writing time."
COMING SOON:
The Rabbit Back Literature Society by Pasi Ilmari Jaaskelainen and translated from the Finnish by Lola Rogers (Pushkin Press, Nov 21, 2013) — "A highly contagious book virus, a literary society, and a Snow Queen-like disappearing author."
Nothing O'Clock (Dr. Who) by Neil Gaiman (Nov 21, 2013) — According to Bleeding Cool, here's what Gaiman has to say about the book: "Nothing O'Clock stars the Eleventh Doctor, the Matt Smith Doctor, with Amy Pond as his companion. I set it somewhere during the first season of Matt Smith, mostly on Earth, in our time now and in 1984, but also somewhere else, a very, very long time ago. I had never created an original monster for Doctor Who and really enjoyed getting to create a creepy Doctor Who monster of the kind that we haven't quite seen before… I hope that the Kin will get out there and occasionally give people nightmares. And that you will be worried if a man in a rabbit mask comes to your door and tries to buy your house." — both standalone and as part of a Doctor Who: 11 Doctors, 11 stories anthology for Dr. Who's 50th anniversary, whose constituent stories are also all available standalone
The Arrows of Time (Orthogonal)  by Greg Egan (Gollancz UK, November 21, 2013) — book 3 after The Clockwork Rocket and The Eternal Flame — the Night Shade Books US release has moved to 2014 — audiobooks for the entire series are coming November 26 along with (on November 25) Diaspora, Distress, and Permutation City
CARLUCCI'S EDGE by Richard Paul Russo, read by Kristoffer Tabori for Blackstone Audio (Nov 25)
Short: We Robots By Sue Lange, Narrated By Katina Kalin for Audible Inc (Nov 25)

Hild: A Novel

by Nicola Griffith, read by Anne Flosnick for Macmillan Audio (Nov 26) — published in print/ebook Nov 12 by Farrar, Straus and Giroux — a

discussion

with the author at the LA Times; the author

wrote

about Anne Flosnick getting started in October as narrator; and 

LibraryJournal

says: "Since Griffith has won the Tiptree, Nebula, and World Fantasy awards, the Premio Italia, and the Lambda Literary Award six times, you're well advised to grab this fictionalized portrait of a girl name Hild who grew up in seventh-century Britain and became St. Hilda's of Whitby. Griffith gives us a determined and uncannily perceptive Hild who seems capable of predicting the future (or at least of human behavior), a trait that puts her in the life-and-death position of being made the king's seer. The writing itself is uncannily perceptive, with none of the flowery excess of some historical fiction writing, though the detailed narrative runs close to 600 pages. I thought of Hillary Mantel's

Wolf Hall

even before I noted the comparison in the promotion."

The Land Across by Gene Wolfe (Tor, Nov 26) — audiobook coming from Audible (digital, concurrent release) and Brilliance Audio (CD media, January), Narrated By Jeff Woodman
47 Ronin by Joan D. Vinge, read by Steve Baker for Macmillan Audio (Tor, Nov 26) — novelisation of the upcoming film: "From ancient Japan's most enduring tale, the epic 3D fantasy-adventure 47 Ronin is born. Keanu Reeves leads the cast as Kai, an outcast who joins Oishi (Hiroyuki Sanada), the leader of the 47 Ronin. Together they seek vengeance upon the treacherous overlord who killed their master and banished their kind."
Last to Rise by Francis Knight (Orbit, Nov 26) — concluding volume in a new trilogy which started with Knight's debut Fade to Black in early 2013
Wild Justice (Nadia Stafford #3) by Kelley Armstrong (Nov 26, Plume Paperback)
The Irreal Reader: Fiction & Essays from The Cafe Irreal edited by G.S. Evans and Alice Whittenburg (Guide Dog, November 2013)
Collection: Bleeding Shadows by Joe R. Lansdale (Subterranean, November 2013)
The remaining launch titles for Broken River Books are due out by the end of November 2013: Gravesend by William Boyle; Peckerwood by Jedidiah Ayres; XXX Shamus by Red Hammond; and Street Raised by Pearce Hansen
DECEMBER:
THE HEAVEN MAKERS by Frank Herbert, read by To Be Announced for Blackstone Audio (Dec 1)
THE SMOKE RING by Larry Niven, read by Tom Weiner for Blackstone Audio (Dec 1)
DOCTOR GEEK'S LABORATORY, SEASON 1 by Scott C. Viguié, read by To Be Announced for Blackstone Audio (Dec 1)
Something More Than Night by Tregillis, Ian (Tor, Dec 3, 2013) — via the Kirkus Reviews list of 10 best sf/f of 2013: "New, independent fantasy from the author of the fine Milkweed Triptych (Necessary Evil, 2013, etc.)–and it's a doozy."
Anthology: Dangerous Women edited by George R.R. Martin and Gardner Dozois (Tor, Dec 3) — table of contents includes Joe Abercrombie, Lev Grossman, and Pat Cadigan, among others; an excerpt of Brandon Sanderson's story is up at Tor.com as part of a series of excerpts from the anthology including Joe Abercrombie, Lev Grossman, Jim Butcher, Carrie Vaughn, Diana Rowland, Diana Gabaldon, and George R.R. Martin
Darkwalker: A Nicolas Lenoir Novel by E.L. Tettensor (Roc, Dec 3, 2013)
Malice (The Faithful and the Fallen) by John Gwynne (Orbit, Dec 3, 2013) — out late last year in the UK (Tor UK) now a US release from Orbit; winner of the 2013 David Gemmell Legend Awards Morningstar Award for Best Fantasy Newcomer
Rebel Spring: A Falling Kingdoms Novel by Rhodes, Morgan (Dec 3, 2013) — coming to audio from Dreamscape
A Dance of Mirrors (Shadowdance) by David Dalglish (Orbit, Dec 3, 2013)
Cloak and Spider: A Shadowdance Novella by David Dalglish (Orbit, Dec 3, 2013)
Andromeda's Choice (Legion of the Damned)  by William C. Dietz (December 3, 2013)
Anthology: Kicking It edited by Faith Hunter and Kalayna Price (December 3)
Collection: Her Husband's Hands and Other Stories by Adam-Troy Castro (Prime Books, December 4)
Fiction: THE COLLECTOR OF LOST THINGS by Jeremy Page, read by Michael Healy for Blackstone Audio (Dec 7)
Kids: HOW TO TRAIN YOUR DRAGON and HOW TO BE A PIRATE by Cressida Cowell, read by To Be Announced for Blackstone Audio (Dec 10)
Year's Best SF 18  edited by David G. Hartwell (December 10, 2013)
A Calculated Life by Anne Charnock, read by Susan Duerden (Brilliance Audio, Dec 10, 2013) — from the September 24 print/ebook release by 47North
Harrowgate by Kate Maruyama (Brilliance Audio read by Nick Podehl, Dec 10, 2013) — "Michael should be overjoyed by the birth of his son, but his wife, Sarah won't let him touch the baby or allow anyone to visit. Greta, an intrusive, sinister doula has wormed her way into their lives, driving a wedge between Michael and his family. Every time he leaves the Harrowgate, he returns to find his beloved wife and baby altered. He feels his family slipping away and, as a malevolent force begins to creep in, Michael does what any new father would do–he fights to keep his family together." –from the September 24 print/ebook release by 47North
Spectrum: A Novel by Jason K. Melby (Boxfire Press, Dec 10, 2013)
The Doctor and the Dinosaurs (A Weird West Tale) by Resnick, Mike (Pyr, Dec 10, 2013)
Lost Covenant: A Widdershins Adventure by Ari Marmell (Pyr, Dec 10) — "It's been six months since Widdershins and her own "personal god" Olgun fled the city of Davillon. During their travels, Widdershins unwittingly discovers that a noble house is preparing to move against the last surviving bastion of the Delacroix family. Determined to help the distant relatives of her deceased adopted father, Alexandre Delacroix, she travels to a small town at the edge of the nation."
Collection: Cat 'O Nine Tales: The Jane Yellowrock Stories by Faith Hunter (Dec 10) — coming to audio narrated by Khristine Hvam
Non-Fiction: The Jane Yellowrock World Companion by Faith Hunter with Carol Malcolm (Dec 10)
Collected Stories by Lewis Shiner, read by Stefan Rudnicki, John Rubinstein, Janis Ian, Scott Brick, Kimberly Farr, Arthur Morey, Roxanne Hernandez Coyne, Kristoffer Tabori, Gabrielle de Cuir, and Karen Joy Fowler (Blackstone Audio, December 15, 2013) — the "definitive collection" of Shiner's short fiction in the form of 41 stories
PROTECTOR by Larry Niven, read by Tom Weiner for Blackstone Audio (Dec 15)
CITIZEN OF THE GALAXY by Robert A. Heinlein, read by Grover Gardner for Blackstone Audio (Dec 15)
THE GODMAKERS by Frank Herbert, read by To Be Announced for Blackstone Audio (Dec 15)
Suspense: THE GHOST WRITER by John Harwood, read by Simon Vance for Blackstone Audio (Dec 15)
The Orphans' Promise (The Secret of Ji, #2) by Pierre Grimbert, translated from the French by Matthew Ross and Eric Lamb, read by Michael Page for Brilliance Audio (Dec 17, 2013) — from the Nov 19 print/ebook release from AmazonCrossing
Guardian of the Trust, Guardian of the Promise, Guardian of the Freedom, Guardian of the Vision, and Guardian of the Balance By Irene Radford, Narrated By Rebecca Rogers (Dec 17)
The Cormorant by Chuck Wendig (Angry Robot, Dec 31, 2013)
The Grendel Affair: A SPI Files Novel by Lisa Shearin (Dec 31, 2013)
The Iron Wolves by Andy Remic (Angry Robot and Angry Robot on Brilliance Audio, Dec 31, 2013)
THE VASTALIMI GAMBIT by Steve Perry, read by To Be Announced for Blackstone Audio (Dec 31)
A Study in Ashes: Book Three in The Baskerville Affair by Holloway, Emma Jane (Dec 31, 2013)
Collection: Our Blood in Its Blind Circuit by J. David Osborne (Broken River, December 2013) — "Twelve weird crime tales, a couple of which you've never read before!"
NEXT YEAR:
SOUL CATCHER by Frank Herbert, read by To Be Announced for Blackstone Audio (Jan 1, 2014)
The Queen of Dreams by Peter Hamilton (Doubleday UK, 2 Jan 2014) — first children's book by the epic sf author Peter F. Hamilton: "Taggie and Jemima are summer holidaying on their dad's farm. They know just what to expect – a tumbledown cottage, sunshine and strawberry-picking. But then Jemima sees a white squirrel wearing glasses . . . And things become even more extraordinary when their dad is captured and whisked away to a faerie world. Magical adventures await, as the two sisters discover powers they never knew they had and a series of worlds to explore. But can Taggie and Jemima rescue their dad and defeat the evil King of Night?"
The Swords of Good Men by Snorri Kristjansson (Jo Fletcher Books, January 7, 2014) — a "Viking fantasy novel" by a new Icelandic author
The Girl with All the Gifts by M.J. Carey (Orbit, Jan 7, 2014) — "Melanie is a very special girl. Dr Caldwell calls her 'our little genius'. Every morning, Melanie waits in her cell to be collected for class. When they come for her, Sergeant keeps his gun pointing at her while two of his people strap her into the wheelchair. She thinks they don't like her. She jokes that she won't bite, but they don't laugh." — link to cover
Rex Regis by L. E. Modesitt (Tor, Jan 7, 2014)
Fury of the Demon by Diana Rowland (Jan 7, 2014)
Dreams of the Golden Age by Vaughn, Carrie (Jan 7, 2014) — sequel to After the Golden Age
Work Done for Hire  by Joe Haldeman (Ace Hardcover, January 7, 2014) — novel about an ex-sniper turned sf screenwriter turned reluctant hitman; I've hear Haldeman read from this novel in draft and am very much looking forward to its release
Love in the Time of Metal and Flesh by Jay Lake (Prime Books, January 7, 2014) — "Markus Selvage has been bent by life, ground up and spit out again. In San Francisco's darkest sexual underground, he is a perpetual innocent, looking within bodies – his own and others' – for the lost secrets of satisfaction. But extreme body modification is only the beginning of where he will go before he's finished…"
Rex Regis (Imager Portfolio)  by L.E. Modesitt, Jr. (Jan 7, 2014)
1636: Seas of Fortune  by Iver Cooper (January 7, 2014)
Black Arts: A Jane Yellowrock Novel  by Faith Hunter (Jan 7, 2014)
Darkest Fear (Birthright) by Cate Tiernan (Jan 7, 2014)
Once In a Blue Moon by Green, Simon R. (Jan 7, 2014)
Graphic novel: Cemetery Girl, Book One: The Pretenders (The Cemetery Girl Trilogy) by Harris, Charlaine and Golden, Christopher (Jan 7, 2014)
Anthology: Dark Duets by Golden, Christopher (Jan 7, 2014)
The Emperor's Blades (Chronicle of the Unhewn Throne) by Brian Staveley (Jan 14, 2014) — excerpts going up on Tor.com
Watchers in the Night (Guardians of the Night) by Jenna Black (Jan 14, 2014)
The Man Who Made Models: The Collected Short Fiction  by R.A. Lafferty (Centipede Press, January 14, 2014)
Dawn of Swords (The Breaking World)  by David Dalglish (Jan 14, 2014)
Hollow City (Miss Peregrine, #2)  by Ransom Riggs (Quirk Books, Jan 14, 2014)
He Drank, and Saw the Spider: An Eddie LaCrosse Novel by Bledsoe, Alex (Jan 14, 2014)
Dirty Magic (Prospero's War) by Jaye Wells (Jan 21, 2014)
Pandemic by Scott Sigler (Crown, Jan 21, 2014)
The Secret of Magic by Johnson, Deborah (Putnam Adult, Jan 21, 2014) — "Regina Robichard works for Thurgood Marshall, who receives an unusual letter asking the NAACP to investigate the murder of a returning black war hero. It is signed by M. P. Calhoun, the most reclusive author in the country. As a child, Regina was captivated by Calhoun's The Secret of Magic, a novel in which white and black children played together in a magical forest. Once down in Mississippi, Regina finds that nothing in the South is as it seems. She must navigate the muddy waters of racism, relationships, and her own tragic past. The Secret of Magic brilliantly explores the power of stories and those who tell them."
The Vanishing by Wendy Webb (Hyperion, Jan 21, 2014) —"Recently widowed and rendered penniless by her Ponzi-scheming husband, Julia Bishop is eager to start anew. So when a stranger appears on her doorstep with a job offer, she finds herself accepting the mysterious yet unique position: caretaker to his mother, Amaris Sinclair, the famous and rather eccentric horror novelist whom Julia has always admired . . . and who the world believes is dead."
Non-Fiction: What Makes This Book So Great by Walton, Jo (Jan 21, 2014)
 Red Rising by Brown, Pierce (Jan 28, 2014) — "Brown's debut novel . . . is reminiscent of both Suzanne Collins's The Hunger Games and William Goldman's The Lord of the Flies but has a dark and twisted power of its own that will captivate readers and leave them wanting more."— Library Journal
Hang Wire by Adam Christopher (Angry Robot, Jan 28) — "When Ted Hall's birthday dinner in San Francisco's famous Chinatown ends with an explosion, the fire department blames a gas leak, but when Ted finds strange, personalised messages from the restaurant's fortune cookies scattered around his apartment, his suspicions are aroused, particularly as his somnambulant travels appear to coincide with murders by the notorious Hang Wire Killer."

STARS: Original Stories Based on the Songs of Janis Ian

By

Janis Ian (editor)

,

Mike Resnick

, Tad Williams, Joe Haldeman, and more, narrated by

Gabrielle De Cuir

,

Emily Rankin

,

Stefan Rudnicki

,

John Rubinstein

,

Susan Hanfield

,

Kathe Mazur

,

Sile Bermingham

,

Paul Boehmer

,

Janis Ian

,

Kristoffer Tabori

for Audible Inc. — Scheduled Release Date: 01-28-14

The Book of the Crowman by Joseph D' Lacey (Jan 28, 2014)
A Darkling Sea by James Cambias (Tor, Jan 28, 2014)
Shadow Ops: Breach Zone by Myke Cole (Jan 28, 2014)
Arcanum by Simon Morden (Orbit, Jan 28) — "A historical fantasy novel of medieval Europe in which the magic that has run the world for centuries is disappearing– and now the gifts of the gods must be replaced with the ingenuity of humanity."
The Echo by James Smythe (Jan 28, 2014) — sequel to The Explorer
The Unbound (The Archived, #2)  by Victoria Schwab (Jan 28, 2014)
Maze by J.M. McDermott (Apex, January 2014)
Leaving the Sea: Stories by Ben Marcus (Knopf, January 2014)
Into the Wilderness: Blood of the Lamb Book Two by Mandy Hager (Pyr Teen, January 2014)
The Emperor's Blades (The Chronicle of the Unhewn Throne, #1) by Brian Stavely (Tor, January 2014) — "follows siblings Valyn, Kaden, and Adare, who are in different parts of the world when they learn about the assassination of their father, the Emperor. All of them are in danger of being the next targets, and all of them are caught in the maelstrom of conspiracy, intrigue, treachery, and magic that sweeps through Staveley's auspicious debut novel."
The Kingmakers (Vampire Empire #3) by Clay and Susan Griffith, read by James Marsters for Buzzy Multimedia (January 2014) — published in print/ebook by Pyr in 2012
Black Gum Godless Heathen by J David Osborne (Broken River Books, January 2014) — sequel to Low Down Death Right Easy
Annihilation (Southern Reach, Volume 1) by Jeff VanderMeer (Farrar, Straus, & Giroux, Feb 4, 2014) — the first of a trilogy of "Southern Reach" novels being published in 2014 — "For thirty years, Area X has remained mysterious, remote, and concealed by the government as an environmental disaster zone even though it is to all appearances pristine wilderness. For thirty years, too, the secret agency known as the Southern Reach has monitored Area X and sent in expeditions to try to discover the truth. Some expeditions have suffered terrible consequences. Others have reported nothing out of the ordinary. Now, as Area X seems to be changing and perhaps expanding, the next expedition will attempt to succeed where all others have failed. What is happening in Area X? What is the true nature of the invisible border that surrounds it?" Of the book, Kim Stanley Robinson says: "This swift surreal suspense novel reads as if Verne or Wellsian adventurers exploring a mysterious island had warped through into a Kafkaesque nightmare world. The reader will want to stay trapped with the biologist to find the answers to Area X's mysteries."
Like a Mighty Army (Safehold) by David Weber (Feb 4, 2014)
The Crimson Campaign (The Powder Mage Trilogy, Book 2) by Brian McClellan (Orbit, February 2014)
Like a Mighty Army (Safehold)  by David Weber (Feb 4, 2014)
V-S Day: A Novel of Alternate History  by Allen Steele (Feb 4, 2014) — narrated by Ray Chase
Empire of Men by David Weber and John Ringo (Feb 4, 2014)
Cress (Lunar Chronicles, #3)  by Marissa Meyer (Feb 4, 2014)
Burn (Pure, #3)  by Julianna Baggott (Feb 4, 2014)
By Blood We Live (The Last Werewolf, #3)  by Glen Duncan (Feb 4, 2014)
Stolen Crown: A Novel of Mithgar by McKiernan, Dennis L. (Feb 4, 2014)
Three Princes by Wheeler, Ramona (Feb 4, 2014)
The Waking Engine by David Edison (Feb 11, 2014)
White Space (Dark Passages, #1)  by Ilsa J. Bick (Feb 11, 2014)
The Martian: A Novel by Weir, Andy (Random House, Feb 11, 2014) — picked up by Random House after self-publishing success; 2013 audiobook by Podium Publishing
Kids: The Ghosts of Tupelo Landing by Turnage, Sheila (Feb 11, 2014) — "The eagerly anticipated followup to the Newbery honor winner and New York Times bestseller, Three Times Lucky. Small towns have rules. One is, you got to stay who you are — no matter how many murders you solve. When Miss Lana makes an Accidental Bid at the Tupelo auction and winds up the mortified owner of an old inn, she doesn't realize there's a ghost in the fine print. Naturally, Desperado Detective Agency (aka Mo and Dale) opens a paranormal division to solve the mystery of the ghost's identity. They've got to figure out who the ghost is so they can interview it for their history assignment (extra credit)."
With Silent Screams (The Hellequin Chronicles) by Steve McHugh (Feb 18, 2014)
Influx by Suarez, Daniel (Dutton Adult, Feb 20, 2014)
The Judge of Ages (Count to a Trillion) by John C. Wright (Feb 25, 2014)
The Undead Pool by Kim Harrison (Feb 25, 2014)
Dreamwalker by C.S. Friedman (February 2014)
Empress of the Sun by Ian McDonald (Pyr, February 2014)
Kids: Half Bad (The Half Bad Trilogy) by Green, Sally (Mar 3, 2014) — via Kate Atkinson (the author of Life after Life) a new middle grade series about witches in modern-day England
Night Broken (A Mercy Thompson Novel)  by Patricia Briggs (Mar 4, 2014)
Ghost Train to New Orleans (The Shambling Guides) by Mur Lafferty (Orbit, Mar 4, 2014) — sequel to The Shambling Guide to New York City
The Tropic of Serpents: A Memoir by Lady Trent (A Natural History of Dragons) by Marie Brennan (Mar 4, 2014)
Words of Radiance by Brandon Sanderson (Tor, March 4, 2014) — book 2 in The Stormlight Archive after The Way of Kings
Hope Rearmed by S.M. Stirling and David Drake (March 4, 2014)
Half-Off Ragnarok: An Incryptid Novel by Seanan McGuire (Mar 4, 2014)
Murder of Crows: A Novel of the Others by Bishop, Anne (Mar 4, 2014)
Honor Among Thieves: Star Wars (Empire and Rebellion) by Corey, James S.A. (Mar 4, 2014)
Blood and Iron (The Book of the Black Earth) by Jon Sprunk (Pyr, March 11, 2014)
The Barrow by Mark Smylie (Pyr, March 2014)
Resistance by Jenna Black (Mar 11, 2014)
Working God's Mischief (Instrumentalities of the Night)  by Glen Cook (Mar 11, 2014)
The High Druid's Blade: The Defenders of Shannara by Brooks, Terry (Mar 11, 2014)
Mentats of Dune  by Brian Herbert (March 11, 2014)
Ruins (Partials, #3)  by Dan Wells (March 11, 2014)
Anthology: The Time Traveler's Almanac by Ann VanderMeer and Jeff VanderMeer (Tor, Mar 18, 2014)
The Pilgrims (The Pendulum Trilogy) by Will Elliott (Tor, Mar 18, 2014)
The Lascar's Dagger: The Forsaken Lands by Glenda Larke (Mar 18, 2014)
Raising Steam (Discworld) by Terry Pratchett (Mar 25, 2014)
Lockstep  by Karl Schroeder (Mar 25, 2014)
The Burning Dark by Adam Christopher (Mar 25, 2014)
Truth and Fear (The Wolfhound Century) by Peter Higgins (Mar 25, 2014)
Written in My Own Heart's Blood: A Novel (Outlander) by Gabaldon, Diana (Mar 25, 2014)
The Strange and Beautiful Sorrows of Ava Lavender by Leslye Walton (Mar 25, 2014)
Code Zero (Joe Ledger, #6)  by Jonathan Maberry (March 2014)
Anthology: KAIJU RISING (Kickstarter, March 2014)
Dirtbags by Eryk Pruitt (Immortal Ink Publishing, March/April 2014) — "The blame for a county-wide murder spree lies at the feet of three people broken by a dying mill town: Calvin, a killer; London, a cook; and Rhonda, the woman who loves them both. Neither they, nor the reader, see the storm brewing until it's too late in this Southern Gothic noir (or Southern neo-noir) that adds a transgressive, chicken-fried twist to a story ripped straight from the pages of a true crime novel."
City of Stairs by Robert Jackson Bennett (Crown/Broadway and Recorded Books, April 1, 2014) — "a second-world story of spies, subterfuge, and statesmanship set in a nation of dead gods."
The Revolutions by Felix Gilman (Tor, Apr 1, 2014) — "Following his spectacularly reviewed The Half-Made World duology, Felix Gilman pens a sweeping stand-alone tale of Victorian science fiction, space exploration, and planetary romance in The Revolutions."
Reign of Ash (Book Two in the Ascendant Kingdoms Saga) by Gail Z. Martin (Orbit, April 1, 2014) — follow-on to Ice Forged
The Goblin Emperor by Katherine Addison (April 1, 2014)
Cauldron of Ghosts (Crown of Slaves) by David Weber (April 1, 2014)
Baltic Gambit: A Novel of the Vampire Earth by E.E. Knight (April 1, 2014)
Covenant: The Books of Raziel by Benulis, Sabrina (Apr 1, 2014)
Peacemaker: Foreigner #15 by Cherryh, C. J. (Apr 1, 2014)
Steles of the Sky (The Eternal Sky) by Bear, Elizabeth (Apr 8, 2014)
Shipstar  by Larry Niven and Gregory Benford (Tor, April 8, 2014)
Dreams of Gods & Monsters (Daughter of Smoke & Bone, #3)  by Laini Taylor (April 8, 2014)
The First Fifteen Lives of Harry August by North, Claire (Redhook, Apr 8, 2014)
Transhuman  by Ben Bova (April 15, 2014)
Hollow World by Michael J. Sullivan (Tachyon and Recorded Books, April 15, 2014)
House of Ivy & Sorrow  by Natalie Whipple (Harper Teen, April 15, 2014)
Kids: The Forbidden Library by Django Wexler (Apr 15, 2014)
The Serpent of Venice: A Novel by Moore, Christopher (Apr 22, 2014)
The City Stained Red by Sam Sykes (Gollanz UK, 17 Apr 2014) — from the author of Tome of the Undergates
Lagoon by Nnedi Okorafor (Hodder & Stoughton, April 2014) — "The Nigerian megacity of Lagos is invaded by aliens, and it nearly consumes itself because of it."
The Moon King by Neil Williamson (Newcon, April 2014) — Debut novel: "The story of The Moon King grew out of its setting, the sea-locked city of Glassholm, which is a thinly veneered version of Glasgow, Scotland where I live. Glasgow is a city of mood swings, brilliant with sun and warm sandstone one minute and dour with overcast and rain soaked tarmac the next. Summer days are long and filled with light. The winter months pass mostly in darkness. Living here, your spirit is tied to the city's mood. As soon as I hooked that almost bipolar sense to the idea of natural cycles, the story blossomed. In Glassholm, the moon never sets and everything, from entropy to the moods of the populace, is affected by its phasing from Full to Dark and back to Full again. I wanted to know what would life be like there, what quirks nature might throw into the mix. And what would happen if it was discovered that the cyclic euphorias and depressions were not natural after all."
Black Cloud by Juliet Escoria (April 2014)
Immolation (Children, #1) by Ben Peek (Tor UK, Spring 2014) is "set fifteen thousand years after the War of the Gods. The bodies of the gods now lie across the world, slowly dying as men and women awake with strange powers that are derived from their bodies. Ayae, a young cartographer's apprentice, is attacked and discovers she cannot be harmed by fire. Her new power makes her a target for an army that is marching on her home. With the help of the immortal Zaifyr, she is taught the awful history of 'cursed' men and women, coming to grips with her new powers and the enemies they make. The saboteur Bueralan infiltrates the army that is approaching her home to learn its terrible secret. Split between the three points of view, Immolation's narrative reaches its conclusion during an epic siege, where Ayae, Zaifyr and Bueralan are forced not just into conflict with those invading, but with those inside the city who wish to do them harm."
Unwrapped Sky by Rjurik Davidson (Tor, April 15, 2014) — "Caeli-Amur: a city torn by contradiction. A city of languorous philosopher-assassins and magnificent creatures from ancient myth: minotaurs and sirens. Three Houses rule over an oppressed citizenry stirring into revolt. The ruins of Caeli-Amur's sister city lie submerged beneath the sea nearby, while the remains of strange advanced technology lie hidden in the tunnels beneath the city itself."
The Furies: A Thriller  by Mark Alpert (April 22, 2014)
Thornlost (Glass Thorns) by Rawn, Melanie (Apr 29, 2014)
Authority: A Novel (The Southern Reach Trilogy) by Jeff VanderMeer (Farrar, Straus and Giroux, May 6, 2014) — "The bone-chilling, hair-raising second installment of the Southern Reach Trilogy. For thirty years, a secret agency called the Southern Reach has monitored expeditions into Area X—a remote and lush terrain mysteriously sequestered from civilization. After the twelfth expedition, the Southern Reach is in disarray, and John Rodriguez (aka "Control") is the team's newly appointed head. From a series of interrogations, a cache of hidden notes, and more than two hundred hours of profoundly troubling video footage, the secrets of Area X begin to reveal themselves—and what they expose pushes Control to confront disturbing truths about both himself and the agency he's promised to serve."
The Sea Without a Shore by David Drake (May 6, 2014) — Lt. Leary series
The Falconer (The Falconer, #1)  by Elizabeth May (May 6, 2014) — US release for fantasy novel published in 2013 in the UK
The Silk Map: A Gaunt and Bone Novel by Willrich, Chris (Pyr, May 6, 2014)
Graphic novel: All You Need Is Kill: The Graphic Novel by Nick Mamatas, Lee Ferguson, Fajar Buana, and Zack Turner, based on the novel by Hiroshi Sakurazaka (VIZ Media/Haikasoru, May 6, 2014)
After the End (After the End, #1)  by Amy Plum (May 6, 2014)
The Oversight by Fletcher, Charlie (Orbit, May 6, 2014)
Mirror Sight: Book Five of Green Rider by Britain, Kristen (May 6, 2014)
King of Ashes: Book One of The War of Five Crowns by Raymond E. Feist (May 6, 2014)
Queen of the Dark Things: A Novel by C. Robert Cargill (Harper Voyager, May 13, 2014) — follow-on to Dreams and Shadows
Dead but Not Forgotten By Charlaine Harris (editor), Toni L. P. Kelner (editor) with stories by MaryJanice Davidson, Seanan McGuire, and more (Audible Frontiers, May 13, 2014) — "Charlaine Harris' smash-hit Sookie Stackhouse series may have reached its conclusion, but the world of Bon Temps, Louisiana, lives on in this all-new collection of 15 stories."
Renegade (MILA 2.0, #2)  by Debra Drizza (May 13, 2014)
The Severed Streets by Cornell, Paul (May 20, 2014)
A Dance of Shadows (Shadowdance) by David Dalglish (May 20, 2014)
Cyador's Heirs (Saga of Recluce) by L. E. Modesitt (May 20, 2014)
Defenders by McIntosh, Will (May 27, 2014)
Artemis Awakening by Jane Lindskold (Tor, May 27, 2014)
Thief's Magic (Millennium's Rule) by Trudi Canavan (May 27, 2014)
City of Heavenly Fire (The Mortal Instruments, #6)  by Cassandra Clare (May 27, 2014)
The Girl in the Road by Monica Byrne (Random House/Crown, May 2014) — "traces the harrowing twin journeys of two women forced to flee their homes in different times in the near future. The first, Meena, is a Brahmin-caste student whose odyssey takes her from the coastal city of Mumbai toward Djibouti across a futuristic but treacherous bridge that spans the Arabian Sea. The second, Mariama, escapes from slavery as a small child in Mauritania, joining a caravan heading across Saharan Africa toward Ethiopia." A big-name blurb is in from none less than Kim Stanley Robinson: "The Girl in the Road is a brilliant novel–vivid, intense, and fearless with a kind of savage joy. These journeys–Meena's across the Arabian Sea and Mariama's across Africa–are utterly unforgettable."
My Real Children by Jo Walton (Tor, May 2014) — "story about one woman and the two lives that she might lead"
Veil of the Deserters (Bloodsounder's Arc #2) by Jeff Salyards (Night Shade Books, June 3, 2014)
Ruin and Rising (The Grisha, #3)  by Leigh Bardugo (Jun 3, 2014)
Mr. Mercedes: A Novel by King, Stephen (Scribner, Jun 3, 2014)
The Merchant Emperor (The Symphony of Ages) by Elizabeth Haydon (Jun 3, 2014)
Cibola Burn (The Expanse) by Corey, James S. A. (Jun 5, 2014)
Shattered: The Iron Druid Chronicles by Kevin Hearne (Jun 17, 2014)
The Long Childhood: A Novel (Long Earth) by Terry Pratchett and Stephen Baxter (Jun 17, 2014)
Prince of Fools (The Red Queen's War, #1)  by Mark Lawrence (Ace, June 2014)
Anthology: The End is Nigh: The Apocalypse Triptych #1 edited by John Joseph Adams and Hugh Howey (June 2014) — via io9, "Contributors include Nancy Kress, Paolo Bacigalupi, Daniel Wilson, Elizabeth Bear, and many other incredible authors (full disclosure: io9 editor Charlie Jane Anders and myself (Annalee Newitz) are also contributing stories)."
All Those Vanished Engines by Paul Park (Tor, Jul 1, 2014)
The Rhesus Chart (A Laundry Files Novel) by Charles Stross (Jul 1, 2014)
Tower Lord (A Raven's Shadow Novel) by Anthony Ryan (Jul 1, 2014)
The Shadow Throne: Book Two of the Shadow Campaigns by Django Wexler (Jul 1, 2014)
Shattering the Ley by Palmatier, Joshua (DAW Hardcover, Jul 1, 2014)
Unwept: Book One of The Nightbirds by Tracy Hickman and Laura Hickman (Jul 1, 2014)
Skin Game (The Dresden Files #15) by Jim Butcher (Roc, July 3, 2014)
Resistance by Samit Basu (Titan, Jul 8, 2014) — follow-on to Turbulance
A Plunder of Souls (The Thieftaker Chronicles) by D. B. Jackson (Jul 8, 2014)
The Return of the Discontinued Man (A Burton & Swinburne Adventure) by Mark Hodder (Jul 8, 2014)
The Path to Power (The Tarnished Crown Series) by Miller, Karen (Jul 8, 2014)
Full Fathom Five by Max Gladstone (Tor, Jul 15, 2014)
The Book of Life (All Souls Trilogy, #3)  by Deborah Harkness (July 15, 2014)
Magic Breaks (Kate Daniels) by Ilona Andrews (Jul 29, 2014)
Half a King  by Joe Abercrombie (Harper Voyager, July 2014) — "A classic coming-of-age tale, set in a brilliantly imagined alternative historical world reminiscent of the Dark Ages with Viking overtones, the book tells the story of Yarvi, youngest son of a warlike king. Born with a crippled hand, he can never live up to his father's expectations of what a real man should be and his destiny is not the throne but the Ministry, not the sword and shield but the book and the soft word spoken."
The Islands of Chaldea by Diana Wynne Jones and Ursula Jones (Greenwillow, Summer 2014) — "Fans of the late writer Diana Wynne Jones – who died in March 2011 – are in for an unexpected treat. In the summer of 2014, Greenwillow will publish a new title from the acclaimed science fiction and fantasy author. Titled The Islands of Chaldea, the book is a standalone novel unconnected to any of the author's earlier works. It is also the result of an unusual, asynchronous collaboration between the writer and her younger sister, Ursula Jones."
The Magician's Land by Lev Grossman (Viking Adult, August 5, 2014) — book three after The Magicians and The Magician King
The Galaxy Game by Karen Lord (Del Rey, Aug 5, 2014)
The House of the Four Winds (Dragon Prophecy) by Mercedes Lackey and James Mallory (Aug 5, 2014)
The Chaplain's War by Brad Torgerson (Baen, 2014)
Colossus by Stephen Messer (Random House Children's Books, 2014)
The Broken Eye (Lightbringer #3) by Brent Weeks (Orbit, 2014)
The Three-Body Problem by Liu Cixin, translated by Ken Liu (Tor Books, 2014) — the first of an announced trilogy of translated editions of this 400,000-copy-selling Chinese sf series
Lock In by John Scalzi (Tor, Aug 26, 2014)
Frostborn (Thrones & Bones #1) by Lou Anders (Random House Children's Books, August 2014) — longtime Pyr editor Anders' debut novel, a young reader book which "introduces Karn, who would rather be playing the board game Thrones and Bones, and Thianna, half-frost giant, half-human, who team up when they are chased by wyverns, a dead Viking sea captain, and a 1200-year-old dragon."
Acceptance: A Novel (The Southern Reach Trilogy) by Jeff VanderMeer (Sep 1, 2014)
Clash of Eagles by Alan Smale (Del Rey, 2014) — "His novella of a Roman invasion of ancient America, "A Clash of Eagles" in the Panverse Two anthology (edited by Dario Ciriello), won the 2010 Sidewise Award for Alternate History, and he has recently sold a trilogy of novels set in the same universe. The first book, CLASH OF EAGLES, will appear from Del Rey in 2014."
Deadly Curiosities by Gail Z. Martin (Solaris, Summer 2014) — "It's official! I'll be writing a new urban fantasy novel for Solaris Books called "Deadly Curiosities" (from my short story universe of the same name) that will come out in summer, 2014!"
The Scorched Earth by Drew Karpyshyn (Summer 2014) — sequel to 2013 novel Children of Fire
Echopraxia by Peter Watts (August 16, 2014) — "We are going to the Sun, rs and Ks.  Whereas the last time out we froze in the infinite Lovecraftian darkness of the Oort, now we are diving into the very heart of the solar system— and man, there's gonna be a hot time in the ol' town tonight."
The Winter Long (October Daye, #8) by Seanan McGuire (September 2014)
Mortal Beauty (Immortal Game, #1)  by Ann Aguirre (September 2014)
Chimpanzee by Darin Bradley (Resurrection House, Fall 2014) — "a delightfully weird existential near-fi conspiracy theory romance"
Heraclix and Pomp by Forrest Aguirre (Resurrection House, Fall 2014) — "an alternative history fantasy set in the Eastern Europe. It features a golem, a faery, and a mad scientist (well, more of 17th century alchemist/demonologist, but it's the same trope)"
Rooms by Lauren Oliver (Fall 2014)
Anthology: The End is Now: The Apocalypse Triptych #2 edited by John Joseph Adams and Hugh Howey (December 2014) — via io9
UNDATED or 2015:

When Women Were Warriors by Catherine M. Wilson, read by Janis Ian for Dog Ear Audio — in late October, Dog Ear Audio posted a Kickstarter update with a sample of Janis Ian's narration of When Women Were Warriors and it sounds so very, very good
Hyperbole and a Half by Allie Brosh, read by the author for Simon & Schuster Audio — out in print/ebook in late October
A Stranger in Olondria by Sofia Samatar, coming from Audible
Quantum Coin by E.C. Myers, coming from Audible (Fair Coin released Nov 6, 2014)
All the Worlds Against Us (Jon and Lobo) by Mark L. Van Name (Baen) — Audible Frontiers has produced the previous books in the series, under fantastic narrations by Tom Stechschulte
Tsarina  by J. Nelle Patrick (2014)
The Thousand and One: Book II of The Crescent Moon Kingdoms by Saladin Ahmed (2014?)
Sleeping Late on Judgement Day (Bobby Dollar #3) by Tad Williams (DAW, 2014)
Ebon (Pegasus, #2)  by Robin McKinley (2014?)
The Doors of Stone (Kingkiller Chronicle #3) by Patrick Rothfuss (DAW, 2014?)
Shadows of Self (Mistborn, #5)  by Brandon Sanderson (Tor, 2014?)
Edge of Eternity (The Century Trilogy #3)  by Ken Follett (2014?)
The Winds of Winter (A Song of Ice and Fire, #6) by George R.R. Martin (2015?)
The Water Knife by Paolo Bacigalupi (Knopf, 2015) — "Knopf has acquired a new novel by Paolo Bacigalupi, the science fiction writer whose 2009 book "The Windup Girl" sold 200,000 copies and was considered one of the top novels of the year. The new book, "The Water Knife," is set in a lawless, water-starved American Southwest in the not-too-distant future."
Because You'll Never Meet Me by Leah Thomas (Bloomsbury USA, 2015) — first novel from 2010 Clarion Workshop graduate
The Philosopher's Zombie by Robert J. Sawyer (April 2015)
Anthology: The End has Come: The Apocalypse Triptych #3 edited by John Joseph Adams and Hugh Howey (June 2015) — via io9
John Claude Bemis is set to launch a new Steampunk/alchemist series for young readers, to be published by Disney/Hyperion starting in 2015
The Skull Throne (Demon Cycle, #4)  by Peter V. Brett (2015?)
The City of Mirrors (The Passage, #3)  by Justin Cronin