NOVEMBER 19-25, 2014: An overall very, very quiet week in publishing, but with a standout concurrent new release (Mira Grant's Symbiont), two glimmering backlist collections (Buckell and Drake), the return of Sanderson's Legion (for free! read by Oliver Wyman again!), and a few more titles well worth noting (an indie fantasy superstar in the making in Jacob Cooper, anthologies Robot Uprisings and Night Shift, Bernard Cornwell's Grail Quest novels, Costello and Hautala's Star Road, and a huge pile of Akashic's "Noir" anthologies) make for plenty to pick from. Enjoy!
PICKS OF THE WEEK:
Symbiont by Mira Grant (Orbit and Hachette Audio, Nov 25, 2014) is the second book in Grant's Parasitology series: "The SymboGen designed tapeworms were created to relieve humanity of disease and sickness. But the implants in the majority of the world's population began attacking their hosts turning them into a ravenous horde. Now those who do not appear to be afflicted are being gathered for quarantine as panic spreads, but Sal and her companions must discover how the tapeworms are taking over their hosts, what their eventual goal is, and how they can be stopped." Read by Christine Lakin, reprising her role as narrator from Parasite, while there is much "well, this is the middle of a trilogy" going on, there's also: chases, escapes, and a particular strain of existential angst that, probably, only Mira Grant can provide. Get: [Downpour | Audible]
Legion: Skin Deep By Brandon Sanderson, Narrated By Oliver Wyman (Nov 24) is the long-awaited — wait, can I call it long-awaited if it's only been barely more than two years since Legion — second book featuring the many personalities of Stephen Leeds, a role that's positively inhabited once again by Wyman. (There might just be enough going on in Leeds' head to keep even Wyman fully occupied.) Here: "As the new story begins, Leeds and his "aspects" are hired by I3 (Innovative Information Incorporated) to recover a corpse stolen from the local morgue. But there's a catch. The corpse is that of a pioneer in the field of experimental biotechnology, a man whose work concerned the use of the human body as a massive storage device. He may have embedded something in the cells of his now dead body. And that something might be dangerous."
Mitigated Futures by Tobias Buckell, narrated by Prentice Onayemi, Jay Snyder, Jeena Yi, Allyson Johnson, Christian Rummel, and Jonathan Davis for Audible (Nov 24) — Hot on the heels of his Xenogenesis series re-launching in audio, with many (if not all?) of the stories also available standalone, this is Buckell's Kickstarter-backed 2012 collection, including one of my all-time favorites, "A Jar of Goodwill". In all: "Twelve science fiction stories about the oncoming future, each of them representing a possible glimpse of what could be just around the corner… or much further down the corridor. These stories previously appeared in places like Clarkesworld Magazine, The Year's Best SF, Subterranean Magazine, and in various anthologies. They deal with the future of war, our climate, and technology's effect on our lives."
Grimmer Than Hell by David Drake, narrated by Bronson Pinchot for Audible (Nov 24) — Holy Mary, Mother of God, Pinchot reading Drake is a thing which has happened. Oh. My. God. Listen: I've loved Stefan Rudnicki's work on Drake's Hammer's Slammers and Jay Snyder is no slouch, either — he does have a lovely singing voice for military songs. Ray Porter brings the horror to Drake's Reaches, Michael Page is one of the outstanding voices of epic fantasy (and brings it on Drake's Lord of the Isles series) and Victor Bevine pretty much is Lt. Leary. But Pinchot's delightful, almost disbelieving recounting of some of Drake's grimmer stories is simply wonderful to behold. (Or whatever the word is for beholding in one's ear. Be-heared?) Which stories? These: "A prime volume by best-selling author David Drake explores a future world where the police have cameras watching everybody, everywhere, 24-7… and introduces Lacey, the man who watches the watchmen. Then Drake segues to a very different, but no less foreboding future where the Fleet preserves the peace in the galaxy – in theory at least, and at a cost which is extremely high, and not just in money or even in lives. And much more, as the reader is taken on a guided tour of the many worlds of David Drake… a tour in which the luxuries are few, the gritty realism is ever-present, and the excitement never stops." The ISFDB page for the collection lists the full table of contents, which includes Drake's 6 "The Fleet" stories, his 2 "Battlestation" novelettes, the 3 "Jed Lacey" novelettes, and a few standalone stories as well.
ALSO OUT THIS WEEK:
ALSO ALSO OUT THIS WEEK:
Fiction: Something New

 By

, Narrated By

Teen: Midnight Thief: Midnight Thief, Book 1

 By

, Narrated By 

Thriller: Singularity

 By

, Narrated By

Mystery: Raven Black: Book One of the Shetland Island Quartet

 By

, Narrated By

Historical fiction: The King and the Slave 

By

, Narrated By

Short thriller: Remaking

 By

, Narrated By

Mogadishu of the Dead: Arisen, Book Two

 By

, Narrated By

Thriller: Hope to Die

 By

, Narrated By

Thriller: Black Sun Rising: Order of the Black Sun, Book 3

 By

, Narrated By

Performance: Six Degrees of Assassination: An Audible Drama 

By

, Narrated By

Kids: House of Robots

 By

, Narrated By

Kids: Hibbs, the Cub with No Clue

 By

, Narrated By

The Recruit: The Morcai Battalion, Book 2

 By

, Narrated By

Black Widow 

By

, Narrated By

Endsinger: The Lotus War, Book Three by Jay Kristoff (St. Martin's Press -Nov 25th) —

Narrated By

Thriller: Cosmosis

 By

, Narrated By

Short: House Rules

 By

, Narrated By

Short: The Burning Girl: A Whispers Story

 By

, Narrated By
SEEN BUT NOT HEARD:
Wild Card: A Raine Benares Novella by Lisa Shearin (Nov 25) — "The stakes are high; the odds of success are low. And I'm betting with my life—a life I'll have to trust to a darkly tempting goblin mage I just met."
The Future Falls: Book Three of the Enchantment Emporium

by Tanya Huff

(DAW, Nov 21, 2014) — "Urban fantasy novel, third in a series following The Enchantment Emporium (2009) and The Wild Ways(2011), about a member of the Gale family who is a Wild Power." (via Locus Online)
Damnation by Jean Johnson (Ace, Nov 25) — "Military SF novel, fifth of a series following A Soldier's Duty(2011), An Officer's Duty (2012), Hellfire (2013), and Hardship (2014) about a precog who enlists in the Terran United Planets military." (via Locus Online)
The Clone Apocalypse

by Steven L. Kent

(Ace, Nov 25, 2014) — "Military SF novel, tenth in the series following The Clone Republic, Rogue Clone (both 2006), The Clone Alliance(2007), The Clone Elite (2008), The Clone Betrayal (2009),The Clone Empire (2010), The Clone Redemption (2011),The Clone Sedition (2012), and The Clone Assassin(2013), set in a 26th century galaxy ruled by an Earth-based military of clones." (via Locus Online)
COMING SOON:
Teen anthology: Grim

 By

, Narrated By

Short-short: The Egg

 By

, Narrated By

Ultima by Stephen Baxter (Gollancz, Nov 27) — "On the planet of Per Ardua, alien artifacts were discovered—hatches that allowed humans to step across light-years of space as if they were stepping into another room. But this newfound freedom has consequences…." — US release is set for August 2015 from Roc
Non-Fiction: The Insecure Writer's Support Group Guide to Publishing and Beyond

by Alex J. Cavanaugh, J. L. Campbell, Susan Gourley and Joylene Nowell Butler

(Nov 28, 2014)

The Last Changeling by Jane Yolen (Viking Children's, Nov 28)

Anthology: STRAEON

edited by M. David Blake (Rampant Loon, November) — a new original short fiction anthology series from the author of "Absinthe Fish" and editor of the

Campbellian Anthology

pre-reading anthology series

Elysium 

by Jennifer Marie Brissett (Aqueduct Press, Dec 1, 2014) — "A computer program etched into the atmosphere has a story to tell. It's the story of two people … of a city lost to chaos … of survival and love … but the data has been corrupted."

Anthology: Letters to Lovecraft edited by Jesse Bullington (Stone Skin Press, Dec 1) — stories in direct response to quotes selected from Lovecraft's essay "Supernatural Horror in Literature."
Anthology: The Mammoth Book of SF Stories by Women edited by Alex Dally MacFarlane (Running, Dec 1) — via PW's best books of 2014: "Written in the form of letters, travelogues, encyclopedia entries, and galactic gazetteers as well as conventional narratives, and embracing approaches that include folktales (Nalo Hopkinson's "Tan-Tan and Dry Bone"), Lovecraftian horror (Elizabeth Bear and Sarah Monette's "Boojum"), steampunk (Tori Truslow's "Tomorrow Is Saint Valentine's Day"), and hard SF (Nisi Shawl's "Good Boy"), the 33 stories that MacFarlane (Aliens: Recent Encounters) has gathered for this volume dazzle with the virtuosity of their contributors' talents."
ADDED: Hot Lead, Cold Iron by Ari Marmell (GraphicAudio, Dec 1) — out in print/ebook earlier this year, book one of Marmell's new 1932 supernatural Chicago-set "Mick Oberon Job" series
Short: Tokyo Raider: A Tale of the Grimnoir Chronicles

 By

, Narrated By

City of Eternal Night (Crescent City)

 

by Kristen Painter (Orbit, Dec 2, 2014)

Vacant: A Mindspace Investigations Novel

 

by Alex Hughes (Roc, Dec 2, 2014) — 

Narrated By

ADDED: Genocide of One: A Thriller

 By

, Narrated By

The Beating of His Wings

 by Paul Hoffman (Dec 2, 2014) — US release for the final installment of Hoffman's The Left Hand of God trilogy — 

Narrated By

The Godless: A Novel

 By

, Narrated By

The Winter King

 By

, Narrated By

Historical fiction: Sword Song: The Battle for London, The Last Kingdom, and The Pale Horseman

 By

, Narrated By

Rise of the Spider Goddess: An Annotated Novel

by Jim C. Hines (Dec 2, 2014) — "In 2006, DAW Books published Jim C. Hines' debut novel Goblin Quest. But before Jig the goblin, before fairy tale princesses and magic librarians and spunky fire-spiders, there was Nakor the Purple, an elf who wanted nothing more than to stand around watching lovingly overdescribed sunrises with his pet owl Flame, who might actually be a falcon, depending on which chapter you're reading. This is Nakor's story, written in 1995 and never before shared with the world. (For reasons that will soon be painfully clear.) Together with an angsty vampire, a pair of pixies, and a feisty young thief, Nakor must find a way to stop an Ancient Evil before she destroys the world. (Though, considering the rel-atively shallow worldbuilding, it's not like there's much to destroy…) With more than 5000 words of bonus annotation and smart-ass commentary, this is a book that proves every author had to start somewhere, and most of the time, that place wasn't very pretty."
ATLAS: ATLAS Series, Book 1 and ATLAS 2

 By

, Narrated By 

The Fortress in Orion by Mike Resnick (Pyr, Dec 2) — the first book in a new military space opera series: "The Democracy is at war with the alien Traanskei Coalition. War hero Colonel Nathan Pretorius has a record of success on dangerous behind-enemy-lines missions, missions that usually leave him in the hospital. Now he's recruited for a near-impossible assignment that may well leave him dead." — n

arrated By

An Autumn War by Daniel Abraham, read by Neil Shah for Tantor Audio (Dec 2) — book 3 of The Long Price Quartet, first published a decade ago
Anthology: Carbide Tipped Pens edited by Ben Bova and Eric Choi (Tor, December 2, 2014) — a an original hard sf anthology with stories from Gregory Benford, Nancy Fulda, Aliette de Bodard, Liu Cixin (translated by Ken Liu), Daniel H. Wilson, and more — 

Narrated By

ADDED: Andromeda's War: A Novel of the Legion of the Damned

 By

, Narrated By

Skylight by José Saramago (HMH, Dec 2) — "This is Saramago's so-called "lost work," which was written in the 1950s, but rediscovered after the Nobel laureate's death in 2010. The novel features the interconnected stories of the residents of an apartment building in Lisbon in the 1940s." (via The Millions)
Short: The Strange Library

by Haruki Murakami and translated by Ted Goossen 

(Knopf and Random House Audio, Dec 2, 2014) — an illustrated short novel of "A lonely boy, a mysterious girl, and a tormented sheep man plot their escape from the nightmarish library of internationally acclaimed, best-selling Haruki Murakami's wild imagination." — 

Narrated By

Non-Fiction: Information Doesn't Want to Be Free: Laws for the Internet Age by Cory Doctorow, with forewards by Neil Gaiman and Amanda Palmer, read by Wil Wheaton for Blackstone Audio (Dec 2) — published by McSweeney's on Nov 18 — "In sharply argued, fast-moving chapters, Cory Doctorow's Information Doesn't Want to Be Free takes on the state of copyright and creative success in the digital age. Can small artists still thrive in the Internet era? Can giant record labels avoid alienating their audiences? This is a book about the pitfalls and the opportunities that creative industries (and individuals) are confronting today — about how the old models have failed or found new footing, and about what might soon replace them."
ADDED: The King's Deryni (The Childe Morgan #3)—Katherine Kurtz (December 2, Ace) — 

Narrated By

ADDED: Sustenance: A Saint-Germain novel by Chelsea Quinn Yarbro  (Dec 2)
ADDED: Stonehill Downs—Sarah Remy (December 2, Harper Voyager)
ADDED: No True Way: All-New Tales of Valdemar (Tales of Valdemar #8)—edited by Mercedes Lackey (December 2, DAW)
ADDED: Thriller: Murderer's Row by Donald Hamilton, read by Stefan Rudnicki for Skyboat (Dec 2) — The Matt Helm Series,

book 5

 about a professional assassin; out at Audible a bit earlier
Yamada Monogatari: To Break the Demon Gate

 By

, Narrated By

Anthology: Dangerous Games edited by Jonathan Oliver (Solaris, Dec 4) — "In a world of chances, one decision can bring down the house, one roll of the dice could bring untold wealth, or the end of everything. In this anthology of all new short stories the players gather, their stories often dark, and always compelling."
ADDED: Short: Hisses and Wings: a Story of the Tufa and Los Nefilim by Alex Bledsoe and T. Frohock (Dec 4) — "Janet, a young woman whose forebearers were a race of banished faeries, learns of a song that might allow the Tufa to return to their ancestral home. But the song is guarded by Diago, one of the Nefilim, a race descended from angels. Diago knows only too well that the song's power may be misused. Can Janet convince him to give up the song, and if so, does she have the wisdom to use it?"
The Whispering Swarm: Book One of The Sanctuary of the White Friars by Michael Moorcock (Tor, Dec 9)
Our Lady of the Islands by Shannon Page and Jay Lake (Per Aspera, Dec 9) — via PW's best books of 2014: "A fantasy set in the archipelago world of Alizar, Our Lady of the Islandsfeatures the reluctant adventures of Domina Sian Katte — a middle-aged business woman who is wrenched away from her comfortable, quiet life when she is unwillingly chosen by the Priest of the Butchered God and endowed with an unwanted power. Book One of The Butchered God."
Last Stand: Surviving America's Collapse

 By

, Narrated By

The Lady (Marakand) by K.V. Johansen (Pyr, Dec 9)

Beautiful Curse

by Jen McConnel (Swoon Romance, Dec 9, 2014) — "a contemporary retelling of the myth of Psyche and Cupid."
Finders, Inc. by Michael Jasper (UnWrecked Press, Dec 9) — book one in a new supernatural mystery series set in Boone, NC
Severance by Chris Bucholz (Apex Books, Dec 9) — a dark SF novel from Cracked.com columnist Bucholz — "After 240 years traveling toward Tau Prius and a new planet to colonize, the inhabitants of the generation ship Argos are bored and aimless. They join groups such as the Markers and the Breeders, have costumed orgies, and test the limits of drugs, alcohol, and pain just to pass the time. To Laura Stein, they're morons and, other than a small handful of friends, she'd rather spend time with her meat plant than with any of her fellow passengers. But when one of her subordinates is murdered while out on a job, Laura takes it as her responsibility to find out what happened. She expects to find a personal grudge or a drug deal gone wrong, but instead stumbles upon a conspiracy that could tear the ship in two."
ADDED: Gathering Darkness (Falling Kingdoms #3)—Morgan Rhodes(December 9, Razorbill)
ADDED: Fantasy for Good: A Charitable Anthology—edited by Jordan Ellinger and Richard Salter (December 9, Nightscape)
ADDED: Omnibus: The Inheritance Trilogy Omnibus—N.K. Jemisin (December 9, Orbit)
Mystery: 

Moriarty

by Anthony Horowitz (Dec 9, 2014)
Historical fiction: Empire of Sin By Gary Krist (Dreamscape Media, Dec 9) — "A Story of Sex, Jazz, Murder, and the Battle for Modern New Orleans
From bestselling author Gary Krist, a vibrant and immersive account of New Orleans' other civil war."
The Jupiter Pirates #2: Curse of the Iris by Jason Fry (Dec 16, 2014)
ADDED: It Happened in Boston? by Russell H. Greenan, read by Robert Fass for Blackstone Audio (Dec 17) — Greenan's acclaimed 1968 debut, with an introduction by Jonathan Lethem: "In this breathtakingly imaginative book—now appearing in audio for the first time—we enter the mind of an unnamed artist of prodigious talent and intelligence who is determined to correct the world's wrongs via a direct confrontation with the Almighty, no matter what the consequences. A spellbinding tale told by a memorably unreliable narrator, It Happened in Boston? places you inside a vivid world that brilliantly and surprisingly interweaves art, genius, love, madness, betrayal, God … and murder."
Dragonsbane: Fate's Forsaken, Book 3

 By

, Narrated By

The Cendrillon Cycle by Stephanie Ricker (Dec 21, 2014) — "I'm extremely pleased to announce that if you enjoy the world of A Cinder's Tale, you'll have the chance to explore that universe further in The Cendrillon Cycle, a series of novellas recounting the past and future adventures of Elsa, Karl, Bruno, and the rest of the cinder crew."
The Price of Spring by Daniel Abraham, read by Neil Shah for Tantor (Dec 23) — fourth book of Abraham's Long Price Quartet series, first published 2009
ADDED: Teen: This Shattered World: A Starbound Novel

 By

, Narrated By

ADDED: The Last Superhero by Astrid 'Artistikem' Cruz (Dec 24) — "Even heroes have the right to bleed… Everybody knows that Steven S. Waldorf, the last superhero to roam the Earth, died twenty-eight years ago. What everyone ignores is that not only is he still alive, but being kept under the protection of the United State's government. That until, one night, he finds himself saving a young woman from getting mugged. Giana is no ordinary twenty-nine year old, though. She's witty, badmouthed, and once she's set her focus on something nothing can make her stray from her goal. Even if that means putting her life on the line to save the man she's come to know and love from the nightmares that torment him. Literally."
The Assassination Option (A Clandestine Operations Novel) by W.E.B. Griffin (Putnam, December 30) — coming to audio read by Alexander Cendese for Brilliance Audio
ADDED: The Shadow's Heart (The Risen Sun #3)—K.J. Taylor (December 30, Ace)
Jazz Age Cthulhu by Jennifer Brozek, A.D. Cahill, and Darin Grey (Innsmouth Free Press, 2014)
All That Outer Space Allows (The Apollo Quartet, Book 4) by Ian Sales (Whippleshield, December 2014) — "I plan to have copies available for Loncon 3 in August, but we'll see how the research and writing goes. I suspect it may be the hardest of the four to write – and Then Will The Great Ocean Wash Deep Above was no picnic… Meanwhile, I have a bunch of other projects on the go."
Our Love Will Go the Way of the Salmon by Cameron Pierce (Broken River Books, December 2014)
Maker of Moons by Robert W. Chambers, read by Stefan Rudnicki (December 2014)
UNDATED or 2015: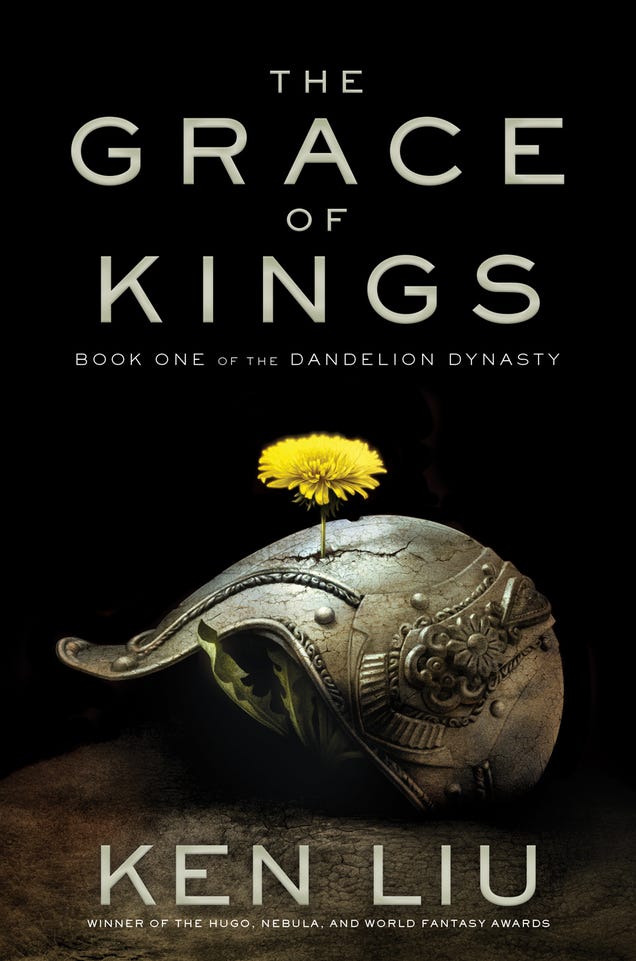 Fiddlehead by Cherie Priest (GraphicAudio, Jan 1) — Priest's 2013 novel in her Clockwork Century series, first audio edition/adaptation: "Young ex-slave Gideon Bardsley is a brilliant inventor, but the job is less glamorous than one might think, especially since the assassination attempts started. Worse yet, they're trying to destroy his greatest achievement: a calculating engine called Fiddlehead, which provides undeniable proof of something awful enough to destroy the world. Both man and machine are at risk from forces conspiring to keep the Civil War going and the money flowing."
Control Point by Myke Cole (GraphicAudio, Jan 1) — a standard audiobook exists for this first book in Cole's "Shadow Ops" series, now coming to GraphicAudio's "movie in your mind" format
The Galaxy Game by Karen Lord (Del Rey, Jan 6, 2015) — a follow-on to 2013′s The Best of All Possible Worlds: "For years, Rafi Delarua saw his family suffer under his father's unethical use of psionic power. Now the government has Rafi under close watch, but, hating their crude attempts to analyse his brain, he escapes to the planet Punartam, where his abilities are the norm, not the exception. Punartam is also the centre for his favourite sport, wallrunning – and thanks to his best friend, he has found a way to train with the elite. But Rafi soon realises he's playing quite a different game, for the galaxy is changing; unrest is spreading and the Zhinuvian cartels are plotting, making the stars a far more dangerous place to aim. There may yet be one solution – involving interstellar travel, galactic power and the love of a beautiful game."

Firefight (The Reckoners)

 by Brandon Sanderson (Tor, Jan 6, 2015) — follow-on to best-selling Steelheart
Spell-Blind (Casebooks of Justis Fearsson) 

by David B. Coe

 

(Baen, Jan 6, 2015)

Strands of Sorrow (Black Tide Rising)

by John Ringo

(Jan 6, 2015)

Zombie Rules by David Achord, read by Graham Halstead for Tantor (Jan 6)
Related non-fiction: The Deep Zoo by Rikki Ducornet (Coffee House Press, Jan 6) — "a record of Rikki Ducornet's reading of the world, a gathering of alchemies where the unknown has become visible through the medium of art, be they Borges's tigers and Cortazar's lions, desire, mystery, or the grotesque."
Short: Payoff

 By

, Narrated By

Kids: 

Dragonbreath #10: Knight-napped!

by Ursula Vernon (Jan 6, 2015)

Reishi Adept: Sovereign of the Seven Isles, Book 7 

By

, Narrated By

The Providence of Fire (Chronicle of the Unhewn Throne)

by Brian Staveley (Tor, Jan 13, 2015) — "Brian Staveley's Providence of Fire, the second novel in the Chronicle of the Unhewn Throne, a gripping new epic fantasy series in the tradition of Brandon Sanderson and George R. R. Martin. The conspiracy to destroy the ruling family of the Annurian Empire is far from over."

Get in Trouble: Stories

 

by Kelly Link (Random House, Jan 13, 2015)

The Dagger's Path by Glenda Larke (Orbit, Jan 13, 2015) — sequel to The Lascar's Dagger
Golden Son: Book II of the Red Rising Trilogy by Pierce Brown (Jan 13, 2015)
Fiction: Binary Star by Sarah Gerard (Two Dollar Radio, Jan 13) — "Sara Gerard's star is rising. The NYC-based bookseller slash art-mag-employee slash writer drew attention last fall with "Things I Told My Mother," an essayistic inquiry into women's representation in society, spawned by a topless walk the author took through Times Square. This kind of intensity and boldness guide all of Gerard's work — whether concerning other writers, or her own bout with anorexia, addiction, and a stint jumping freight trains, and now in her first novel Binary Star. Binary Star interweaves astronomical research with a story about an unnamed anorexic who burns through her intensely dysfunctional life like a star burns fuel, never to be replenished." (via The Millions)
Glow by Ned Beauman (Knopf, Jan 20) — "Beauman's previous novels, The Boxer Beetle and The Teleportation Accident — the one a fanciful look at eugenics and fascism, the other a genre-bending wonder about an avant-garde set designer in 1930s Berlin — each displayed a learned, diabolical imagination at work. His latest appears just as unhinged. Enrolled in a "continuous amateur neurochemistry seminar" and suffering from a sleep disorder, its hero experiments with the designer drug, "glow," which opens up a gateway into a Pynchonian universe: a disappeared friend, pirate radio stations, and a nefarious Burmese mining company." (via The Millions)
The Mime Order: The Bone Season (The Remnant Chronicles) by Samantha Shannon (Jan 25, 2015) — sequel to The Bone Season – "Paige Mahoney has escaped the brutal penal colony of Sheol I, but her problems have only just begun: many of the fugitives are still missing and she is the most wanted person in London."
The Dragon Conspiracy (SPI Files)

by Lisa Shearin

(Ace, Jan 27, 2015)

Pacific Fire by Greg van Eekhout (Tor, Jan 27) — could this be a follow-on to California Bones? Signs point to maybe…
ADDED: Teen: A Cold Legacy (Madman's Daughter Book 3)

by Megan Shepherd

(Jan 27, 2015)

Teen: Fairest by Melissa Meyer (Macmillan, Jan 27) — a prequel to Cinderin her The Lunar Chronicles series
Teen: A Cold Legacy by Megan Shepherd (Balzer+Bray/HarperCollins, January 27, 2015) – the final book in the Madman's Daughter series

Dark Intelligence: Transformation: Book One

by Neal Asher (29 Jan 2015)

After #5: Red Scare by Scott Nicholson (Jan 30) — fifth in Nicholson's post-apocalyptic series, available for preorder on Kindle,Kindle UK, Kobo, and Apple
Forsaken (Otherworld) by Kelley Armstrong (Subterranean Press, Jan 31) — deluxe illustrated hardcover
Related non-fiction: The Cambridge Companion to American Science Fiction (Cambridge Companions to Literature)

by Gerry Canavan and Eric Link

(Jan 31, 2015)

Horror: This is Filth by Nathan Ballingrud (This is Horror Press, January 2015) — "Ballingrud is a master at writing about the darkness inside us. And as terrifying as it might be to see, you can't look away or close your eyes against it thanks to his beautifully precise and evocative prose. There's a dark heart to The Visible Filth and Ballingrud uses its blood for ink to tell a story that really gets under your skin, or rather calls to something that might already be there. Fantastic work, highly recommended." –Ray Cluley
Anthology: Sisters of the Revolution: A Feminist Speculative Fiction Anthology 

by Ann VanderMeer and Jeff VanderMeer

 

(PM Press, Feb 1, 2015)

Karen Memory by Elizabeth Bear (Tor, Feb 3) — "Hugo-Award winning author Elizabeth Bear offers something new in Karen Memory, an absolutely entrancing steampunk novel set in Seattle in the late 19th century—an era when the town was called Rapid City, when the parts we now call Seattle Underground were the whole town (and still on the surface), when airships plied the trade routes bringing would-be miners heading up to the gold fields of Alaska, and steam-powered mechanicals stalked the waterfront. Karen is a "soiled dove," a young woman on her own who is making the best of her orphaned state by working in Madame Damnable's high-quality bordello. Through Karen's eyes we get to know the other girls in the house—a resourceful group—and the poor and the powerful of the town. Trouble erupts into her world one night when a badly injured girl arrives at their door, seeking sanctuary, followed by the man who holds her indenture, who has a machine that can take over anyone's mind and control their actions. And as if that wasn't bad enough, the next night brings a body dumped in their rubbish heap—a streetwalker who has been brutally murdered. Bear brings alive this Jack-the-Ripper-type story of the old west with the light touch of Karen's own memorable voice, and a mesmerizing evocation of classic steam-powered science." — cover by Cynthia Sheppard
Impulse: Lightship Chronicles, Book 1 by Dave Bara (DAW, Feb 3)
Collection: Trigger Warning: Short Fictions and Disturbances by Neil Gaiman (Feb 3)

City of Savages

 

by Lee Kelly (Simon & Schuster/SAGA, Feb 3, 2015)

Bayonets, Balloons, and Ironclads: Britain and France Take Sides with the South by Peter G. Tsouras (Skyhorse, Feb 3)

Cities & Thrones

 by Carrie Patel (Feb 5, 2015) — follow-up to The Buried Life
The Thousand and One: Book II of The Crescent Moon Kingdoms by Saladin Ahmed (February 2015)
The Autumn Republic by Brian McClellan (Orbit, Feb 10, 2015)
Dendera

by Yuya Sato and translated by Edwin Hawkes

(Haikasoru, Feb 10, 2015)

The Spirit War by Rachel Aaron, read by Luke Daniels for Tantor (Feb 10) — Book 4 in the Eli Monpress series
The Damned: A Novel by Andrew Pyper (Feb 10)
Crazy Love You: A Novel by Lisa Unger (Touchstone, Feb 10)
Find Me by Laura van den Berg (FSG, Feb 17) — "Laura van den Berg's fictions often unfurl just beyond the real, with their madcap mix of zany and dreamlike set-ups. Case in point, van den Berg's recent story collection, The Isle of Youth, was peopled by yacht thieves, a mother-daughter magician team, and newlyweds who survive a plane crash. Her first novel, Find Me, continues this surreal, at times catastrophic streak, as it follows Joy, a grocery clerk, cough-syrup addict who's immune to an ongoing plague of memory illness. Joy's resulting hospital stay and cross-country journey plotline sounds like a surreal mash-up of Stephen King's The Stand and Grace Krilanovich's The Orange Eats Creeps."
Related Non-Fiction: They Live (Cultographies)

by D. Harlan Wilson

(Wallflower press, Feb 17, 2015) — "Born out of the cultural flamboyance and anxiety of the 1980s,They Live (1988) is a hallmark of John Carpenter's singular canon, combining the aesthetics of multiple genres and leveling an attack against the politics of Reaganism and the Cold War. The decision to cast the professional wrestler "Rowdy" Roddy Piper as his protagonist gave Carpenter the additional means to comment on the hypermasculine attitudes and codes indicative of the era. This study traces the development of They Live from its comic book roots to its legacy as a cult masterpiece while evaluating the film in light of the paranoid/postmodern theory that matured in the decidedly 'Big 80s.'"

Star Trek: The Original Series: Savage Trade

by Tony Daniel (Feb 24, 2015)

The Death House by Sarah Pinborough (Gollancz, Feb 26, 2015) — "The Death House is a home where, in a world where people are safe against illness, children and teenagers who are susceptible to terminal conditions are sent to die. Their fates are certain. Their lives are in their hands. The question is: what will they choose to do with them?"
Those Above by Daniel Polansky (Hodder & Stoughton, Feb 26, 2015) — "You've seen him do crime – low fantasy by way of HBO's The Wire. You knew it as Low Town, the crime-ridden city where only death is certain. But you've never seen him do epic fantasy. Until now. From the acclaimed author of THE STRAIGHT RAZOR CURE comes this spectacular new series – epic fantasy, as only Daniel Polansky can imagine it."
Prisoner 489 by Joe R. Lansdale (Dark Regions, February 2014) — a new novella — "On an island with a prison for the most evil and powerful criminals in the world, a new prisoner is strapped to the electric chair for execution. After multiple surges of electricity and nearly knocking out power to the entire island, the prisoner is finally dead. The staff buries him in the prison graveyard with a simple marker baring three numbers: 489." — hardcover pre-orders will be emailed an ebook well ahead of the release date
Anthology: Old Venus

by George R.R. Martin and Gardner Dozois

(Mar 3, 2015)

The Devil's Detective: A Novel by Simon Kurt Unsworth (Doubleday, Mar 3)

Edge of Dark (The Glittering Edge)

by Brenda Cooper (Pyr, Mar 3, 2015) — "What if a society banished its worst nightmare to the far edge of the solar system, destined to sip only dregs of light and struggle for the barest living.  And yet, that life thrived?  It grew and learned and became far more than you ever expected, and it wanted to return to the sun.  What if it didn't share your moral compass in any way? The Glittering duology describes the clash of forces when an advanced society that has filled a solar system with flesh and blood life meets the near-AI's that it banished long ago.  This is a story of love for the wild and natural life on a colony planet, complex adventure set in powerful space stations, and the desire to live completely whether you are made of flesh and bone or silicon and carbon fiber.  In Edge of Dark, meet ranger Charlie Windar and his adopted wild predator, and explore their home on a planet that has been raped and restored more than once.  Meet Nona Hall, child of power and privilege from the greatest station in the system, the Diamond Deep.  Meet Nona's best friend, a young woman named Chrystal who awakens in a robotic body…."
Into the Maelstrom (Citizen)

by David Drake and John Lambshead

(Baen, Mar 3, 2015) — book two after Into the Hinterlands
Vision In Silver: A Novel of the Others by Anne Bishop (Roc, Mar 3)
Madness in Solidar: The Ninth Book of the Imager Portfolio by L. E. Modesitt (Tor, Mar 3)
Spirit's End by Rachel Aaron, read by Luke Daniels for Tantor (Feb 10) — Book 5 in the Eli Monpress series
Persona by Genevieve Valentine (Simon & Schuster/SAGA, 3/10/15) — "When Suyana, Face of the United Amazonia Rainforest Confederation, secretly meets Ethan of the United States for a date that can solidify a relationship for the struggling UARC, the last thing she expects is an assassination attempt. Daniel, a teen runaway-turned-paparazzi out for his big break, witnesses the first shot hit Suyana, and before he can think about it, he jumps into the fray, telling himself it's not altruism, it's the scoop. Just like that, Suyana and Daniel are now in the game of Faces. And if they lose, they'll die."

Clash of Eagles

by Alan Smale (Del Rey, Mar 17, 2015)

 — "His novella of a Roman invasion of ancient America, "A Clash of Eagles" in the Panverse Two anthology (edited by Dario Ciriello), won the 2010 Sidewise Award for Alternate History, and he has recently sold a trilogy of novels set in the same universe. The first book, CLASH OF EAGLES, will appear from Del Rey."
 The Darkside War by Zachary Brown (Simon & Schuster/SAGA, 3/17/15) — "People used to wonder if we were alone in the universe. Well, we're not. Not by a long shot. Aliens come in all shapes and sizes, and even the good guys are likely to haunt your nightmares. And oh, you'll have nightmares, even after you leave the service. If you leave the service."

Stiletto (The Checquy Files 2)

by Daniel O'Malley (Head of Zeus, 1 Apr 2015) — UK release for the sequel to The Rook
The Grace of Kings by Ken Liu (Simon & Schuster/SAGA, 4/7/15) — "Wily, charming Kuni Garu, a bandit, and stern, fearless Mata Zyndu, the son of a deposed duke, seem like polar opposites. Yet, in the uprising against the emperor, the two quickly become the best of friends after a series of adventures fighting against vast conscripted armies, silk-draped airships, soaring battle kites, conspiring goddesses, underwater boats, magical books, as a streetfighter-cum-general who takes her place as the greatest tactitian of the age. Once the emperor has been overthrown, however, they each find themselves the leader of separate factions—two sides with very different ideas about how the world should be run and the meaning of justice."
Disciple of the Wind: A Novel of the Fated Blades by Steve Bein (Roc, Apr 7, 2015) —  concluding book in a trilogy (Daughter of the Sword and Year of the Demon)
Superposition by David Walton (Pyr, Apr 7)
Tracker: A Foreigner Novel by C. J. Cherryh (DAW, Apr 7)
Joe Steele by Harry Turtledove (Roc, Apr 7)
Clash of Iron by Angus Watson (Orbit, Apr 14, 2015) — "Battle-hardened warriors and bloodthirsty druids clash in the second volume of this action-packed historical fantasy trilogy that will appeal to fans of Joe Abercrombie and HBO's Game of Thrones."
Sympathy For The Devil by Terrence McCauley (April 14)
The Winter Family: A Novel by Clifford Jackman (Apr 14) — a "hyperkinetic western noir"
Kids: Castle Hangnail by Ursula Vernon

(Dial, Apr 21, 2015) — "From the creator of Dragonbreath comes a tale of witches, minions, and one fantastic castle, just right for fans of Roald Dahl and Tom Angleberger. When Molly shows up on Castle Hangnail's doorstep to fill the vacancy for a wicked witch, the castle's minions are understandably dubious. After all, she is twelve years old, barely five feet tall, and quite polite."

Garden of Lies by Amanda Quick (Putnam, Apr 21)
Positive: A Novel by David Wellington (Harper Voyager, April 21) — "In the bestselling vein of Guillermo Del Toro and Justin Cronin, the acclaimed author ofChimera andThe Hydra Protocol delivers his spectacular breakout novel—an entertaining page-turning zombie epic that is sure to become a classic."
The Ninth Wind by Moses Siregar III (April 2015) — Follow-on to The Black God's War in Siregar's epic fantasy "Splendor and Ruin" trilogy: "I've been lucky enough to get my hands on an early copy of The Ninth Wind by Moses Siregar, a terrific Indy writer who I think is going to blow up big when this comes out. A top tier epic fantasy from him, and hopefully it will be out soon." –Jonathan Wood, author of NO HERO
A Long Time Until Now 

by Michael Z Williamson

(Baen, May 5, 2015)

Midnight's Kiss (A Novel of the Elder Races) by Thea Harrison (Berkeley, May 5)
Teen: Girl at the Bottom of the Sea by Michelle Tea (McSweeney's McMullen's, May 5, 2015) — "the follow-up to Michelle Tea's beloved Mermaid in Chelsea Creek, "a refreshing breath of air in the world of YA, equal parts eerie, heartbreaking, and fantastical.""
Straits of Hell: Destroyermen, Book 10 by Taylor Anderson (Roc, May 5)
1882: Custer in Chains by Robert Conroy (Baen, May 5)

Seveneves

by Neal Stephenson (William Morrow, May 19, 2015) — I know nothing yet about this book, other than that I will be reading and/or listening to it on April 14, and that Upcoming4Me has posted a synopsis

Eternity's Wheel (InterWorld Trilogy)

by Neil Gaiman, Michael Reaves and Mallory Reaves (May 19, 2015)

Odin: The Viking Allfather (Myths and Legends)

by Steven Long and Maria Moreno

(Osprey, May 26, 2015)

Aurora by Kim Stanley Robinson (Orbit, May 19, 2015) — "A new work that takes us on an interstellar journey in search of a new home planet from New York Times bestselling author Kim Stanley Robinson."
Dance of Chaos by David Dalglish (Orbit, May 2015)
Fiction: Minnow by James McTeer (Hub City, May 2015) — winner of the South Carolina First Novel Prize — "Minnow is a gorgeous fever-dream of a novel," said competition judge Ben Fountain. "McTeer's story of a young boy's quest achieves a narrative drive and depth that are rare in any novel, much less a debut effort. Minnow picked me up by the scruff of the neck and carried me along as powerfully as a novel by Pat Conroy or Toni Morrison. Yeah, McTeer is that good. I look forward to many more novels by this excellent young writer."
Fiction: Hashtag by Eryk Pruitt (280 Steps, Spring 2015) — "from the author ofDirtbags, a twisted and sinister crime story."
Anthology: Aickman's Heirs edited by Simon Strantzas (Undertown Books, Spring 2015) — "an anthology of strange, weird tales by modern masters of weird fiction, in the milieu of Robert Aickman, the master of strange and ambiguous stories."
The Shadow Revolution (Crown & Key)

by Clay Griffith and Susan Griffith

(Jun 2, 2015) — "In the 1820s, a powerful but inexperienced magician is trapped in a struggle between ancient necromancers and elementals. To save innocents from the growing darkness, he gathers a group of alchemists, arcane engineers, and monster hunters to fight with him. Think of it as Charlotte Bronte's Avengers."
A Head Full of Ghosts: A Novel by Paul G. Tremblay (William Morrow, June 2)
The Change: Tales of Downfall and Rebirth (Change Series) by S. M. Stirling (Roc, June 2)
The Fold: A Novel by Peter Clines (Crown, June 2)
Finders Keepers: A Novel by Stephen King (June 2)
Shards of Hope (Psy/Changeling) by Nalini Singh (June 2)
Because You'll Never Meet Me

by Leah Thomas

(Jun 2, 2015) 

— first novel from 2010 Clarion Workshop graduate
Dead Ice (Anita Blake, Vampire Hunter) by Laurell K. Hamilton (June 2)
Dragon in Exile (Liaden Universe) by Sharon Lee (Baen, June 2)
Nemesis Games by James S.A. Corey (Orbit, June 2015) — "The fifth novel in James S.A. Corey's New York Times bestselling Expanse series–now being produced for television by the SyFy Channel!"
Midian Unmade: Tales of Clive Barker's Nightbreed by Clive Barker (Tor, July 7)
Bombs Away: The Hot War by Harry Turtledove (Del Rey, July 14)
Chaos Unleashed by Drew Karpyshyn (Del Rey, July 14)
The Thorn of Emberlain (Gentleman Bastard #4) by Scott Lynch (2015)
Anthology: Exigencies edited by Richard Thomas (Dark House Press, 2015) — a 22-story original neo-noir fiction anthology
The Fifth Season (The Broken Earth) by Jemisin, N. K. (Orbit, August 4, 2015) — "This is the way the world ends. Again."
The Cage by Megan Shepherd (Balzer+Bray, Supper 2015) — first in a new "YA sci-fi trilogy about six teenagers trapped in an elaborate "human zoo" by an otherworldly race known as the Kindred."
The Witchwood Crown by Tad Williams (DAW, 2015) — Williams returns to the world of his Memory, Sorrow and Thorn epic fantasy trilogy
All the Worlds Against Us (Jon and Lobo) by Mark L. Van Name (Baen) — Audible Frontiers has produced the previous books in the series, under fantastic narrations by Tom Stechschulte
Tsarina by J. Nelle Patrick (2014?)
Love in the Time of Mechanical Replication by Judd Trichter (St. Martins? Thomas Dunne? 2014? 2015?)
Ebon (Pegasus, #2) by Robin McKinley (2015?)
The Doors of Stone (Kingkiller Chronicle #3) by Patrick Rothfuss (DAW, 2015?)
Shadows of Self (Mistborn, #5) by Brandon Sanderson (Tor, 2015?)
The Winds of Winter (A Song of Ice and Fire, #6) by George R.R. Martin (2015?)
The Water Knife by Paolo Bacigalupi (Knopf, May 26, 2015) — "Knopf has acquired a new novel by Paolo Bacigalupi, the science fiction writer whose 2009 book "The Windup Girl" sold 200,000 copies and was considered one of the top novels of the year. The new book, "The Water Knife," is set in a lawless, water-starved American Southwest in the not-too-distant future."
Red Queen by Victoria Aveyard (Feb 10, HarperTeen)
Anthology: Wastelands 2: More Stories of the Apocalypse edited by John Joseph Adams (Titan Books, February 2015) – "the star-studded follow-up to the 2008 bestselling anthology Wastelands."
Rolling in the Deep by Mira Grant (Subterranean Press, March 2015) — "When the Imagine Network commissioned a documentary on mermaids, to be filmed from the cruise ship Atargatis, they expected what they had always received before: an assortment of eyewitness reports that proved nothing, some footage that proved even less, and the kind of ratings that only came from peddling imaginary creatures to the masses."
A Crown for Cold Silver by Alex Marshall (Orbit, April 14) — "It was all going so nicely, right up until the massacre."
War of Shadows by Gail Z. Martin (Orbit, April 21, 2015) — book 3 in the Ascendant Kingdoms saga which began with Ice Forged
The Philosopher's Zombie by Robert J. Sawyer (April 2015)
Anthology: The End has Come: The Apocalypse Triptych #3 edited by John Joseph Adams and Hugh Howey (June 2015) — via io9
Uprooted by Naomi Novik (Del Rey, June 2015) — "Naomi Novik, author of the Temeraire novels, is taking us to a new world with Uprooted! The story is a dark fairy tale, where a grim wizard defends villagers from the horrors of an enchanted Wood. In return? He demands ten years of service from a young girl of his choosing. Now the choosing is approaching, and a young woman named Agnieszka fears that her best friend, the lovely Kasia, will be taken. But what if the wizard makes a different choice?" (via Tor.com)
John Claude Bemis is set to launch a new Steampunk/alchemist series for young readers, to be published by Disney/Hyperion starting in 2015
The Skull Throne (Demon Cycle, #4) by Peter V. Brett (2015?)
The Scarlet Gospels by Clive Barker (St. Martin's Press, 2015) — "Originally planned as a collection of short stories, the project changed to focus on Harry D'Amour going up against Pinhead. The novel has been in works for more than a decade and we'll be able to read it in 2015, courtesy of St. Martin's Press: 'Clive is delighted to announce that St Martin's Press has acquired world English rights to publish The Scarlet Gospels, his upcoming novel featuring Pinhead and Harry D'Amour. St Martin's anticipates a winter 2015 publication date.'"
The Uninvited by Cat Winters (William Morrow) — via PW Book Deals: "Lucia Macro at HarperCollins's William Morrow imprint acquired world English rights to Cat Winters's novel, The Uninvited. The book, which Morrow compares to The Night Circus and The Thirteenth Tale, is a paranormal work set during the influenza pandemic of 1918. Winters, who was represented by Barbara Poelle at the Irene Goodman Literary Agency, was a finalist for the YALSA's 2014 Morris Award, for her novel In the Shadow of Blackbirds."
How to Invent a Language by David Peterson (Penguin) — via PW Book Deals: "For Penguin Press, Elda Rotor took world rights to David Peterson's How to Invent a Language. Peterson has created languages for shows like HBO's Game of Thrones and Syfy's Defiance, and the book will be a guide for anyone looking to craft a new tongue. Agent Joanna Volpe at New Leaf Literary & Media represented Peterson."
Teen: The Burning Depths by James P. Smythe (Hodder, February 2015) — "Centuries ago, the Australia left a dying Earth in search of an inhabitable planet its colonists could call home. But no such planet was ever discovered. Law and order gave way to rioting and chaos as gangs began battling for control of the ship and its dwindling resources, and the Australia was left to drift, directionless, through the emptiness of space. Seventeen-year-old Chan, fiercely independent and self-sufficient, keeps her head down and lives quietly, careful not to draw attention to herself amidst the violence and disorder. Until the day she makes an extraordinary discovery – a way to return the Australia to Earth. But doing so would bring her to the attention of the fanatics and the murderers who control life aboard the ship, putting her and everyone she loves in terrible danger. And a safe return to Earth is by no means certain."

Pocket Apocalypse: InCryptid, Book Four

by Seanan McGuire (Mar 3, 2015)

Company Town by Madeline Ashby (Angry Robot, Mar 3, 2015)
Vengeance of the Iron Dwarf (Companions Codex) by R. A. Salvatore (March 3)
Ancestral Machines: A Humanity's Fire novel by Michael Cobley (Orbit, Mar 10, 2015)

The Mechanical (The Alchemy Wars)

 

by Ian Tregillis (Orbit, March 10, 2015)

Teen: The Infinite (Gates of Thread and Stone Book 2) by Lori M. Lee (Skyscape, March 10)
The Last Days of Video: A Novel

by Jeremy Hawkins

(Soft Skull Press, Mar 17, 2015) — "The video stores are dying. But most of you don't care. You've got your Netflix and your Redbox and your DVR, so why deal with VHS tapes or scratched DVDs? Why deal with the grumpy guy at the worn-down independent video store?"

In the Time of Dragon Moon by Janet Lee Carey

(Penguin/Kathy Dawson, Mar 24, 2015)

Anthology: The Doll Collection edited by Ellen Datlow (Tor, March 2015) — all-original dark tales including: "Heroes and Villains" by Stephen Gallagher; "The Doll-Master" by Joyce Carol Oates; "Gaze" by Gemma Files; "In Case of Zebras" by Pat Cadigan; 

"Miss Sibyl-Cassandra" by Lucy Sussex; "Skin and Bone" by Tim Lebbon; "There Is No Place for Sorrow in the Kingdom of the Cold" by Seanan McGuire; "Goodness and Kindness" by Carrie Vaughn; "Daniel's Theory of Dolls" by Stephen Graham Jones; "After and Back Before" by Miranda Siemienowicz; "Doctor Faustus" by Mary Robinette Kowal; "Doll Court" by Richard Bowes; "Visit Lovely Cornwall on the Western Railway Line" by Genevieve Valentine; "Ambitious Boys Like You" by Richard Kadrey; "The Permanent Collection" by Veronica Schanoes; "Homemade Monsters" by John Langan; "Word Doll" by Jeffrey Ford

Shower of Stones by Zachary Jernigan (Night Shade Books, Spring 2015) — "Conclusion to the visceral, inventive narrative begun in No Return, 'the most daring debut novel of 2013,' Shower of Stones pits men against gods, swords against world-destroying magic, offering readers another glimpse into the fascinatingly harsh world of Jeroun."
King of Ashes: Book One of The War of Five Crowns by Raymond E. Feist (April 7, 2015)
Dark Heir: A Jane Yellowrock Novel

by Faith Hunter

(Apr 7, 2015)

The Rebirths of Tao by Wesley Chu (Angry Robot, Apr 7)
Lair of Dreams: A Diviners Novel by Bray, Libba (Apr 14, 2015)

Of Noble Family

 by Mary Robinette Kowal (Tor, Apr 28, 2015) — coming simultaneously in audio from Audible, read by the author; RT has the scoop on thecover reveal
Teen: Magonia by Maria Dahvana Headley (Harper Collins, Apr 28, 2015) — "a fiercely intelligent, multilayered fantasy where Neil Gaiman's Stardust meets John Green's The Fault in Our Stars in a story about a girl caught between two worlds . . . two races . . . and two destinies."
The Waterborne Blade by Susan Murray (Angry Robot, May 5, 2015)
A Court of Thorns and Roses by Sarah J. Maas (May 5, 2015)

The Familiar: One Rainy Day in May

by Mark Z. Danielewski (Pantheon, May 19, 2015)

The Scarlet Gospels by Clive Barker (May 19)
Spellstorm by Ed Greenwood (Wizards of the Coast, June 2)
The Invasion of the Tearling: A Novel (Queen of the Tearling) by Erika Johansen (June 9)
The Iron Assassin by Ed Greenwood (Tor, Jun 9)
Slow Bullets by Alastair Reynolds (Tachyon, June 9)
The Hollow Queen (The Symphony of Ages) by Elizabeth Haydon (June 30)

The Dark Forest

by Cixin Liu (Jul 7, 2015) — cover reveal on Tor.com for this second book in "The 3-Body Problem" translated by Ken Liu
Time Salvager by Wesley Chu (Tor, July 7)
Last First Snow (Craft Sequence) by Max Gladstone (Tor, Jul 14, 2015) — Gladstone writes about writing this novel (in the universe which includes Three Parts Dead) at Tor.com
Kids: Nightborn (Thrones and Bones, Book 2) by Lou Anders (Crown Books for Young Readers, Jul 14, 2014) — follow-on to Frostborn, a fantastic Viking-infused middle grade fantasy of board games, dragons, frost giants, and more
Alive

by Scott Sigler

(Del Rey, Jul 14, 2015) — "For fans of The Hunger Games, Divergent, and Red Rising comes a gripping sci-fi adventure in which a group of teenagers wake up in a mysterious corridor with no knowledge of who they are or how they got trapped. Their only hope lies with an indomitable young woman who must lead them not only to answers but to survival."
Dark Orbit by Carolyn Ives Gilman (Tor, July 14)
Armada by Ernest Cline (Crown, July 28, 2015) — "Cline wowed the world with Ready Player One in 2011, a brilliant debut that was pure geek gold: a glorious fusion of near future science fiction, epic fantasy quest, and unlikely love story, that above all else is an homage to the 1980s. Millions of readers worldwide have been anxiously awaiting his second novel, which evidently chronicles the adventures of a video game geek named Zack, who is conscripted into a top-secret government program and must save the world from an alien invasion." (via Paul Goat Allen's "The Most Anticipated Sci-fi and Fantasy Releases of 2014″ for Barnes & Noble)
The Fall: A Novel by R. J. Pineiro (Thomas Dunne, Jul 28) — "A sci-fi thriller in which a man jumps from the upper-most reaches of the atmosphere and vanishes, ending up on an alternate Earth where he died five years earlier."
The Unnoticeables by Robert Brockway (Tor, July 7, 2015) — "Tor said the books are "hilarious urban fantasy novels" set in a world that pulls from New York's punk scene in the 1970s as well as the modern-day Los Angeles entertainment industry." (via PW)
Truthwitch by Susan Dennard (Tor, Fall 2015) — "The series is set in a world where three empires rule and every member of the population is born with a magical skill set, known as a "witchery." Tor elaborated: "Now, as the Twenty Year Truce in a centuries-long war is about to end, the balance of power will fall on the shoulders of two young women, who must accept their fate, and themselves, to survive."" (via PW)
Anthology: Neverland's Shadow edited by Shawn Speakman and Roger Bellini (Grim Oak Press, 2015) — from the editor/publisher of Unfettered comes an original short fiction anthology focusing on the antagonist, with contributors including Ken Liu, Ann Aguire, R. Scott Bakker, Mark Lawrence, Tanith Lee, Scott Lynch, and Michael J. Sullivan (among others)
Magic Shifts (Kate Daniels) by Ilona Andrews (Ace, Aug 4)
Dragonbane (Dark-Hunter Novels) by Sherrilyn Kenyon (St. Martin's, Aug 4)
Nightwise by R. S. Belcher (Tor, Aug 4)
Edge of Dawn by Melinda Snodgrass (Aug 4)
The Veil: A Devil's Isle Novel by Chloe Neill (Aug 4)
The Bestiary by Ann VanderMeer (Centipede Press, Aug 4) — "A modern bestiary of made-up fantastical creatures organized from A to Z, along with an ampersand and an invisible letter, featuring some of the best and most respected fantasists from around the world, including Karen Lord, Dexter Palmer, Brian Evenson, China Mieville, Felix Gilman, Catherynne M. Valente, Rikki Ducornet, and Karin Lowachee."
The End of All Things (The Human Division, Book 2) by John Scalzi (Tor, Aug 11, 2015)
ADDED: Chasing the Phoenix by Michael Swanwick (Aug 11) — "Apparently a date has been set for Chasing the Phoenix, my second Darger and Surplus novel, and it is… drum roll, please!… August 11, 2015.  That's the cover up above.  The big fella would have to be Vicious Brute.  And the little one?  Maybe Little Spider, possibly even Surplus.  Though that would make Vicious Brute very large indeed. You can read an anticipatory review (based on the publicity material rather than the text, which is not available yet) over at Bibliosanctum by clicking here."
Power Surge by Ben Bova (Tor Books, Aug 11)
Deceptions: A Cainsville Novel by Kelley Armstrong (Aug 18)
Secondhand Souls by Christopher Moore (William Morrow, Aug 25)
World of Water by James Lovegrove (Solaris, August 25, 2015) — follow-on to World of Fire — "Dev Harmer has landed in a new body on a new planet. He has gills and fins and a chronic malfunction in his genes. With only 72 hours to bring the settlers and natives of a colonised world to peace before his temporary body expires, murder and corruption are the least of his worries."
The Spider's War by Daniel Abraham (Orbit, August 2015) — "The epic conclusion to The Dagger and The Coin series, perfect for fans of George R.R. Martin."
The City of Mirrors (The Passage, #3) by Justin Cronin (Orion, Oct 22)
Fake Fruit Factory by Patrick Wensink (Curbside Splendor, Fall 2015) — "Thrilled to announce that we'll publish best-selling author Patrick Wensink's next novel FAKE FRUIT FACTORY in Fall 2015. Part screwball comedy, part sociological autopsy of small town America, and part love story FAKE FRUIT FACTORY is like Karen Russell by way of E.L. Doctorow."
Illuminae by Annie Kaufman and Jay Kristoff (Knopf, Fall 2015) — "Told through a dossier of hacked documents – including emails, military files, IMs, medical reports, interviews, graphics, and more – for what's billed as a found footage-style mashup of Battlestar Galactica and Ten Things I Hate About You, Illuminae is the story of of a young hacker and her fighter pilot ex-boyfriend who must uncover the truth about the deadly plague ravaging their fleet, the AI that should be protecting them, and the powers that be who may or may not be lying about everything."
Anthology: The Year's Best Military and Adventure Science Fiction edited by David Afsharirad (Baen, 2015) — first installment in a new anthology series
YA: Seriously Wicked by Tina Connolly (Tor Teen, 2015) — "a YA about a girl who's being raised by a seriously wicked witch. It contains: 1 sweet boy-band boy, 1 dragon who lives in an RV garage, 1 demon who occasionally imitates Elvis, 1 hidden phoenix that's going to explode on Halloween, 1 witch who just wants to run the whole city, sheesh, is that too much to ask? and 1 girl named Cam trying to fix it all"
The Lost Level by Brian Keene (Apex Books, 2015)
The Lost Country by William Gay (Dzanc Books, October 2015) — "Dzanc Books has acquired world, performance, and audio rights for William Gay's long-awaited novel, The Lost Country (tentatively scheduled for October 2015), as well as another book entitled Little Sister Death and paperback reprint rights for Gay's debut novel, The Long Home."
Normal: A Novel 

by Warren Ellis

 

(FSG Originals, Nov 3, 2015) — "A smart, tight, provocative techno-thriller straight out of the very near future—by an iconic visionary writer. Some people call it "abyss gaze." Gaze into the abyss all day and the abyss will gaze into you."

The War Against the Assholes by Sam Munson (Simon & Schuster / Saga Press, June 16,  2015) — "set in a Manhattan "shrouded in mystery" and follows a 17-year-old Catholic high school student who begins to acquire supernatural powers after being introduced to a book called The Calendar of Sleights by a strange classmate. The protagonist is then pulled into a long-running war among rival factions of magicians." (via PW)
Tell the Wind and Fire by Sarah Rees Brennan (HarperCollins, 2015?) — "A modern retelling of A Tale of Two Cities. With magic!"
The Dregs by Leigh Bardugo (Henry Holt, 2015?) — "The project, described as a blend of Ocean's 11 and Game of Thrones, is set in Kerch, a small island nation in the "Grishaverse" (meaning the same universe as her Shadow and Bone books) with tremendous economic power, the hub of all international trade and a country rich in art and culture … but also home to one of the most dangerous criminal underworlds. A crew of dangerous felonious misfits face impossible odds when they are pulled together to break into one of the most guarded places in the world."
Graphic novel: The Spill Zone by Scott Westerfeld and Alex Puvilland (First Second, 2015?) — "Nobody's ever really explained the Spill. Was it an angelic visitation? A nanotech accident? A porthole opening from another world? Whatever it was, no one's allowed in the Spill Zone these days except government scientists and hazmat teams. But a few intrepid explorers know how to sneak through the patrols and steer clear of the dangers inside the Zone. Addison Merrick is one such explorer, dedicated to finding out what happened that night, and to unraveling the events that took her parents and left her little sister mute and disconnected from the world."
Collection: Blood: Stories by Matthew Cheney (Black Lawrence Press, January 2016) — "We are very pleased to announce that we have chosen a winner for the 2014 Hudson Prize. Congratulations to Matthew Cheney! His manuscript Blood: Stories will be published by Black Lawrence Press in January, 2016. We offer this excerpt of the title story for your reading pleasure. "Blood" was originally published inOne Story,along with an interview with Matthew in which he discusses violence in art, how playwriting informs his fiction, and the best writing advice he has ever received."
Underground Airline by Ben H. Winters (Mulholland, Spring 2016) — "an 'epic contemporary detective story,' according to the publisher, set in alternate world in which the Civil War never happened and slavery still exists in the American South. The novel follows an undercover agent trying to capture an escaped slave. Winters, who has written titles for adults and children, won both the Edgar and the Philip K. Dick Award for books in the Last Policeman series." (via PW)
Ancestral Night by Elizabeth Bear (Gollanzc, late 2016) — first in a two-book space opera which "imagines the invention of The White Drive: an easy, nonrelativistic means of travel across unimaginable distances. The gripping story follows salvage operators, Haimey Dz and her partner Connla Kurucz, as they pilot their tiny ship into the scars left by unsuccessful White Transitions, searching for the relics of lost human – and alien – vessels."