MAY 7-13, 2014: A sequel I've been anticipating for the past year, a short stay on the "missing in audio" list for a book from one of my favorite authors, a post-apocalyptic horror, Huck Finn in the future, and a Weird West anthology headline a fairly quiet publishing week this week, at least compared to last week's haul, but by no means does that imply that there aren't more books worth checking out in the ALSO OUT listings as well. Those include (among others) Porochista Khakpour's The Last Illusion and Danie Ware's 2012 novel Ecko Rising along with a pair of collections, Charles Stross' Wireless and Justina Robson's Heliotrope. In the SEEN BUT NOT HEARD listings I'm most bemoaning Ari Marmell's Prohibition Chicago-set urban fantasy Hot Lead, Cold Iron — how fantastic could an audiobook production of this "the Dresden Files meets The Untouchables" book be? — and Will McIntosh's intense near-future military sf novel of alien invasion, Defenders, as well as the Kickstarter-funded Crossed Genres anthology Long Hidden: Speculative Fiction from the Margins of History edited by Rose Fox and Daniel Jose Older. (I would spend more time grumbling about John Scalzi's short novella Unlocked, but there is reportedly an audiobook edition forthcoming.) Some newly ADDED listings I want to mention this week: the Kickstarter-funded War Stories anthology is due out this summer from Apex Books, Darryl Gregory's We Are All Completely Fine is set for August publication from Tachyon, Jenn Brissett's Elysium is due out in September from Aqueduct, and two Dreamscape Media productions are coming June 3: Genevieve Valentine's forthcoming The Girls at the Kingfisher Club and Catherynne M. Valente's Hugo-nominated 2013 novella Six-Gun Snow White. One last thing before I get to this week's picks: GraphicAudio has released a few titles of interest recently, including the concluding third book in Jon Sprunk's Shadow Saga, Shadow's Master, and the first book in Cherie Priest's Clockwork Century series, Boneshaker, with (at least) book two, Dreadnought, on the way; there's also a pair of new shorts, one in Peter V. Brett's Demon Cycle series, and the other in Tim Waggoner's Nekropolis series. Enjoy!
PICKS OF THE WEEK:
Queen of the Dark Things: A Novel by C. Robert Cargill (Harper Voyager, May 13, 2014) read by Vikas Adam for Harper Audio, reprising his fantastic turn on the first book of the series, which I reviewed in my March 2013 report. Dreams and Shadows completes a full narrative arc and doesn't necessarily compel further reading, but I've been waiting to find out where Colby goes after its dramatic conclusion. "Screenwriter and noted film critic C. Robert Cargill continues the story begun in his acclaimed debut Dreams and Shadows in this bold and brilliantly crafted tale involving fairies and humans, magic and monsters—a vivid phantasmagoria that combines the imaginative wonders of Neil Gaiman, the visual inventiveness of Guillermo Del Toro, and the shocking miasma of William S. Burroughs. Six months have passed since the wizard Colby lost his best friend to an army of fairies from the Limestone Kingdom, a realm of mystery and darkness beyond our own. But in vanquishing these creatures and banning them from Austin, Colby sacrificed the anonymity that protected him. Now, word of his deeds has spread, and powerful enemies from the past-including one Colby considered a friend—have resurfaced to exact their revenge." Buy: [Downpour | Kobo |Indiebound | Amazon | Kindle]
The Revolutions By Felix Gilman, Narrated By Ralph Lister for Audible (May 9) is the recent standalone novel by the author of the brilliant The Half-Made World duology, published in print/ebook just over a month ago. I'm very excited to see this come to audio, particularly read by such a talent as Lister (Valente's Habitation for the Blessed, Steven Erikson's Malazan Book of the Fallen). Gilman's worlds are dirty, complex things full of moving parts; my favorite piece of his writing is his 2010 novelette Lightbringers and Rainmakers, which is closer to the spirit of The Rise of Ransom City than the darker The Half-Made World, but why am I talking about his first two books? (Though they are both fantastic!) This is a new, standalone work of interplanetary Victorian sf: "In 1893, young journalist Arthur Shaw is at work in the British Museum Reading Room when the Great Storm hits London, wreaking unprecedented damage. In its aftermath, Arthur's newspaper closes, owing him money, and all his debts come due at once. His fiancée, Josephine, takes a job as a stenographer for some of the fashionable spiritualist and occult societies of fin de siècle London society. At one of her meetings, Arthur is given a job lead for what seems to be accounting work, but at a salary many times what any clerk could expect. The work is long and peculiar, as the workers spend all day performing unnerving calculations that make them hallucinate or even go mad, but the money is compelling. Things are beginning to look up when the perils of dabbling in the esoteric suddenly come to a head: A war breaks out between competing magical societies. Josephine joins one of them for a hazardous occult exploration – an experiment which threatens to leave her stranded at the outer limits of consciousness, among the celestial spheres. Arthur won't give up his great love so easily, and hunts for a way to save her, as Josephine fights for survival… somewhere in the vicinity of Mars."
Bird Box: A Novel By Josh Malerman, Narrated By Cassandra Campbell for Harper Audio (Ecco, May 13) is one not to start after dark: "Something terrifying that must not be seen. One glimpse and a person is driven to deadly violence. No one knows what it is or where it came from. Five years after it began, a handful of scattered survivors remain, including Malorie and her two young children. Living in an abandoned house near the river, Malorie has long dreamed of fleeing to a place where her family might be safe. But the journey ahead will be terrifying: 20 miles downriver in a rowboat blindfolded with nothing to rely on but Malorie's wits and the children's trained ears. One wrong choice and they will die. And something is following them…."
The Boy in His Winter: An American Novel By Norman Lock, Narrated By Grover Gardner for Blackstone Audio (May 13) — Huck Finn and Jim sail down the Mississippi and time, washing up just as Hurricane Katrina hits; narrated by a wizened Huck in 2077 reflecting on all he's seen in this short novel with picaresque, sf, and literary roots. An interview and excerpt in Slice Magazine give some background and flavor for the novel (the excerpt is of the chapter "The Death of Tom Sawyer") and, yup, there's Huck, Jim, Tom, and: "The moving picture stopped, but the illusion of fantastic life continued awhile. I walked to the river and boarded the raft because it could not have been otherwise for Huck Finn." Hearing Gardner as an older (and younger) Huck is a pleasure as well.
And I'm closing this week's picks the same way I did last week: with a John Joseph Adams anthology. Last week it was his first anthology, Wastelands, here it's his most recent, Dead Man's Hand, which Publishers Weekly calls "A fearsomely impressive lineup of contributors surmounts an occasional over-reliance on Old West tropes in this vigorously imagined blend of cheroot-smoking cowboys, aliens, demons, werewolves, androids, and even dinosaurs." Narrated by Phil Gigante and Natalie Ross for Brilliance Audio, the anthology includes original stories from Tad Williams, Ken Liu, Joe R. Lansdale, Seanan McGuire, Charles Yu, Elizabeth Bear, Tobias S. Buckell, Jeffrey Ford, Ben H. Winters, and Cowboys & Aliens writer Fred Van Lente, among many, many others. You can read Adams' introduction, check out the full table of contents, read (or listen to!) excerpts, and even check out a series of author interviews about their stories.
ALSO OUT THIS WEEK:
SEEN BUT NOT HEARD:
COMING SOON: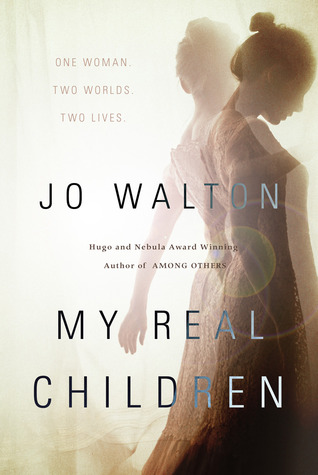 JUNE 2014:
Sword of the North (The Grim Company, Book 2) by Luke Scull (Roc Hardcover, June 1) — "In The Grim Company, Luke Scull introduced a formidable and forbidding band of anti-heroes battling against ruthless Magelords and monstrous terrors. The adventure continues as the company—now broken—face new dangers on personal quests…."
ADDED: 

The Girls at the Kingfisher Club: A Novel

 by Genevieve Valentine (Atria and Dreamscape Media, Jun 3, 2014) — "

From award-winning author Genevieve Valentine, a "gorgeous and bewitching" (Scott Westerfeld) reimagining of the fairytale of the Twelve Dancing Princesses as flappers during the Roaring Twenties in Manhattan."

NEWLY ADDED: Replay

 By

 

, Narrated by

 
Veil of the Deserters (Bloodsounder's Arc #2) by Jeff Salyards (Night Shade Books, June 3, 2014)
Ruin and Rising (The Grisha, #3) by Leigh Bardugo (Jun 3, 2014)
Prince of Fools (The Red Queen's War, #1) by Mark Lawrence (Ace, June 3, 2014)
Mr. Mercedes: A Novel by King, Stephen (Scribner, Jun 3, 2014)
Blood Red (Elemental Masters) 

by Lackey, Mercedes

 

(Jun 3, 2014)

The Dark Between the Stars: The Saga of Shadows, Book One

 By

 

, Narrated By

 
The Merchant Emperor (The Symphony of Ages) by Elizabeth Haydon (Jun 3, 2014)
On Her Watch (Don't Tell) by Rie Warren (Jun 3, 2014) — "The year is 2070 and all hell has broken lose. The rebellion has started and the government is trying desperately to regain control of the territories formerly known as the United States."
Non-Fiction: Wild Connection: What Animal Courtship and Mating Tells Us about Human Relationships by Jennifer L. Verdolin (Prometheus Books, Jun 3) — "A specialist in animal behavior compares the courtship rituals and mating behaviors of animals to their human equivalents, revealing the many and often surprising ways we are both similar to and different from other species."
ADDED: Six-Gun Snow White by Catherynne M. Valente (Dreamscape Media, Jun 3) — Valente's Hugo-nominated January 2013 novella from Subterranean Press gets an audio edition: "

A plain-spoken, appealing narrator relates the history of her parents – a Nevada silver baron who forced the Crow people to give up one of their most beautiful daughters, Gun That Sings, in marriage to him. With her mother's death in childbirth, so begins a heroine's tale equal parts heartbreak and strength."

Blood Will Follow by Snorri Kristjansson (Jo Fletcher Books, Jun 5) — follow-on to Swords of Good Men
The Galaxy Game by Karen Lord (Jo Fletcher Books, June 5, 2014) — a follow-on to 2013′s The Best of All Possible Worlds: "For years, Rafi Delarua saw his family suffer under his father's unethical use of psionic power. Now the government has Rafi under close watch, but, hating their crude attempts to analyse his brain, he escapes to the planet Punartam, where his abilities are the norm, not the exception. Punartam is also the centre for his favourite sport, wallrunning – and thanks to his best friend, he has found a way to train with the elite. But Rafi soon realises he's playing quite a different game, for the galaxy is changing; unrest is spreading and the Zhinuvian cartels are plotting, making the stars a far more dangerous place to aim. There may yet be one solution – involving interstellar travel, galactic power and the love of a beautiful game." — to be released January 2015 in the US
The Truth of Valour: A Confederation Novel by Tanya Huff (Titan, June 6)
California Bones by Greg van Eekhout (Tor, Jun 10, 2014)

Koko Takes a Holiday

 by Shea, Kieran (Jun 10, 2014) –n

arrated By

 
The Leopard by K.V. Johansen (Pyr, June 10, 2014) — "Part one of a two-book epic fantasy, set in a world as richly drawn as J.R.R. Tolkien's Middle Earth, but with Mideastern and Eastern flavors." (via The BiblioSanctum)
Memory of Water: A Novel by Emmi Itäranta (Harper Voyager, Jun 10, 2014) — "An amazing, award-winning speculative fiction debut novel by a major new talent, in the vein of Ursula K. Le Guin. Global warming has changed the world's geography and its politics. Wars are waged over water, and China rules Europe, including the Scandinavian Union, which is occupied by the power state of New Qian. In this far north place, seventeen-year-old Noria Kaitio is learning to become a tea master like her father, a position that holds great responsibility and great secrets. Tea masters alone know the location of hidden water sources, including the natural spring that Noria's father tends, which once provided water for her whole village."
The Girl with All the Gifts by M.J. Carey (Orbit, June 10, 2014) — "Melanie is a very special girl. Dr Caldwell calls her 'our little genius'. Every morning, Melanie waits in her cell to be collected for class. When they come for her, Sergeant keeps his gun pointing at her while two of his people strap her into the wheelchair. She thinks they don't like her. She jokes that she won't bite, but they don't laugh." — link to cover
Written in My Own Heart's Blood: A Novel (Outlander) by Gabaldon, Diana (June 10, 2014)
The Madonna and the Starship by James Morrow (Tachyon, June 10) — "In this satirical novel set in the 1950s, a group of skeptical alien crustaceans invade NBC studios, threatening to vaporize millions of "irrational" fans of a religious TV show. It's up to the Bill Nye-esque science TV personality "Uncle Wonder" to write a script that's so rationally absurd that the aliens will be deterred in their deadly mission." (via io9.com)
Earth Awakens: The First Formic War, Book 3 

By

 

Narrated By

 
We Leave Together (Dogsland #3) by J.M. McDermott (Word Horde, June 15, 2014) — the eagerly-awaited conclusion to McDermott's dark fantasy Dogsland trilogy (Never Knew Another and When We Were Executioners)
Head Full of Mountains by Brent Hayward (ChiZine, Jun 15, 2014) — "When Crospinal's ailing father dies, he is left utterly alone in the pen, surrounded by encroaching darkness. The machines that tended to him as a child have long ago vanished, and the apparitions that kept Crospinal company are now silenced. Struggling with his congenital issues, outfitted in a threadbare uniform, he has little choice but to leave what was once his home, soon discovering that nothing in the outside world is how he had been told it would be. In his quest for meaning and understanding, and the contact of another, Crospinal learns truths about himself, about his father, and about the last bastion of humanity, trapped with him at the end of time."
Cibola Burn (The Expanse) by Corey, James S. A. (Jun 17, 2014) — narrated by Erik Davies
Shattered: The Iron Druid Chronicles by Kevin Hearne (Jun 17, 2014)
Half-Off Ragnarok: InCryptid, Book 3

 By

 

, Narrated By

 
Teen: Dark Metropolis by Jaclyn Dolamore (Disney Hyperion, Jun 17, 2014)
The Long Mars: A Novel (Long Earth) by Terry Pratchett and Stephen Baxter (Jun 17, 2014) — had been called "The Long Childhood" but new title looks confirmed
The Quick: A Novel by Lauren Owen (Random House, Jun 17, 2014) — "An astonishing debut, a novel of epic scope and suspense that conjures up all the magic and menace of Victorian London"
A Better World (The Brilliance Saga) by Sakey, Marcus (Jun 17, 2014)

Spell or High Water (Magic 2.0, Book 2)

 by Scott Meyer, read by Luke Daniels for Brilliance Audio (Jun 17, 2014) — sequel to the fantastically funny Off to Be the Wizard
Chasers of the Wind by Alexey Pehov (Tor, June 17)
Child of a Hidden Sea by A.M. Dellamonica (Tor, June 24) — "One minute, twenty-four-year-old Sophie Hansa is in a San Francisco alley trying to save the life of the aunt she has never known. The next, she finds herself flung into the warm and salty waters of an unfamiliar world. Glowing moths fall to the waves around her, and the sleek bodies of unseen fish glide against her submerged ankles. The world is Stormwrack, a series of island nations with a variety of cultures and economies—and a language different from any Sophie has heard."
Unexpected Stories by Octavia E. Butler (Open Road Media, June 24) – "Two never-before-published stories from the archives of one of science fiction's all-time masters. The novella "A Necessary Being" showcases Octavia E. Butler's ability to create alien yet fully believable "others." Tahneh's father was a Hao, one of a dwindling race whose leadership abilities render them so valuable that their members are captured and forced to govern. When her father dies, Tahneh steps into his place, both chief and prisoner, and for twenty years has ruled without ever meeting another of her kind. She bears her loneliness privately until the day that a Hao youth is spotted wandering into her territory. As her warriors sharpen their weapons, Tahneh must choose between imprisoning the newcomer—and living the rest of her life alone. The second story in this volume, "Childminder," was commissioned by Harlan Ellison for his legendary (and never-published) anthology The Last Dangerous VisionsTM. A disaffected telepath connects with a young girl in a desperate attempt to help her harness her growing powers. But in the richly evocative fiction of Octavia E. Butler, mentorship is a rocky path, and every lesson comes at a price."
Baptism of Fire (The Witcher) by Andrzej Sapkowski (Orbit, June 24)
Vicky Peterwald: Target by Mike Shepherd (Ace, June 24)
Deadly Curiosities by Gail Z. Martin (Solaris, June 24, 2014) — "It's official! I'll be writing a new urban fantasy novel for Solaris Books called "Deadly Curiosities" (from my short story universe of the same name) that will come out in summer, 2014!"
The Blasted Lands (Seven Forges, Book 2) by James A. Moore (Osprey, June 24, 2014) — "The Empire of Fellein is in mourning. The Emperor is dead, and the armies of the empire have grown soft. Merros Dulver, their newly-appointed – and somewhat reluctant – commander, has been tasked with preparing them to fight the most savage enemy the world has yet seen. Meanwhile, a perpetual storm ravages the Blasted Lands, and a new threat is about to arise – the Broken are coming, and with them only Death."
The Silkworm by J.K. Rowling, writing as Robert Galbraith (June 24) — "The Cuckoo's Calling is finally getting a sequel! According to the publisher, Robert Galbraith (the pseudonym used by J.K. Rowling) will be releasing the next novel in the Cormoran Strike mystery series on June 24th. The description released by the publisher gives a summary of the newest mystery."
Thorn Jack: A Night and Nothing Novel (Night and Nothing Novels) by Harbour, Katherine (Jun 24, 2014) — read by Kate Rudd for Brilliance Audio
In the End (In the After) by Demitria Lunetta (Jun 24, 2014)
Target: Vicky Peterwald, Book 1

 By

 

, Narrated By

 
Reckoning, Happily Never After, and Devil to Pay

 By

 

, Narrated By

 
Unbound (A Veiled Worlds Novel) by Jo Anderton (FableCroft, June 2014) — via aninterview with Lawrence M. Schoen for his "Eating Authors" series: "the first two volumes, Debris and Suited are out there waiting for you to scoop them up."
Anthology: Searchers After Horror edited by S.T. Joshi (Fedogan and Bremer, June 2014) — "21 "New Tales of the Weird and Fantastic" selected by noted authority S.T. Joshi, nearly all to be published here for the very first time … Fine weird stories by Caitlin Kiernan, Donald Tyson, Ramsey Campbell, W.H. Pugmire, …"
JULY 2014:
All Those Vanished Engines by Paul Park (Tor, Jul 1, 2014)
The Rhesus Chart (A Laundry Files Novel) by Charles Stross (Jul 1, 2014)
Tower Lord (A Raven's Shadow Novel) by Anthony Ryan (Jul 1, 2014)
The Shadow Throne: Book Two of the Shadow Campaigns by Django Wexler (Jul 1, 2014)
Shattering the Ley by Palmatier, Joshua (DAW Hardcover, Jul 1, 2014)
Unwept: Book One of The Nightbirds by Tracy Hickman and Laura Hickman (Jul 1, 2014)
Hurricane Fever by Tobias S. Buckell (Tor, July 1) — "Prudence "Roo" Jones never thought he'd have a family to look after—until suddenly he found himself taking care of his orphaned teenage nephew. Roo, a former Caribbean Intelligence operative, spends his downtime on his catamaran dodging the punishing hurricanes that are the new norm in the Caribbean. Roo enjoys the simple calm of his new life—until an unexpected package from a murdered fellow spy shows up. Suddenly Roo is thrown into the center of the biggest storm of all."
How to Tell Toledo from the Night Sky by Lydia Netzer, read by Joshilynn Jackson (St. Martin's Press / Macmillan Audio, July 1) — Netzer's follow-on to her brilliant 2012 novel Shine Shine Shine, reunited with the same fine narrator
The City

 By

 

, Narrated By

 
Traitor's Blade by Sebastien de Castell (Jo Fletcher Books, July 1) — "In the first of a new fantasy series by Sebastien de Castell, a disgraced swordsman struggles to redeem himself by protecting a young girl caught in the web of a royal conspiracy. Falcio is the first Cantor of the Greatcoats. Trained in the fighting arts and the laws of Tristia, the Greatcoats are travelling Magisters upholding King's Law. They are heroes. Or at least they were, until they stood aside while the Dukes took the kingdom, and impaled their king's head on a spike" — UK release was March 6th
The String Diaries by Stephen Lloyd Jones (Mulholland Books, July 1) — "A family is hunted by a centuries-old monster: a man with a relentless obsession who can take on any identity. The String Diaries opens with Hannah frantically driving through the night–her daughter asleep in the back, her husband bleeding out in the seat beside her. In the trunk of the car rests a cache of diaries dating back 200 years, tied and retied with strings through generations. The diaries carry the rules for survival that have been handed down from mother to daughter since the 19th century. But how can Hannah escape an enemy with the ability to look and sound like the people she loves?"
William Shakespeare's The Jedi Doth Return

 By

 

, Narrated By

 
How the White Trash Zombie Got Her Groove Back 

By

 

, Narrated By

 
NEWLY ADDED: Monster Hunter Nemesis

 By

 

, Narrated by

 
The Child Eater by Rachel Pollack (Jo Fletcher Books, July 3) — "On Earth, the Wisdom family has always striven to be more normal than normal. But Simon Wisdom, the youngest child, is far from normal: he can see the souls of the dead. And now the ghosts of children are begging him to help them, as they face something worse than death. The only problem is, he doesn't know how. In a far-away land of magic and legends, Matyas has dragged himself up from the gutter and inveigled his way into the Wizards' college. In time, he will become more powerful than all of them – but will his quest blind him to the needs of others? For Matyas can also hear the children crying. But neither can save the children alone, for the child eater is preying on two worlds…"
Half a King by Joe Abercrombie (Del Rey, July 8, 2014) — "A classic coming-of-age tale, set in a brilliantly imagined alternative historical world reminiscent of the Dark Ages with Viking overtones, the book tells the story of Yarvi, youngest son of a warlike king. Born with a crippled hand, he can never live up to his father's expectations of what a real man should be and his destiny is not the throne but the Ministry, not the sword and shield but the book and the soft word spoken."
The Queen of the Tearling: A Novel

 By

 

, Narrated By

 
The Door in the Mountain by Caitlin Sweet (July 8, ChiZine) — US release, out in Canada in May — "

The Greece of The Door in the Mountain (Book 1 of a two-part series) is a place where children are marked by gods and goddesses; a place where a manipulative, bitter princess named Ariadne devises a mountain prison for her hated half-brother, where a boy named Icarus tries, and fails, to fly, and a slave girl changes the paths of all their lives forever."

Floating Boy and the Girl Who Couldn't Fly by Stephen Graham Jones and Paul Tremblay (ChiZine, July 8, 2014) — US release, out in Canada in May — "

Mary's life is going fine. Except for being a

 freshman in high school. And having anxiety attacks. And her dad having no job. So, introduce one boy who can fly, kidnap the little brother she's supposed to be babysitting, and drop a military quarantine on her town and that should make her anxiety completely disappear, right? Wrong!"

The High Druid's Blade: The Defenders of Shannara by Terry Brooks, narrated by Simon Vance (Del Rey, July 8) – postponed from its original March release date; the second book, The Darkling Child, will publish in August 2015
Resistance by Samit Basu (Titan, Jul 8, 2014) — follow-on to Turbulence
A Plunder of Souls (The Thieftaker Chronicles) by D. B. Jackson (Jul 8, 2014)
The Return of the Discontinued Man (A Burton & Swinburne Adventure) by Mark Hodder (Jul 8, 2014)
The Path to Power (The Tarnished Crown Series) by Miller, Karen (Jul 8, 2014)
California: A Novel by Edan Lepucki (Little, Brown and Company, Jul 8, 2014) — "The world Cal and Frida have always known is gone, and they've left the crumbling city of Los Angeles far behind them. They now live in a shack in the wilderness, working side-by-side to make their days tolerable despite the isolation and hardships they face. Consumed by fear of the future and mourning for a past they can't reclaim, they seek comfort and solace in one other. But the tentative existence they've built for themselves is thrown into doubt when Frida finds out she's pregnant."
Alias Hook by Lisa Jensen (Thomas Dunne Books, July 8) – "Every child knows how the story ends. The wicked pirate captain is flung overboard, caught in the jaws of the monster crocodile who drags him down to a watery grave. But it was not yet my time to die. It's my fate to be trapped here forever, in a nightmare of childhood fancy, with that infernal, eternal boy."
Pathfinder Tales: Skinwalkers by Wendy W. Wager (Paizo, July 8) — a Pathfinder Tales novel from one of the "Inkpunks" — "As a young woman, Jendara left the cold northern isles of the Ironbound Archipelago to find her fortune. Now, many years later, she's forsaken her buccaneer ways and returned home in search of a simpler life, where she can raise her young son, Kran, in peace. When a strange clan of shapeshifting raiders pillages her home, however, there's no choice for Jendara but to take up her axes once again to help the islanders defend all that they hold dear."
Echo Lake: A Novel by Letitia Trent (Dark House Press, July 8) — the first book from Dark House Press (edited by Richard Thomas): "

Thirty-something Emily Collins inherits her recently murdered aunt's house, deciding to move to Heartshorne, Oklahoma, to claim it and confront her family's dark past after her dead mother begins speaking to her in dreams, propelling this gothic, neo-noir thriller toward terrifying revelations of murderous small-town justice when a horrible community secret is revealed through the supernatural pull of Echo Lake.

"
Uncaged (The Singular Menace, 1) 

by John Sandford and Michele Cook

 

(Jul 8, 2014)

Short: The Truth Is a Cave in the Black Mountains

 By

 

, Narrated By

 
Land of Love and Drowning: A Novel by Tiphanie Yanique (Riverhead, July 10) — "In the early 1900s, the Virgin Islands are transferred from Danish to American rule, and an important ship sinks into the Caribbean Sea. Orphaned by the shipwreck are two sisters and their half brother, now faced with an uncertain identity and future. Each of them is unusually beautiful, and each is in possession of a particular magic that will either sink or save them."
Robogenesis: A Novel by Daniel H. Wilson (Doubleday and Random House Audio, July 10) — "The stunningly creative, epic sequel to Wilson's blockbuster thriller and New York Timesbestseller Robopocalypse. 'The machine is still out there. Still alive.'"
Tomorrow and Tomorrow by Sweterlitsch, Thomas (Jul 10, 2014) — "A decade has passed since the city of Pittsburgh was reduced to ash. While the rest of the world has moved on, losing itself in the noise of a media-glutted future, survivor John Dominic Blaxton remains obsessed with the past. Grieving for his wife and unborn child who perished in the blast, Dominic relives his lost life by immersing in the Archive—a fully interactive digital reconstruction of Pittsburgh, accessible to anyone who wants to visit the places they remember and the people they loved. Dominic investigates deaths recorded in the Archive to help close cases long since grown cold, but when he discovers glitches in the code surrounding a crime scene—the body of a beautiful woman abandoned in a muddy park that he's convinced someone tried to delete from the Archive—his cycle of grief is shattered."
World of Trouble: The Last Policeman, Book 3 by Ben H. Winters (Quirk Books, July 15, 2014) — the third and concluding book in Winters' Edgar Award winning and Philip K. Dick Award nominated Last Policeman trilogy
The Causal Angel by Hannu Rajaniemi (Tor, Jul 15, 2014) — Follow-on to The Quantum Thief and The Fractal Prince: "With his infectious love of storytelling in all its forms, his rich characterization and his unrivaled grasp of thrillingly bizarre cutting-edge science, Hannu Rajaniemi swiftly set a new benchmark for SF in the 21st century. Now, with his third novel, he completes the tale of the many lives, and minds, of gentleman rogue Jean de Flambeur."
Full Fathom Five by Max Gladstone (Tor, Jul 15, 2014) — the third in Gladstone's fantastic secondary world fantasy The Craft Sequence series after Three Parts Dead and Two Serpents Rise; a sample is available at Tor.com
Anthology: Kaiju Rising: Age of Monsters

 By

 

Narrated By

 
The Hunter from the Woods and The Wolf's Hour By 

, Narrated By

 
The Book of Life (All Souls Trilogy, #3) by Deborah Harkness (July 15, 2014)
The Outsorcerer's Apprentice by Holt, Tom (Jul 15, 2014)
The Scorched Earth by Drew Karpyshyn (Del Rey, July 15, 2014) — sequel to 2013 novel Children of Fire
Graphic Novel: The Shadow Hero by Gene Luen Yang and Sonny Liew (Jul 15, 2014)
Foxglove Summer by Ben Aaronovitch (Gollancz, 17 Jul 2014) — the fifth book in the Peter Grant series, with a sixth on the way next year, and contracted for books 7 and 8 — US release is from DAW on Oct 7
The Seventh Miss Hatfield by Anna Caltabiano (Gollancz, July 21) — debut novel from 17-year-old author Caltabiano which "follows Rebecca, a young American unhappy with her life.  When her mysterious neighbour Miss Hatfield invites her in, Rebecca isn't entirely sure why she says yes. A short while later, Rebecca becomes immersed in her neighbour's peculiar world – not only does she discover that Miss Hatfield is immortal, but that she has century-spanning plans, which will soon involve Rebecca."
Extraction by Stephanie Diaz (Jul 22, 2014)
Kids: The Misadventures of the Family Fletcher 

by Dana Alison Levy

 

(Jul 22, 2014)

The Buried Life

 

by Patel, Carrie (Angry Robot, Jul 29, 2014)

Magic Breaks (Kate Daniels) by Ilona Andrews (Jul 29, 2014)
Teen: The Young World by Weitz, Chris (Jul 29, 2014)
Hardship (Theirs Not to Reason Why) by Jean Johnson (Ace, July 29)
Cast in Flame by Michelle Sagara (Harlequin MIRA, July 29)
Bound (Alex Caine, Book 1) by Alan Baxter (HarperVoyager Australia, July 2014) — first in a trilogy of "modern grim dark fantasy thrillers"
ADDED: Anthology: War Stories edited by Jaym Gates and Andrew Liptak (Apex Books, July/August 2014) — initially funded by Kickstarter, an original anthology of military sf with stories from (among others) Joe Haldeman, Ken Liu, Linda Nagata, Maurice Broaddus, Jay Posey, Yoon Ha Lee, T.C. McCarthy, and Karin Lowachee [full table of contents]
AUGUST 2014:
The Magician's Land by Lev Grossman (Viking Adult, August 5, 2014) — book three after The Magicians and The Magician King – "The stunning conclusion to the New York Times bestselling Magicians trilogy. Quentin Coldwater has been cast out of Fillory, the secret magical land of his childhood dreams. With nothing left to lose he returns to where his story began, the Brakebills Preparatory College of Magic. But he can't hide from his past, and it's not long before it comes looking for him. Along with Plum, a brilliant young undergraduate with a dark secret of her own, Quentin sets out on a crooked path through a magical demimonde of gray magic and desperate characters. But all roads lead back to Fillory, and his new life takes him to old haunts, like Antarctica, and to buried secrets and old friends he thought were lost forever. He uncovers the key to a sorcery masterwork, a spell that could create magical utopia, a new Fillory—but casting it will set in motion a chain of events that will bring Earth and Fillory crashing together. To save them he will have to risk sacrificing everything. The Magician's Land is an intricate thriller, a fantastical epic, and an epic of love and redemption that brings the Magicians trilogy to a magnificent conclusion, confirming it as one of the great achievements in modern fantasy. It's the story of a boy becoming a man, an apprentice becoming a master, and a broken land finally becoming whole."
The Ghost in the Electric Blue Suit 

by Joyce, Graham

 

(Aug 5, 2014)

Broken Souls by Stephen Blackmoore (DAW, Aug 5)
Assail: A Novel of the Malazan Empire by Ian C. Esslemont (Aug 5, 2014)
Whiskey Tango Foxtrot by David Shafer (Mulholland Books, August 5) — "William Gibson meets Chuck Palahniuk in an ambitious novel of international techno conspiracy and dark comedy. The Committee, an international cabal of techno-industrialists and media barons, is on the verge of privatizing all information. Dear Diary, an idealistic online Underground, stands in the way of that takeover, using radical politics, classic spycraft, and technology that makes Big Data look like dial-up. Into this pitched and secret battle tumbles an unlikely trio: Leila Majnoun, a disenchanted non-profiteer; Leo Crane, a bipolar trustafarian; and Mark Devreaux, a wracked and fraudulent self-betterment guru."
Revenant by Kat Richardson (August 5) — "The ninth installment of Richardson's Greywalker saga, featuring private investigator Harper Blaine, should be a blockbuster of a novel. I absolutely loved this series, which blends hardboiled mystery with supernatural fiction and is comparable to the work of classic writers including Raymond Chandler and Algernon Blackwood. With the conclusion of this series looming, I'm curious to see where Richardson takes her iconic protagonist." (via Paul Goat Allen's "The Most Anticipated Sci-fi and Fantasy Releases of 2014″ for Barnes & Noble)
The Widow's House (The Dagger and the Coin) by Abraham, Daniel (Aug 5, 2014)
The House of the Four Winds (Dragon Prophecy) by Mercedes Lackey and James Mallory (Aug 5, 2014)
The Great Abraham Lincoln Pocket Watch Conspiracy: A Novel by Jacopo della Quercia (St. Martin's Griffin, Aug 5, 2014)
Dark Lightning by John Varley (Ace, Aug 5) — "On a voyage to New Earth, the starship Rolling Thunder is powered by an energy no one understands, except for its eccentric inventor Jubal Broussard. Like many of the ship's inhabitants, Jubal rests in a state of suspended animation for years at a time, asleep yet never aging."
Fish Tails: A Novel by Sheri S. Tepper (Harper Voyager, Aug 5, 2014)
Lair of Dreams: A Diviners Novel by Bray, Libba (Aug 5, 2014)
Kids: Frostborn (Thrones & Bones #1) by Lou Anders (Random House Children's Books, August 5, 2014) — longtime Pyr editor Anders' debut novel, a young reader book which "introduces Karn, who would rather be playing the board game Thrones and Bones, and Thianna, half-frost giant, half-human, who team up when they are chased by wyverns, a dead Viking sea captain, and a 1200-year-old dragon." — narrated by Fabio Tassone for Listening Library — a prologue plus two chapter sampler are online, as is a positive review from Kirkus in which we learn of an important message: "always stand downwind from a troll"
Teen: Opposition (A Lux Novel) by Jennifer L. Armentrout (Aug 5, 2014)
Colorless Tsukuru Tazaki and his Years of Pilgrimage: A novel by Haruki Murakami and translated by Philip Gabriel (Knopf, Aug 12, 2014) — Published in Japan last year: "Tsukuru Tazaki's life was irreparably changed when his relationships with his high school best friends became severed during Tsukuru's college days. Now at 35, Tsukuru's girlfriend Sara suggested to Tsukuru to go and talk to these high school friends in person to mend the relationships, and to discover the real reason behind the friends' decision to reject Tsukuru. Tsukuru visited his friends in Nagoya and Finland one by one, and uncovers the real reason as to why their relations were broken off."
ADDED: We Are All Completely Fine by Darryl Gregory (Tachyon, Aug 12) — "

Harrison is the Monster Detective, a storybook hero. Now he's in his mid-thirties and spends most of his time not sleeping.

Stan became a minor celebrity after being partially eaten by cannibals. Barbara is haunted by the messages carved upon her bones. Greta may or may not be a mass-murdering arsonist. And for some reason, Martin never takes off his sunglasses.  

Unsurprisingly, no one believes their horrific tales until they are sought out by psychotherapist Dr. Jan Sayer. What happens when these likely-insane outcasts join a support group? Together they must discover which monsters they face are within and which are lurking in plain sight."

Radiance by Catherynne M. Valente (Tor, Aug 12, 2014)
The Ultra Thin Man by Patrick Swenson (Tor, Aug 12) — "In the twenty-second century, a future in which mortaline wire controls the weather on the settled planets and entire refugee camps drowse in drug-induced slumber, no one—alive or dead, human or alien—is quite what they seem. When terrorists manage to crash Coral, the moon, into its home planet of Ribon, forcing evacuation, it's up to Dave Crowell and Alan Brindos, contract detectives for the Network Intelligence Organization, to solve a case of interplanetary consequences. Crowell' and Brindos's investigation plunges them neck-deep into a conspiracy much more dangerous than anything they could have imagined."
Fool's Assassin by Robin Hobb (Aug 12, 2014)
NEWLY ADDED: Hellhole Inferno

 By

 

, Narrated by

 
Your Face in Mine: A Novel by Jess Row (Riverhead, Aug 14) — "An award-winning writer delivers a poignant and provocative novel of identity, race and the search for belonging in the age of globalization."
We Will All Go Down Together by Gemma Files (Aug 15) — "A mosaic novel whose characters are gifted and semi-monstrous people linked by shared blood and a violent common history, a Five-Family Coven whose 500-year-long vendetta with each other is finally coming to a head. It's Alice Munro meets Clive Barker, with a cast that includes body-stealing witches, time-travelling changelings, monster-killing nuns and evil angels."
Echopraxia by Peter Watts (August 16, 2014) — "We are going to the Sun, rs and Ks. Whereas the last time out we froze in the infinite Lovecraftian darkness of the Oort, now we are diving into the very heart of the solar system— and man, there's gonna be a hot time in the ol' town tonight."
The Godless by Ben Peek (Thomas Dunne, August 19, 2014) is "set fifteen thousand years after the War of the Gods. The bodies of the gods now lie across the world, slowly dying as men and women awake with strange powers that are derived from their bodies. Ayae, a young cartographer's apprentice, is attacked and discovers she cannot be harmed by fire. Her new power makes her a target for an army that is marching on her home. With the help of the immortal Zaifyr, she is taught the awful history of 'cursed' men and women, coming to grips with her new powers and the enemies they make. The saboteur Bueralan infiltrates the army that is approaching her home to learn its terrible secret. Split between the three points of view, Immolation's narrative reaches its conclusion during an epic siege, where Ayae, Zaifyr and Bueralan are forced not just into conflict with those invading, but with those inside the city who wish to do them harm."
Year's Best Weird Fiction Volume 1 edited 

by Laird Barron

 

(ChiZine, Aug 19, 2014) — inaugural edition of a new, rotating-editor year's best anthology for Weird fiction, with authors (among others) including Jeff VanderMeer, Jeffrey Ford, Sofia Samatar, Joseph S. Pulver Sr, John Langan, Richard Gavin, and W. H. Pugmir.

Visions: A Cainsville Novel 

by Armstrong, Kelley

 

(Aug 19, 2014)

The Broken Eye (Lightbringer #3) by Brent Weeks (Orbit, August 26, 2014)
Lock In by John Scalzi (Tor, Aug 26, 2014) — "

Fifteen years from now, a new virus sweeps the globe. 95% of those afflicted experience nothing worse than fever and headaches. Four percent suffer acute meningitis, creating the largest medical crisis in history. And one percent find themselves "locked in"—fully awake and aware, but unable to move or respond to stimulus. 

One per cent doesn't seem like a lot. But in the United States, that's 1.7 million people "locked in"…including the President's wife and daughter."

The Getaway God (Sandman Slim) by Richard Kadrey (Aug 26, 2014) – 

Narrated By

 
Voices from Beyond (A Ghost Finders Novel) by Simon R. Green (Ace, August 26) — "In a quiet London suburb, four university students participating in an experiment inside a reputed haunted house hold a séance that goes terribly wrong. What—or who—ever they summoned has taken their minds away, leaving them empty shells. Enter the Ghost Finders, ready to confront an enraged poltergeist for the students' very souls."
Greenglass House by Milford, Kate and Zollars, Jaime (Aug 26, 2014)
Teen: The Rule of Thoughts (Mortality Doctrine, Book Two) (The Mortality Doctrine) by James Dashner 

(Aug 26, 2014)

Kids: Frank Einstein and the Antimatter Motor: 1 

by Jon Scieszka and Brian Biggs

 

(Aug 26, 2014

Kids: Gabriel Finley and the Raven's Riddle 

by George Hagen and Scott Bakal

 

(Aug 26, 2014)

The Fire Prince (The Cursed Kingdoms Trilogy) by Emily Gee (Solaris, Aug 27) — "The long awaited and much anticipated sequel to 2011′s The Sentinel Mage. The Fire Prince continues the saga of Prince Harkeld, Innis the shapeshifter and the imperiled Seven Kingdoms."
All That Outer Space Allows (The Apollo Quartet, Book 4) by Ian Sales (Whippleshield, August 2014) — "I plan to have copies available for Loncon 3 in August, but we'll see how the research and writing goes. I suspect it may be the hardest of the four to write – and Then Will The Great Ocean Wash Deep Above was no picnic… Meanwhile, I have a bunch of other projects on the go."
Anthology: Burnt Tongues edited by Chuck Palahniuk, Richard Thomas, and Dennis Widmyer (Medallion Press, August 2014) — "This collection of transgressive short stories will be out in August. Cover art by Jay Shaw. With an introduction by Chuck Palaniuk. Stories by Neil Krolicki, Chris Lewis Carter, Gayle Towell, Tony Liebhard, Michael De Vito, Jr., Tyler Jones, Phil Jourdan, Richard Lemmer, Amanda Gowin, Matt Egan, Fred Venturini, Brandon Tietz, Adam Skorupskas, Bryan Howie, Brien Piechos, Jason M. Fylan, Terence James Eeles, Keith Buie, Gus Moreno, and Daniel W. Broallt."
SEPTEMBER 2014:
Acceptance: A Novel (The Southern Reach Trilogy) by Jeff VanderMeer (Sep 1, 2014)
City of Stairs by Robert Jackson Bennett (Crown/Broadway and Recorded Books, September 9, 2014) — "a second-world story of spies, subterfuge, and statesmanship set in a nation of dead gods." — latest IndieBound and Amazon listings
Consumed: A Novel by David Cronenberg (Sep 2, 2014) — debut novel from the acclaimed filmmaker: "the story of two journalists whose entanglement in a French philosopher's death becomes a surreal journey into global conspiracy."
Sleeping Late On Judgement Day: A Bobby Dollar Novel by Tad Williams (DAW Hardcover, September 2) — "Where does an angel go when he's been to Hell and back? Renegade angel Bobby Dollar does not have an easy afterlife. After surviving the myriad gruesome dangers Hell oh-so-kindly offered him, Bobby has returned empty-handed – his demon girlfriend Casmira, the Countess of Cold Hands, is still in the clutches of Eligor, Grand Duke of Hell. Some hell of a rescue. Forced to admit his failure, Bobby ends up back at his job as an angel advocate. That is, until Walter, an old angel friend whom Bobby never thought he'd see again, shows up at the local bar. The last time he saw Walter was in Hell, when Walter had tried to warn him about one of Bobby's angel superiors. But now Walter can't remember anything, and Bobby doesn't know whom to trust." I've thoroughly enjoyed the first two Bobby Dollar books (The Dirty Streets of Heaven and Happy Hour in Hell) and am looking forward to finally finding out what the hell is going on among the big powers.

Shifting Shadows: Stories from the World of Mercy Thompson

 by Briggs, Patricia (Sep 2, 2014) (via Suvudu)
The Midnight Queen by Sylvia Izzo Hunter (Ace Trade, September 2) — "Gray's deep talent for magick has won him a place at Merlin College. But when he accompanies four fellow students on a mysterious midnight errand that ends in disaster and death, he is sent away in disgrace—and without a trace of his power. He must spend the summer under the watchful eye of his domineering professor, Appius Callender, working in the gardens of Callender's country estate and hoping to recover his abilities. And it is there, toiling away on a summer afternoon, that he meets the professor's daughter."
Spells at the Crossroads by Barbara Ashford (DAW, September 2)
The Golden Princess: A Novel of the Change (Change Series) by S.M. Stirling (Roc Hardcover, September 2) — "A new generation faces its own challenges in the world the Change has made. Princess Orlaith, heir to Rudi Mackenzie, Artos the First, High King of Montival, now wields the Sword of the Lady—and faces a new enemy. Fortunately, she also has a new ally in Reiko, Empress of Japan, who has been pursued to America by a conquering army from Asia."
Maplecroft: The Borden Dispatches by Cherie Priest (Roc Trade, Sep 2) — "Lizzie Borden took an axe and gave her mother forty whacks; and when she saw what she had done, she gave her father forty-one…. The people of Fall River, Massachusetts, fear me. Perhaps rightfully so. I remain a suspect in the brutal deaths of my father and his second wife despite the verdict of innocence at my trial. With our inheritance, my sister, Emma, and I have taken up residence in Maplecroft, a mansion near the sea and far from gossip and scrutiny. But it is not far enough from the affliction that possessed my parents. Their characters, their very souls, were consumed from within by something that left malevolent entities in their place. It originates from the ocean's depths, plaguing the populace with tides of nightmares and madness."
Twelve Kings in Sharakhai (The Song of the Shattered Sands) by Bradley Beaulieu (Sep 2, 2014)
The Savior (The General) by Tony Daniel and David Drake (Baen, Sep 2) — "Sequel to The Heretic, Book 10 in the nationally best-selling General series."
Outrider: A Novel by Steven John (Night Shade, Sep 2) — "The only people that can stop the high-tech terrorists who are stealing power are on horseback."
Age of Iron (Iron Age) by Angus Watson (Orbit, Sep 2)

The Bone Clocks: A Novel

 by Mitchell, David (Random House, Sep 9, 2014) — the author of Cloud Atlas sets his sights on the near, post-oil future with a "metaphysical thriller" unveiled as an interactive graphic in The Guardian

The Witch with No Name (Hollows)

 by Kim Harrison (Sep 9, 2014)
Teen: The Caller (Shadowfell) by Juliet Mariller (Knopf Books for Young Readers, Sep 9) — "In the final book in this gripping, romantic fantasy trilogy perfect for fans of Robin McKinley, Kristin Cashore, and Shannon Hale, Neryn's band of rebels reach their climactic confrontation with the king. The stunning conclusion to the story that began with Shadowfell and Raven Flight is full of romance, intrigue, magic, and adventure."
Yesterday's Kin by Nancy Kress (Tachyon, Sep 9) — "Aliens have landed in New York. A deadly cloud of spores has already infected and killed the inhabitants of two worlds. Now that plague is heading for Earth, and threatens humans and aliens alike. Can either species be trusted to find the cure?"
Exo (Jumper) by Steven Gould (Tor, Sep 9)
Hieroglyph: Stories and Blueprints for a Better Future by Neal Stephenson (William Morrow, September 9) — I assume this is in reference to Stephenson's "Hieroglyph" challenge/project, to inspire tech and science research with grand sf stories
Anthology: Rogues edited by Gardner Dozois and George R.R. Martin (Bantam Spectra, September 9, 2014) — "There's something for everyone in ROGUES — SF, mystery, historical fiction, epic fantasy, sword and sorcery, comedy, tragedy, crime stories, mainstream, as well as rogues, cads, scalawags, con men, thieves, and scoundrels of all descriptions." With stories from: Gaiman, Rothfuss, Willis, Nix, Abraham, Cornell, Cherie Priest, Lynch, Vaughn, Swanwick, Lansdale, Hughes, Gillian Flynn!, and Joe Abercrombie

Broken Monsters

 

by Beukes, Lauren (Mulholland, Sep 16, 2014) — "

A criminal mastermind creates violent tableaus in abandoned Detroit warehouses in Lauren Beukes's new genre-bending novel of suspense. Detective Gabriella Versado has seen a lot of bodies. But this one is unique even by Detroit's standards: half boy, half deer, somehow fused together. As stranger and more disturbing bodies are discovered, how can the city hold on to a reality that is already tearing at its seams?"
Ancestral Machines: A Humanity's Fire novel by Michael Cobley (Sep 16, 2014)
Anthology: Phantasm Japan: Fantasies Light and Dark, From and About Japan edited by Nick Mamatas (Haikasoru, Sep 16, 2014) — another original trade paperback anthology edited by Mamatas for VIZ Media's Haikasoru sf/f prose imprint after 2012′s well-received The Future is Japanese
Gideon Smith and the Brass Dragon by David Barnett (Tor, Sep 16)
The Infinite Sea: The Second Book of the 5th Wave by Rick Yancey (Sep 16, 2014)
Afterworlds by Scott Westerfeld (Sep 23, 2014) — "

Scott Westerfeld, the author of the extremely popular Uglies and Leviathan series, has a new novel novel coming out on Sept. 23. 

Afterworlds

 is a suspenseful thriller about a young writer, Darcy Patel, who arrives in New York City with a contract to write a YA novel. There's a meta element: Darcy's novel-within-the-novel, also called 

Afterworlds

— about a girl who delves into a realm between the living and the dead to hide out during a terrorist attack — is woven into Darcy's narrative as she learns to navigate life in the city."

The Bodies We Wear by Jeyn Roberts (Knopf Books for Young Readers, Sep 23) — "People say when you take Heam, your body momentarily dies and you catch a glimpse of heaven. Faye was only eleven when dealers forced Heam on her and her best friend, Christian. But Faye didn't glimpse heaven—she saw hell. And Christian died. "
The Seventh Sigil by Margaret Weis and Robert Krammes (Tor, Sep 23)
The Wonder of All Things by Mott, Jason (Harlequin MIRA, Sep 30, 2014) — the author of The Returned returns with a new novel about the cost and power of living with miracles: "On an ordinary day, at an air show like that in any small town across the country, a plane crashes into a crowd of spectators, killing and injuring dozens. But when the dust clears, a thirteen-year-old girl named Ava is found huddled beneath a pocket of rubble with her best friend, Wash. He is injured and bleeding, and when Ava places her hands over him, his wounds miraculously disappear."
Wolf in White Van: A Novel by John Darnielle (FSG, Sep 30, 2014) — "Welcome to Trace Italian, a game of strategy and survival! You may now make your first move. Isolated by a disfiguring injury since the age of seventeen, Sean Phillips crafts imaginary worlds for strangers to play in. From his small apartment in southern California, he orchestrates fantastic adventures where possibilities, both dark and bright, open in the boundaries between the real and the imagined. As the creator of "Trace Italian"—a text-based, role-playing game played through the mail—Sean guides players from around the world through his intricately imagined terrain, which they navigate and explore, turn by turn, seeking sanctuary in a ravaged, savage future America."

The Brothers Cabal (Johannes Cabal Novels)

 by Jonathan L. Howard (Sep 30, 2014)
Clash of Eagles by Alan Smale (Del Rey, 2014) — "His novella of a Roman invasion of ancient America, "A Clash of Eagles" in the Panverse Two anthology (edited by Dario Ciriello), won the 2010 Sidewise Award for Alternate History, and he has recently sold a trilogy of novels set in the same universe. The first book, CLASH OF EAGLES, will appear from Del Rey in 2014."
The Mirror Empire (Worldbreaker Saga, Book 1) by Kameron Hurley (Angry Robot, September 2014) — "On the eve of a recurring catastrophic event known to extinguish nations and reshape continents, a troubled orphan evades death and slavery to uncover her own bloody past… while a world goes to war with itself."
The Winter Long (October Daye, #8) by Seanan McGuire (September 2014)
Mortal Beauty (Immortal Game, #1) by Ann Aguirre (September 2014)
Kids: The Eighth Continent by Matt London (Razorbill, September 2014) — via PW Book Deals: "Debut novelist Matt London sold his middle-grade series, the 8th Continent, to Gillian Levinson at Razorbill. Agent Sara Crowe at Harvey Klinger handled the three-book, world-rights deal for the author. Razorbill said the humorous series was pitched as "Despicable Me meets Where in the World Is Carmen San Diego?"; it follows a brother and sister trying to turn the Great Pacific Garbage Patch into "a utopic eighth continent.""
ADDED: Elysium by Jennifer Marie Brissett (Aqueduct Press, September 2014) — "A computer program etched into the atmosphere has a story to tell. It's the story of two people … of a city lost to chaos … of survival and love … but the data has been corrupted."
OCTOBER 2014:
Ancillary Sword by Ann Leckie (Orbit, October 7) — sequel and book two in the planned trilogy which started with Ancillary Justice
Armada by Ernest Cline (October 7) — "Cline wowed the world with Ready Player One in 2011, a brilliant debut that was pure geek gold: a glorious fusion of near future science fiction, epic fantasy quest, and unlikely love story, that above all else is an homage to the 1980s. Millions of readers worldwide have been anxiously awaiting his second novel, which evidently chronicles the adventures of a video game geek named Zack, who is conscripted into a top-secret government program and must save the world from an alien invasion." (via Paul Goat Allen's "The Most Anticipated Sci-fi and Fantasy Releases of 2014″ for Barnes & Noble)
Falling Sky by Rajan Khanna (Pyr, Oct 7) — "Ben Gold lives in dangerous times. Two generations ago, a virulent disease turned the population of most of North America into little more than beasts called Ferals. Some of those who survived took to the air, scratching out a living on airships and dirigibles soaring over the dangerous ground. Ben has his own airship, a family heirloom, and has signed up to help a group of scientists looking for a cure. But that's not as easy as it sounds, especially with a power-hungry air city looking to raid any nearby settlements. To make matters worse, his airship, the only home he's ever known, is stolen. Ben must try to survive on the ground while trying to get his ship back. This brings him to Gastown, a city in the air recently conquered by belligerent and expansionist pirates. When events turn deadly, Ben must decide what really matters–whether to risk it all on a desperate chance for a better future or to truly remain on his own."
Nightmare Carnival edited by Ellen Datlow 

(Dark Horse Books, Oct 7, 2014) — new anthology includes (among others) Nick Mamatas, Nathan Ballingrud, Jeffrey Ford, Genevieve Valentine, Stephen Graham Jones, Robert Shearman, and Laird Barron

The Shotgun Arcana by R.S. Belcher (Tor, Oct 7)
The Chaplain's War by Brad Torgersen (Baen, October 7, 2014) — debut novel — "A chaplain serving in Earth's space fleet is trapped behind enemy lines where he struggles for both personal survival and humanity's future. The mantis cyborgs: insectlike, cruel, and determined to wipe humanity from the face of the galaxy. The Fleet is humanity's last chance: a multi-world, multi-national task force assembled to hold the line against the aliens' overwhelming technology and firepower. Enter Harrison Barlow, who like so many young men of wars past, simply wants to serve his people and partake of the grand adventure of military life. Only, Harrison is not a hot pilot, nor a crack shot with a rifle. What good is a Chaplain's Assistant in the interstellar battles which will decide the fate of all?"
The Sword of Michael (Depossessionist) 

by Marcus Wynne

 

(Baen, Oct 7, 2014)

Spark: A Novel by John Twelve Hawks (Doubleday, Oct 7)
Broken Soul by Faith Hunter (Oct 7, 2014) — presumably the next Jane Yellowrock book
Poison Fruit: Agent of Hel by Jacqueline Carey (Roc Hardcover, Oct 7)
Silverblind (Ironskin) by Tina Connolly (Tor, October 7) — the third book in Connolly's Ironskin series
The Dark Defiles by Richard Morgan (Del Rey, Oct 7) — "The final part of Richard Morgan's fast-moving and brutal fantasy brings Ringil to his final reckoning and sees the world tipping into another war with the dragon folk. And, most terrifying of all, the prophecy of a dark lord come to rule may be coming true very close to home …"
Hawk (Vlad) by Steven Brust (Tor, October 7)
Closer to Home: Book One of Herald Spy by Mercedes Lackey (October 7)
The Young Elites by Marie Lu (Oct 7, 2014)
Anthology: Fearsome Magics 

by K.J. Parker, Scott Lynch, Christopher Priest and Jonathan Strahan

 

(Oct 7, 2014)

Those Above by Daniel Polansky (Hodder & Stoughton, Oct 9, 2014) — "You've seen him do crime – low fantasy by way of HBO's The Wire. You knew it as Low Town, the crime-ridden city where only death is certain. But you've never seen him do epic fantasy. Until now. From the acclaimed author of THE STRAIGHT RAZOR CURE comes this spectacular new series – epic fantasy, as only Daniel Polansky can imagine it."
The Three-Body Problem by Liu Cixin, translated by Ken Liu (Tor Books, October 14, 2014) — the first of an announced trilogy of translated editions of this 400,000-copy-selling Chinese sf series; a Tor.com article in early May provides yet more information

Clariel: The Lost Abhorsen

 by Garth Nix (Oct 14, 2014)
Collection: The Wilds by Julia Elliott (Tin House, Oct 14, 2014) — "At an obscure South Carolina nursing home, a lost world reemerges as a disabled elderly woman undergoes newfangled brain-restoration procedures and begins to explore her environment with the assistance of strap-on robot legs. At a deluxe medical spa on a nameless Caribbean island, a middle-aged woman hopes to revitalize her fading youth with grotesque rejuvenating therapies that combine cutting-edge medical technologies with holistic approaches and the pseudo-religious dogma of Zen-infused self-help. And in a rinky-dink mill town, an adolescent girl is unexpectedly inspired by the ravings and miraculous levitation of her fundamentalist friend's weird grandmother. These are only a few of the scenarios readers encounter in Julia Elliott's debut collection, The Wilds. In these genre-bending stories, teetering between the ridiculous and the sublime, Elliott's language-driven fiction uses outlandish tropes to capture poignant moments in her humble characters' lives. Without abandoning the tenets of classic storytelling, Elliott revels in lush lyricism, dark humor, and experimental play."
Fire in the Blood by Erin M. Evans (Wizards of the Coast, Oct 14) — "SCRIBE-award-winning author, Erin M. Evans, continues the riveting tale of her Sundering character, Farideh, as she becomes embroiled in a Forgotten Realms-flavored game of thrones."
Teen: The Doubt Factory by Paolo Bacigalupi (Little Brown Books for Young Readers and Listening Library, Oct 14) — "In this page-turning contemporary thriller, National Book Award Finalist and New York Times bestselling author Paolo Bacigalupi explores the timely issue of how public information is distorted for monetary gain, and how those who exploit it must be stopped."
Teen: Girl on a Wire by Gwenda Bond (Skyscape, Oct 14) — "A ballerina, twirling on a wire high above the crowd. Horses, prancing like salsa dancers. Trapeze artists, flying like somersaulting falcons. And magic crackling through the air. Welcome to the Cirque American!"
Teen: Girl at the Bottom of the Sea by Michelle Tea (McSweeney's McMullen's, October 14) — "the follow-up to Michelle Tea's beloved Mermaid in Chelsea Creek, "a refreshing breath of air in the world of YA, equal parts eerie, heartbreaking, and fantastical.""
The Free by Brian Ruckley (Orbit, Oct 14)
Snow Like Ashes by Sara Raasch (Balzer + Bray, Oct 14, 2014)
Graphic Novel: In Real Life by Cory Doctorow and Jen Wang (First Second, Oct 14, 2014) — from the announcement: "a graphic novel about gaming and gold farming for young adults based on Doctorow's award-winning story Anda's Game, adapted by Jen Wang, creator of the amazing graphic novel Koko Be Good."
The Death House by Sarah Pinborough (Gollancz, Oct 16, 2014) — "The Death House is a home where, in a world where people are safe against illness, children and teenagers who are susceptible to terminal conditions are sent to die. Their fates are certain. Their lives are in their hands. The question is: what will they choose to do with them?"
The Mime Order: The Bone Season (The Remnant Chronicles) by Samantha Shannon (Oct 21, 2014) — sequel to The Bone Season – "Paige Mahoney has escaped the brutal penal colony of Sheol I, but her problems have only just begun: many of the fugitives are still missing and she is the most wanted person in London."
NEWLY ADDED: 

Bathing the Lion

 by Jonathan Carroll (St. Martin's Press, Oct 21, 2014) — "

In Jonathan Carroll's surreal masterpiece, 

Bathing the Lion,

 five people who live in the same New England town go to sleep one night and all share the same hyper-realistic dream. Some of these people know each other; some don't. 

"
Kids: Centaur Rising by Jane Yolen (Henry Holt, Oct 21, 2014) — "One night during the Perseid meteor shower, Arianne thinks she sees a shooting star land in the fields surrounding her family's horse farm. About a year later, one of their horses gives birth to a baby centaur. The family has enough attention already as Arianne's six-year-old brother was born with birth defects caused by an experimental drug—the last thing they need is more scrutiny. But their clients soon start growing suspicious. Just how long is it possible to keep a secret? And what will happen if the world finds out?"
War Dogs by Greg Bear (Orbit, October 21) — "AN EPIC INTERSTELLAR TALE OF WAR FROM A MASTER OF SCIENCE FICTION. The Gurus came in peace, bearing gifts. They were a highly advanced, interstellar species who brought amazingly useful and sophisticated technology to the human race. There was, of course, a catch. The Gurus warned of a far more malevolent life form, beings who have hounded the Gurus from sun to sun, planet to planet, across the cosmos. Pundits have taken to calling them the Antagonists-or Antags-and they have already established a beachhead on Mars. For all they've done for us, the Gurus would now like our help."
The Abyss Beyond Dreams: Chronicle of the Fallers by Peter F. Hamilton (Del Rey, Oct 21)
Ink Mage (Ink Mage series) by Gischler, Victor (Oct 22, 2013)
A Vision of Fire by Gillian Anderson and Jeff Rovin (Simon451, October 2014) — "first in the EarthEnd trilogy" by the X-Files actress and her co-author Rovin
The Peripheral by William Gibson (Putnam Adult, October 28) — "William Gibson returns with his first novel since 2010's New York Times–bestselling Zero History. Where Flynne and her brother, Burton, live, jobs outside the drug business are rare. Fortunately, Burton has his veteran's benefits, for neural damage he suffered from implants during his time in the USMC's elite Haptic Recon force. Then one night Burton has to go out, but there's a job he's supposed to do—a job Flynne didn't know he had. Beta-testing part of a new game, he tells her. The job seems to be simple: work a perimeter around the image of a tower building. Little buglike things turn up. He's supposed to get in their way, edge them back. That's all there is to it. He's offering Flynne a good price to take over for him. What she sees, though, isn't what Burton told her to expect. It might be a game, but it might also be murder."

The City Stained Red (Bring Down Heaven)

 

by Sam Sykes (Orbit, Oct 28, 2014)

 — begins a new series from the author of Tome of the Undergates
Falling from Horses by Molly Gloss (Oct 28)
The Wolf in Winter: A Charlie Parker Thriller by John Connolly 

(Oct 28, 2014)

Teen: Stone Cold Touch (The Dark Elements) by Jennifer L. Armentrout (Oct 28, 2014)
The Undying by Ethan Reid (Simon451, October 2014) — a dystopia
Chimpanzee by Darin Bradley (Resurrection House, Fall 2014) — "a delightfully weird existential near-fi conspiracy theory romance"
Heraclix and Pomp by Forrest Aguirre (Resurrection House, Fall 2014) — "an alternative history fantasy set in the Eastern Europe. It features a golem, a faery, and a mad scientist (well, more of 17th century alchemist/demonologist, but it's the same trope)"
Rooms by Lauren Oliver (Fall 2014)
Collection: The Nickronomicon by Nick Mamatas (Inssmouth Free Press, Fall/Winter 2014) — collects all of Mamatas' Lovecraft-inspired fiction into a single volume, including a new, never-before-published novella, titled "On the Occasion of My Retirement."
NOVEMBER and DECEMBER 2014:
The Slow Regard of Silent Things: A KingKiller Chronicle Novella by Patrick Rothfuss (DAW, November 4, 2014) — "set at The University, where the brightest minds work to unravel the mysteries of enlightened sciences, such as artificing and alchemy. Auri, a former student (and a secondary but influential character from Rothfuss's earlier novels) now lives alone beneath the sprawling campus in a maze of ancient and abandoned passageways. There in The Underthing, she feels her powers and learns to see the truths that science—and her former classmates—have overlooked."
Willful Child by Steven Erikson (Tor, Nov 4, 2014) — "From the New York Times Bestselling author Steven Erikson comes a new SF novel of devil-may-care, near calamitous and downright chaotic adventures through the infinite vastness of interstellar space. These are the voyages of the starship A.S.F. Willful Child. Its ongoing mission: to seek out strange new worlds on which to plant the Terran flag, to subjugate and if necessary obliterate new life-forms, to boldly blow the… And so we join the not-terribly-bright but exceedingly cock-sure Captain Hadrian Sawback and his motley crew on board the Starship Willful Child for a series of devil-may-care, near-calamitous and downright chaotic adventures through 'the infinite vastness of interstellar space.'"

The Future Falls: Book Three of the Enchantment Emporium

 

by Tanya Huff (Nov 4, 2014)

Genesis Code: A Thriller of the Near Future by Jamie Metzl (Arcade Publishing, Nov 4) — "Blue Magic, the latest designer drug linked to a rash of overdoses, might explain the needle mark on the arm of a young woman found dead in her apartment in Kansas City. But when Star reporter Rich Azadian digs deeper, the clues tie her to a much bigger story: MaryLee Stock was a special protégée of evangelical megastar and powerbroker Cobalt Becker, who is poised to deliver his followers and the presidency to a firebrand rightwing senator in the next election. What makes the story hot is she may have been pregnant by Becker. More disturbing, the embryo may have been—illegally—genetically enhanced to produce a superbaby. But in America in 2023—bankrupt, violently divided by the culture wars, and beholden to archrival China—the rules of the game are complicated, and when the Department of National Competitiveness shuts down Azadian's investigation and he learns that Chinese agents were also interested in the dead woman, he can only do what he does best: go rogue, assemble a team of brilliant misfits like himself, and investigate."
Jala's Mask by Mike and Rachel Grinti (Pyr, Nov 4)
Dreamer's Pool: A Blackthorn & Grim Novel by Juliet Mariller (Nov 4)
Anthology: Shattered Shields edited by Jennifer Brozek and Bryan Thomas Schmidt (Baen, Nov 4) — a military fantasy anthology with headliners Glen Cook (Black Company), Larry Correia, John Marco, Elizabeth Moon (new Paksenarrion), David Farland (new Runelords), Catherine Asaro, Sarah A. Hoyt, Robin Wayne Bailey.
Revival: A Novel 

by King, Stephen

 (Scribner, Nov 11, 2014) — "

A dark and electrifying novel about addiction, fanaticism, and what might exist on the other side of life."

Chaos Unleashed by Drew Karpyshyn (Del Rey, Nov 11)
The Whispering Swarm: Book One of The Sanctuary of the White Friars by Michael Moorcock (Tor, Nov 25)
The Thorn of Emberlain (Gentleman Bastard #4) by Scott Lynch (November 2014)
Anthology: Carbide Tipped Pens edited by Ben Bova and Eric Choi (Tor, December 2, 2014) — a an original hard sf anthology with stories from Gregory Benford, Nancy Fulda, Aliette de Bodard, Liu Cixin (translated by Ken Liu), Daniel H. Wilson, and more
The Lady (Marakand) by K.V. Johansen (Pyr, Dec 9)
The Jupiter Pirates #2: Curse of the Iris by Jason Fry (Dec 16, 2014)
Anthology: The End is Now: The Apocalypse Triptych #2 edited by John Joseph Adams and Hugh Howey (December 2014) — via io9
UNDATED or 2015:
The Galaxy Game by Karen Lord (Del Rey, Jan 6, 2015) — a follow-on to 2013′s The Best of All Possible Worlds: "For years, Rafi Delarua saw his family suffer under his father's unethical use of psionic power. Now the government has Rafi under close watch, but, hating their crude attempts to analyse his brain, he escapes to the planet Punartam, where his abilities are the norm, not the exception. Punartam is also the centre for his favourite sport, wallrunning – and thanks to his best friend, he has found a way to train with the elite. But Rafi soon realises he's playing quite a different game, for the galaxy is changing; unrest is spreading and the Zhinuvian cartels are plotting, making the stars a far more dangerous place to aim. There may yet be one solution – involving interstellar travel, galactic power and the love of a beautiful game." — released June 5, 2014 in the UK
Spell-Blind (Casebooks of Justis Fearsson) 

by David B. Coe

 

(Baen, Jan 6, 2015)

Get in Trouble: Stories

 

by Kelly Link (Random House, Jan 13, 2015)

Golden Son: Book II of the Red Rising Trilogy by Pierce Brown (Jan 13, 2015)

Cities & Thrones

 by Carrie Patel (Feb 5, 2015) — follow-up to The Buried Life
The Thousand and One: Book II of The Crescent Moon Kingdoms by Saladin Ahmed (February 2015)
The Fifth Season (The Broken Earth) by Jemisin, N. K. (Orbit, 2015) — "This is the way the world ends. Again."
Collection: Irredeemable by Jason Sizemore (Seventh Star Press) — "Featuring twenty one tales of dark SF and horror, many of which have flavors of Appalachia, Irredeemable brings together a number of Jason's previously published stories and features two brand new ones. The book will be released in all eBook formats and trade paperback during the second week of April. The collection will also feature a cover from Polish artist Tomasz Trafial."
All the Worlds Against Us (Jon and Lobo) by Mark L. Van Name (Baen) — Audible Frontiers has produced the previous books in the series, under fantastic narrations by Tom Stechschulte
Tsarina by J. Nelle Patrick (2014)
Love in the Time of Mechanical Replication by Judd Trichter (St. Martins? Thomas Dunne? 2014?)
Ebon (Pegasus, #2) by Robin McKinley (2014?)
The Doors of Stone (Kingkiller Chronicle #3) by Patrick Rothfuss (DAW, 2014?)
Shadows of Self (Mistborn, #5) by Brandon Sanderson (Tor, 2014?)
Edge of Eternity (The Century Trilogy #3) by Ken Follett (2014?)
The Winds of Winter (A Song of Ice and Fire, #6) by George R.R. Martin (2015?)
The Water Knife by Paolo Bacigalupi (Knopf, 2015) — "Knopf has acquired a new novel by Paolo Bacigalupi, the science fiction writer whose 2009 book "The Windup Girl" sold 200,000 copies and was considered one of the top novels of the year. The new book, "The Water Knife," is set in a lawless, water-starved American Southwest in the not-too-distant future."
Because You'll Never Meet Me by Leah Thomas (Bloomsbury USA, 2015) — first novel from 2010 Clarion Workshop graduate
Anthology: Wastelands 2: More Stories of the Apocalypse edited by John Joseph Adams (Titan Books, February 2015) – "Edited by acclaimed anthologist John Joseph Adams, WASTELANDS 2: MORE STORIES OF THE APOCALYPSE is the star-studded follow-up to the 2008 bestselling anthology Wastelands."
The Philosopher's Zombie by Robert J. Sawyer (April 2015)
Anthology: The End has Come: The Apocalypse Triptych #3 edited by John Joseph Adams and Hugh Howey (June 2015) — via io9
John Claude Bemis is set to launch a new Steampunk/alchemist series for young readers, to be published by Disney/Hyperion starting in 2015
The Skull Throne (Demon Cycle, #4) by Peter V. Brett (2015?)
The Scarlet Gospels by Clive Barker (St. Martin's Press, 2015) — "Originally planned as a collection of short stories, the project changed to focus on Harry D'Amour going up against Pinhead. The novel has been in works for more than a decade and we'll be able to read it in 2015, courtesy of St. Martin's Press: 'Clive is delighted to announce that St Martin's Press has acquired world English rights to publish The Scarlet Gospels, his upcoming novel featuring Pinhead and Harry D'Amour. St Martin's anticipates a winter 2015 publication date.'"
The City of Mirrors (The Passage, #3) by Justin Cronin
The Uninvited by Cat Winters (William Morrow) — via PW Book Deals: "Lucia Macro at HarperCollins's William Morrow imprint acquired world English rights to Cat Winters's novel, The Uninvited. The book, which Morrow compares to The Night Circus and The Thirteenth Tale, is a paranormal work set during the influenza pandemic of 1918. Winters, who was represented by Barbara Poelle at the Irene Goodman Literary Agency, was a finalist for the YALSA's 2014 Morris Award, for her novel In the Shadow of Blackbirds."
How to Invent a Language by David Peterson (Penguin) — via PW Book Deals: "For Penguin Press, Elda Rotor took world rights to David Peterson's How to Invent a Language. Peterson has created languages for shows like HBO's Game of Thrones and Syfy's Defiance, and the book will be a guide for anyone looking to craft a new tongue. Agent Joanna Volpe at New Leaf Literary & Media represented Peterson."
Teen: The Burning Depths by James P. Smythe (Hodder, February 2015) — "Centuries ago, the Australia left a dying Earth in search of an inhabitable planet its colonists could call home. But no such planet was ever discovered. Law and order gave way to rioting and chaos as gangs began battling for control of the ship and its dwindling resources, and the Australia was left to drift, directionless, through the emptiness of space. Seventeen-year-old Chan, fiercely independent and self-sufficient, keeps her head down and lives quietly, careful not to draw attention to herself amidst the violence and disorder. Until the day she makes an extraordinary discovery – a way to return the Australia to Earth. But doing so would bring her to the attention of the fanatics and the murderers who control life aboard the ship, putting her and everyone she loves in terrible danger. And a safe return to Earth is by no means certain."
Shower of Stones by Zachary Jernigan (Night Shade Books, Spring 2015) — "Conclusion to the visceral, inventive narrative begun in No Return, 'the most daring debut novel of 2013,' Shower of Stones pits men against gods, swords against world-destroying magic, offering readers another glimpse into the fascinatingly harsh world of Jeroun."
King of Ashes: Book One of The War of Five Crowns by Raymond E. Feist (April 7, 2015)
The Unnoticeables by Robert Brockway (Tor, July 2015) — "Tor said the books are "hilarious urban fantasy novels" set in a world that pulls from New York's punk scene in the 1970s as well as the modern-day Los Angeles entertainment industry." (via PW)
Truthwitch by Susan Dennard (Tor, Fall 2015) — "The series is set in a world where three empires rule and every member of the population is born with a magical skill set, known as a "witchery." Tor elaborated: "Now, as the Twenty Year Truce in a centuries-long war is about to end, the balance of power will fall on the shoulders of two young women, who must accept their fate, and themselves, to survive."" (via PW)
The War Against Assholes by Sam Munson (Simon & Schuster / Saga Press, 2015?) — "set in a Manhattan "shrouded in mystery" and follows a 17-year-old Catholic high school student who begins to acquire supernatural powers after being introduced to a book called The Calendar of Sleights by a strange classmate. The protagonist is then pulled into a long-running war among rival factions of magicians." (via PW)
Ancestral Night by Elizabeth Bear (Gollanzc, late 2016) — first in a two-book space opera which "imagines the invention of The White Drive: an easy, nonrelativistic means of travel across unimaginable distances. The gripping story follows salvage operators, Haimey Dz and her partner Connla Kurucz, as they pilot their tiny ship into the scars left by unsuccessful White Transitions, searching for the relics of lost human – and alien – vessels."